Wife Josephine Dillon, Sylvia Ashley
Queer Places:
The Hollywood Roosevelt, 7000 Hollywood Blvd, Los Angeles, CA 90028
Forest Lawn Memorial Park (Glendale) Glendale, Los Angeles County, California, USA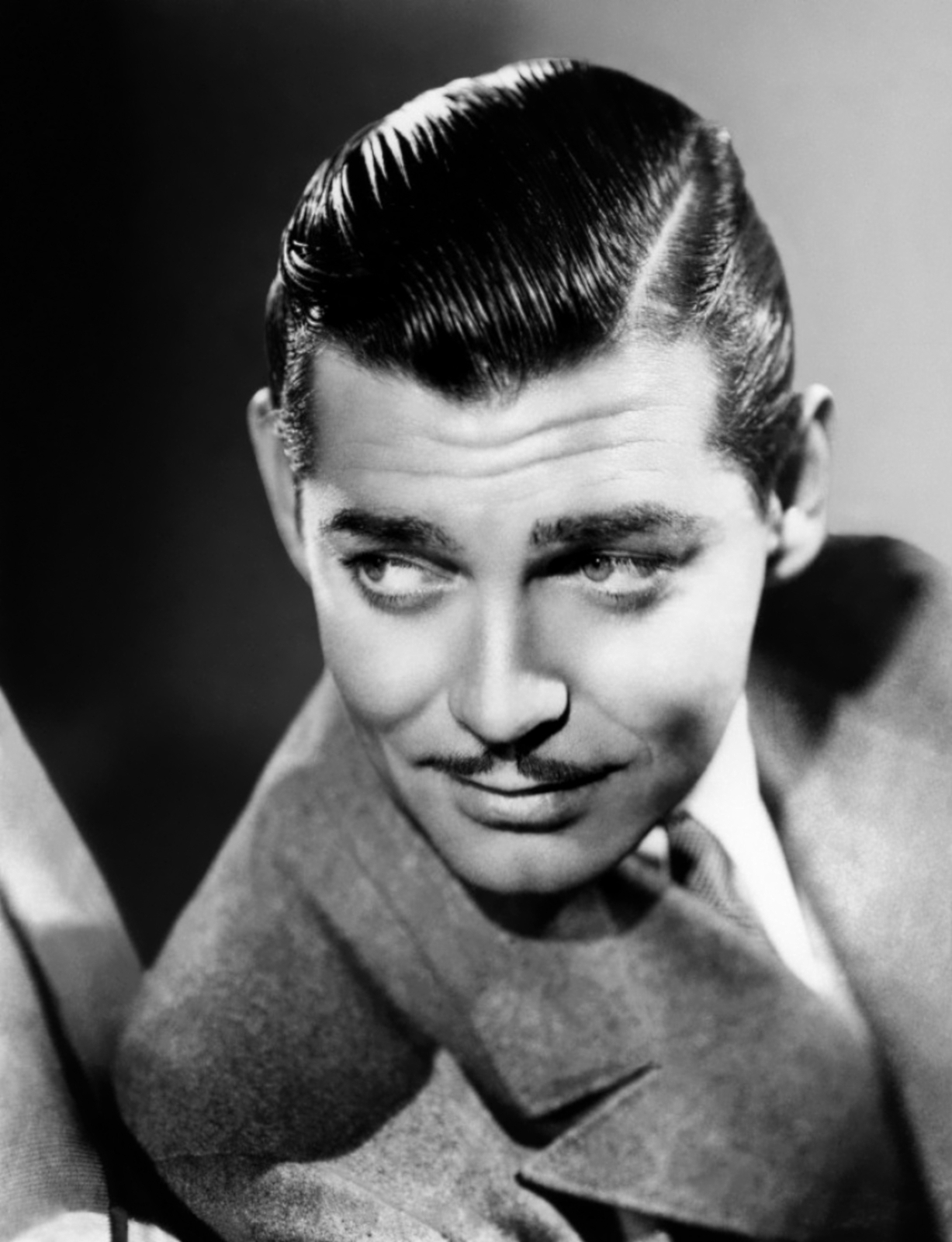 Clark Gable (February 1, 1901 – November 16, 1960) is known to have indulged in at least one drunken same-sex encounter: with wildman actor William Haines.

Years later, in 1938, gay director George Cukor—a close friend of Haines'—was working with Gable on Gone with the Wind. Another friend, Andy Lawler, was overheard at a party to exclaim, "Oh, George is directing one of Billy's old tricks." When word of the remark reached Gable, he stormed off the set and refused to return until Cukor was replaced. In Gable's words, "I won't be directed by a fairy! I have to work with a real man!" Victor Fleming was brought in to finish directing the Civil War epic.
Gable may have been particularly sensitive about his sexuality because his birth certificate mistakenly recorded him as a female. While he was growing up, his father often berated him and called him a sissy.
Moving from his tough, working-class background in small towns like Akron, Ohio, and Meadville, Pennsylvania, including his mother's death shortly after his birth, and difficult jobs as a lumberjack, Gable wanted to leave his angry, hateful father, and he traveled to Kansas City, then Portland, where he joined up with a roving acting troupe. It's on that route that Gable found his first possible homosexual relationship, with actor Earle Larimore.
When he was twenty-three Gable married forty-year-old acting coach Josephine Dillon, who told him, "I'll at least make an actor of you, for you'll never be a man." Gable later claimed their marriage was never consummated. Josephine Dillon was "a woman of ambiguous sexuality." She presented Gable to Hollywood agents in the early 1920s. Although Gable and Dillon were married shortly after their arrival in Hollywood, it was a marriage of convenience, in which Dillon ignored Gable's affairs while serving as his sugar momma.
A second gay affair could be read in the close friendship between Gable and macho actor Rod La Roque on the set of Ernst Lubitsch's Forbidden Paradise. La Roque was later outed and forced into a "lavender marriage" with actress Vilma Banky. "In these formative years Clark Gable was an opportunist who would sleep with anyone. 'Anything that had a hole and the promise of a couple of dollars,'" Marlene Dietrich said.
Among Gable's most verifiable gay affairs at that time is that with actor William Haines. In his personal life, Haines was openly gay, and a great pal of Joan Crawford. Included in Gable's young erotic adventures were trips to cruisy parks with Haines, where they both cruised working-class men, Gable being more orally passive and occasionally charging money.
Throughout the 1920s and early 30s, Gable acted in theatre touring companies as well as films. It wasn't until It Happened One Night that Gable became big box-office success. That film's moment of manliness – Gable stripping off his shirt without an undershirt – catapulted him further into the manly hall of film fame.
In the mid-1930s, William Faulkner went to Hollywood. He was joined by Ben Wasson. While there, he met and befriended Clark Gable, whose sexuality included an attraction to women but also included a closeted appetite for men. As late as 1942 Faulkner and Hawkes continued to hunt together with Gable often joining them as a companion and a drinking buddy. Hawkes's wife would recall a 1942 incident after one such hunting expedition when "Faulkner and Gable shared a bottle of bourbon—very jolly and then very sleepy". In his biography of Gable, David Bret describes his sexual maneuvering and labels him bisexual because Gable had as many affairs with women as with men and even married more than one woman. Growing up, Gable inherited from his father a disdain for effeminate homosexuality, but nonetheless he willingly engaged in numerous homosexual affairs throughout his life, from his earliest years in small community theaters to the height of his career as a major movie star. Gable represents what Bret calls the "lavender ladder," or a well-established sexual trade in Hollywood in which a man such as Gable, trying to advance his career in the business, would trade sex for money or for better theatrical roles. Moreover, despite Gable's disgust with effeminate homosexuality, Bret offers numerous stories that lead him to the conclusion that Gable preferred the passive role in his homosexual relationships. Bret quotes from several of Gable's former male sexual partners to establish that Gable was a "bottom," a role often associated with the effeminate partner in a homosexual relationship and, generally, with effeminacy. Gable did not engage only in homosex. He married women, but he was openly promiscuous even when he was married and many of his relationships were with women attempting a "lavender marriage" (or at least lavender date) to cover their own preference for women.
Later on, and for decades of his career, the syndicated (yellow) journalist Ben Maddox remained a close confidante, and a sexual pal for Gable, including being his companion on numerous vacations. Maddox's interfering confidant status, however, led to some stupid decisions on Gable's part, including nearly turning down the film Mutiny on the Bounty. Maddox's pernicious role as a double-talking gossip-trader resulted in other people's heterosexual adultery being traded as fodder for the tabloids, in exchange for his, Gable's, and other gay men's affairs being kept secret.
Clarke's third wife and the love of his life Carole Lombard once said disparagingly of his manhood: "If he was one inch shorter we'd be talking about the Queen of Hollywood."
Gable's subsequent affairs included a marriage to "Lady" Sylvia Ashley, "little more than a prostitute," Bret says, who wooed British wealthy men and landed an elderly Lord's hand in a previous marriage.
Bret's account of Gable's final film, The Misfits, includes the odd juxtaposition of the elder Gable befriending gay co-star Montgomery Clift while barely enduring the by-then drugged and unreliable costar Marilyn Monroe.
---
My published books:


---
Stern, Keith (2009-09-01). Queers in History: The Comprehensive Encyclopedia of Historical Gays, Lesbians and Bisexuals (Kindle Locations 5167-5178). Perseus Books Group. Kindle Edition.
Gordon, Phillip. Gay Faulkner (p.190). University Press of Mississippi. Edizione del Kindle.