Partner Arthur Rimbaud
Queer Places:
Maison Natale de Paul Verlaine, Rue Haute Pierre, 57000 Metz, Francia
34 Howland St, Fitzrovia, London W1W, UK
8 Royal College St, London NW1 0TH, UK
Fountain Court, Middle Temple Ln, Temple, London EC4Y 9DH, UK
Lycée Condorcet, 8 Rue du Havre, 75009 Paris, Francia
Batignolles Cemetery, 8 rue saint just, 75017 Paris, Francia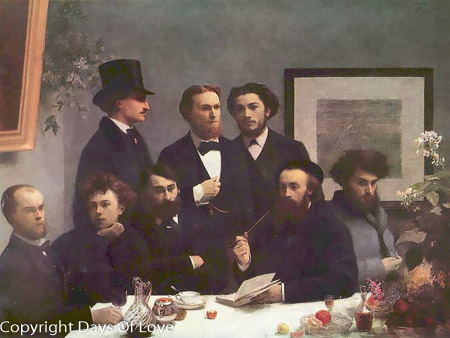 Paul-Marie Verlaine (30 March 1844 – 8 January 1896) was a French poet associated with the Decadent movement. He is considered one of the greatest representatives of the fin de siècle in international and French poetry. Verlaine appears as Choulette in Le Lys Rouge (1894) by Anatole France.
Born in Metz, Verlaine was educated at the Lycée Impérial Bonaparte (now the Lycée Condorcet) in Paris and then took up a post in the civil service. At his lycée he had a passion for Lucien Viotti, who was captured by the Germans in the war of 1870-71 and died a prisoner, in military hospital. In 1870, while still enamoured of Viotti, Verlaine married Mathilde Mauté, with whom he had a son, Georges.
In September 1871, Verlaine received the first letter from Arthur Rimbaud. By 1872, he had lost interest in Mathilde, and effectively abandoned her and their son, preferring the company of his new lover.[3] Rimbaud and Verlaine's stormy affair took them to London in 1872. In Brussels in July 1873 in a drunken, jealous rage, he fired two shots with a pistol at Rimbaud, wounding his left wrist, though not seriously injuring the poet. As an indirect result of this incident, Verlaine was arrested and imprisoned at Mons, where he underwent a re-conversion to Roman Catholicism, which again influenced his work and provoked Rimbaud's sharp criticism.
The poems collected in Romances sans paroles (1874) were written between 1872 and 1873, inspired by Verlaine's nostalgically colored recollections of his life with Mathilde on the one hand and impressionistic sketches of his on-again off-again year-long escapade with Rimbaud on the other. Romances sans paroles was published while Verlaine was imprisoned. Following his release from prison, Verlaine again traveled to England, where he worked for some years as a teacher, teaching French, Latin and Greek, and drawing at a grammar school in Stickney in Lincolnshire.[4] From there he went to teach in Boston, before moving to Bournemouth.[5] While in England he produced another successful collection, Sagesse. He returned to France in 1877 and, while teaching English at a school in Rethel, fell in love with one of his pupils, Lucien Létinois, who inspired Verlaine to write further poems. Verlaine was devastated when Létinois died of typhus in 1883.
Verlaine's last years saw his descent into drug addiction, alcoholism, and poverty. He lived in slums and public hospitals, and spent his days drinking absinthe in Paris cafes. Fortunately, the people's love for his art was able to resurrect support and bring in an income for Verlaine: his early poetry was rediscovered, his lifestyle and strange behaviour in front of crowds attracted admiration, and in 1894 he was elected France's "Prince of Poets" by his peers.
His poetry was admired and recognized as ground-breaking, and served as a source of inspiration to composers. Gabriel Fauré composed many mélodies, such as the song cycles Cinq mélodies "de Venise" and La bonne chanson, which were settings of Verlaine's poems.[6] Claude Debussy set to music Clair de lune and six of the Fêtes galantes poems, forming part of the mélodie collection known as the Recueil Vasnier.[7] Reynaldo Hahn set several of Verlaine's poems as did the Belgian-British composer Irene Dean Paul (aka Poldowski) (daughter of Henryk Wieniawski).
His drug dependence and alcoholism caught up with him and took a toll on his life. Paul Verlaine died in Paris at the age of 51 on 8 January 1896; he was buried in the Cimetière des Batignolles (he was first buried in the 20th division, but his grave was moved to the 11th division—on the roundabout, a much better location—when the Boulevard Périphérique was built).[8]
---
My published books:


---
Homosexuals in History, A Study of Ambivalence in Society, Literature and the Arts, by A.L. Rowse, 1977
Femmes d'homosexuels célèbres – April 28, 2016 French Edition by Michel Larivière
Les amours masculines de nos grands hommes – April 30, 2014 French Edition by Michel Larivière
Dictionnaire historique des homosexuel.le.s célèbres – October 19, 2017 French Edition by Michel Larivière