Partner Paul Verlaine
Queer Places:
34 Howland St, Fitzrovia, London W1W, UK
8 Royal College St, London NW1 0TH, UK
178 Stamford St, South Bank, London SE1 8TX, UK
165 King's Rd, Reading RG1 4EX, UK
Cimetière de Boutet, 08000 Charleville-Mézières, Francia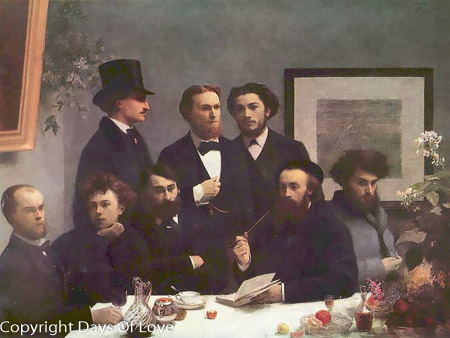 Jean Nicolas Arthur Rimbaud (20 October 1854 – 10 November 1891) was a French poet who is known for his influence on modern literature and arts, which prefigured surrealism. Born in Charleville-Mézières, he started writing at a very young age and excelled as a student, but abandoned his formal education in his teenage years to run away from home to Paris amidst the Franco-Prussian War. During his late adolescence and early adulthood he began the bulk of his literary output, then completely stopped writing at the age of 21, after assembling one of his major works, Illuminations.
Rimbaud was known to have been a libertine and a restless soul, having engaged in an at times violent romantic relationship with fellow poet Paul Verlaine, which lasted nearly two years. After ending his literary career, he traveled extensively on three continents as a merchant before his death from cancer just after his thirty-seventh birthday. As a poet, Rimbaud is well known for his contributions to Symbolism and, among other works, for A Season in Hell, a precursor to modernist literature.[5]
Rimbaud wrote to several poets but received no replies, so his friend, office employee Charles Auguste Bretagne, advised him to write to Paul Verlaine, an eminent Symbolist poet. Rimbaud sent Verlaine two letters with several of his poems, including the hypnotic, finally shocking "Le Dormeur du Val" (The Sleeper in the Valley), in which Nature is called upon to comfort an apparently sleeping soldier. Verlaine was intrigued by Rimbaud, and replied, "Come, dear great soul. We await you; we desire you," sending him a one-way ticket to Paris. Rimbaud arrived in late September 1871 and resided briefly in Verlaine's home. Verlaine's wife, Mathilde Mauté, was seventeen years old and pregnant, and Verlaine had recently left his job and started drinking. In later published recollections of his first sight of Rimbaud at the age of seventeen, Verlaine described him as having "the real head of a child, chubby and fresh, on a big, bony, rather clumsy body of a still-growing adolescent", with a "very strong Ardennes accent that was almost a dialect". His voice had "highs and lows as if it were breaking."
Rimbaud and Verlaine began a short and torrid affair. They led a wild, vagabond-like life spiced by absinthe, opium and hashish. The Parisian literary coterie was scandalized by Rimbaud, whose behaviour was that of the archetypal enfant terrible, yet throughout this period he continued to write poems. Their stormy relationship eventually brought them to London in September 1872, a period over which Rimbaud would later express regret. During this time, Verlaine abandoned his wife and infant son (both of whom he had abused in his alcoholic rages). In England they lived in considerable poverty in Bloomsbury , London and in Camden Town, scraping a living mostly from teaching, as well as an allowance from Verlaine's mother. Rimbaud spent his days in the Reading Room of the British Museum where "heating, lighting, pens and ink were free". The relationship between the two poets grew increasingly bitter, and Verlaine abandoned Rimbaud in London to meet his wife in Brussels.
In late June 1873, Verlaine returned to Paris alone, but quickly began to mourn Rimbaud's absence. On 8 July he telegraphed Rimbaud, asking him to come to the Hotel Liège in Brussels. The reunion went badly, they argued continuously, and Verlaine took refuge in heavy drinking. On the morning of 10 July, Verlaine bought a revolver and ammunition. About 16:00, "in a drunken rage", he fired two shots at Rimbaud, one of them wounding the 18-year-old in the left wrist.
Rimbaud initially dismissed the wound as superficial but had it dressed at the St-Jean hospital nevertheless. He did not immediately file charges, but decided to leave Brussels. About 20:00, Verlaine and his mother accompanied Rimbaud to the Gare du Midi railway station. On the way, by Rimbaud's account, Verlaine "behaved as if he were insane". Fearing that Verlaine, with pistol in pocket, might shoot him again, Rimbaud "ran off" and "begged a policeman to arrest him". Verlaine was charged with attempted murder, then subjected to a humiliating medico-legal examination. He was also interrogated about his correspondence with Rimbaud and the nature of their relationship. The bullet was eventually removed on 17 July and Rimbaud withdrew his complaint. The charges were reduced to wounding with a firearm, and on 8 August 1873 Verlaine was sentenced to two years in prison.
Rimbaud returned home to Charleville and completed his prose work Une Saison en Enfer ("A Season in Hell")—still widely regarded as a pioneering example of modern Symbolist writing. In the work it is widely interpreted that he refer to Verlaine as his "pitiful brother" (frère pitoyable) and the "mad virgin" (vierge folle), and to himself as the "hellish husband" (l'époux infernal) and described their life together as a "domestic farce" (drôle de ménage).
In 1874 he returned to London with the poet Germain Nouveau. They lived together for three months while he put together his groundbreaking Illuminations.
Rimbaud and Verlaine met for the last time in March 1875, in Stuttgart, after Verlaine's release from prison and his conversion to Catholicism. By then Rimbaud had given up writing in favour of a steady, working life. Some speculate he was fed up with his former wild living, or that the recklessness itself had been the source of his creativity. He continued to travel extensively in Europe, mostly on foot.
In May 1876 he enlisted as a soldier in the Dutch Colonial Army to get free passage to Java in the Dutch East Indies (now Indonesia). Four months later he deserted and fled into the jungle. He managed to return incognito to France by ship; as a deserter he would have faced a Dutch firing squad had he been caught.
In December 1878, Rimbaud journeyed to Larnaca, Cyprus, where he worked for a construction company as a stone quarry foreman. In May of the following year he had to leave Cyprus because of a fever, which on his return to France was diagnosed as typhoid.
In 1880 Rimbaud finally settled in Aden, Yemen, as a main employee in the Bardey agency, going on to run the firm's agency in Harar, Ethiopia. In 1884 his "Report on the Ogaden" was presented and published by the Société de Géographie in Paris. In the same year he left his job at Bardey's to become a merchant on his own account in Harar, where his commercial dealings included coffee and (generally outdated) firearms.
At the same time he also engaged in exploring and struck up a close friendship with the Governor of Harar, Ras Makonnen Wolde Mikael, father of future emperor Haile Selassie. He maintained friendly relationships with the official tutor of the young heir. Rimbaud worked in the coffee trade. "He was, in fact, a pioneer in the business, the first European to oversee the export of the celebrated coffee of Harar from the country where coffee was born. He was only the third European ever to set foot in the city, and the first to do business there".[65]
In 1885 Rimbaud became involved in a major deal to sell old rifles to the king of Shewa. The explorer Paul Soleillet became involved early in 1886. The arms were landed at Tadjoura in February, but could not be moved inland because Léonce Lagarde, governor of the new French administration of Obock and its dependencies, issued an order on 12 April 1886 prohibiting the sale of weapons.
In February 1891, in Aden, Rimbaud developed what he initially thought was arthritis in his right knee. It failed to respond to treatment, and by March had become so painful that he prepared to return to France for treatment. Before leaving, Rimbaud consulted a British doctor who mistakenly diagnosed tubercular synovitis, and recommended immediate amputation. Rimbaud remained in Aden until 7 May to set his financial affairs in order, then caught a steamer, L'Amazone, back to France for the 13-day voyage. On arrival in Marseille, he was admitted to the Hôpital de la Conception where, a week later on 27 May, his right leg was amputated. The post-operative diagnosis was bone cancer—probably osteosarcoma.
After a short stay at the family farm in Roche, from 23 July to 23 August, he attempted to travel back to Africa, but on the way his health deteriorated, and he was re-admitted to the Hôpital de la Conception in Marseille. He spent some time there in great pain, attended by his sister Isabelle. He received the last rites from a priest before dying on 10 November 1891 at the age of 37. At Harar he had a faithful boy, Djami, whose name was constantly on his lips on his actual death-bed at Marseilles. The remains were sent across France to his home town and he was buried in Charleville-Mézières. On the 100th anniversary of Rimbaud's birth, Thomas Bernhard delivered a memorial lecture on Rimbaud and described his end:
"On November 10, at two o'clock in the afternoon, he was dead," noted his sister Isabelle. The priest, shaken by so much reverence for God, administered the last rites. "I have never seen such strong faith," he said. Thanks to Isabelle, Rimbaud was brought to Charleville and buried in its cemetery with great pomp. He still lies there, next to his sister Vitalie, beneath a simple marble monument.[73]
---
My published books:


---
https://en.wikipedia.org/wiki/Arthur_Rimbaud
Homosexuals in History, A Study of Ambivalence in Society, Literature and the Arts, by A.L. Rowse, 1977