Partner Geraldine Thompson, Anna Spicer Gladding
Queer Places:
Clark University, 950 Main St, Worcester, MA 01610, USA
1833 N Verdugo Rd, Glendale, CA 91208, USA
Pine Hill Cemetery, Sherborn, Massachusetts 01770, Stati Uniti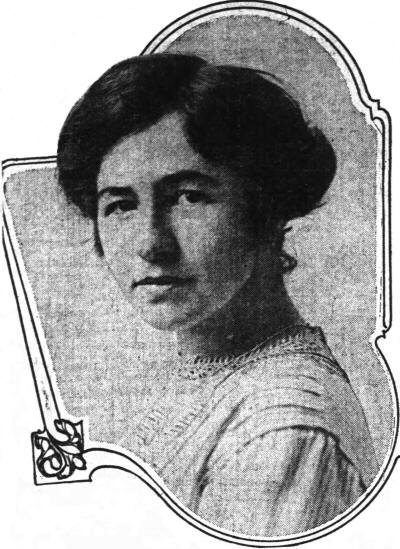 Miriam Van Waters (October 4, 1887 – January 17, 1974) was an American prison reformer of the early to mid-20th century whose methods owed much to her upbringing as an Episcopalian involved in the Social Gospel movement. Historical figures suspected of having same-sex desires whose personal documents were destroyed include suffragist Alice Paul, educator M. Carey Thomas, interior designer Henry Davis Sleeper, and reformers Jane Addams, Molly Dewson, and Miriam Van Waters. Van Waters was superintendent of the Reformatory for Women in Framingham, Mass. (1932-1957). Her liberal views on penal reform brought her both praise and condemnation. In January 1949 she was fired because of alleged administrative failings, such as condoning lesbianism among the "students" (as she called the prisoners) and failing to supervise a work-release program properly. After a lengthy hearing process she was reinstated. Van Waters was the author of Youth in Conflict (1925) and Parents on Probation (1927). Van Waters also served as director of El Retiro (1919-1920), a school for delinquent girls in California, referee for the Los Angeles County Juvenile Court (1920-1930), consultant for the Wickersham Commission (1928-1931), and on a number of other boards and commissions.
In 1932, Anna Spicer Gladding began a 42-year association with the Reformatory for Women in Framingham, Mass., where she was involved in the mother-child program and served as prison librarian, organist and choir director, and leader of the literary and nature study clubs. Her partner, Miriam Van Waters, was superintendent of the Reformatory for Women (1932-1957). Van Waters's liberal views on penal reform brought her both praise and condemnation.
Historian Estelle Freedman records the terse diary entry, "The burning of letters continues," which alerted her to pioneer prison superintendent Miriam Van Waters's erasure of her correspondence with her beloved friend Geraldine Thompson. Miriam Van Waters, who formed a deeply romantic relationship with her benefactor Geraldine Thompson, herself a married woman, struggled with the definition of being lesbian. In the 1920s, when the two women first met, the concept of homosexuality was no mystery, and Van Waters had read the work of the sexologists. But "lesbianism" suggested gender inversion, the "mannish" lesbian, or a Freudian notion of pathology, and Miriam and Geraldine considered themselves "normal." Yet they were also careful to conceal their relationship in certain situations, and Van Waters expressed doubt about her own sexuality. When Van Waters later came under attack for tolerating homosexuality at the women's prison she supervised, she and Thompson systematically burned their letters. Van Waters did not consider her relationship with Thompson in the same category as the lesbianism among prison inmates, but she was afraid others would.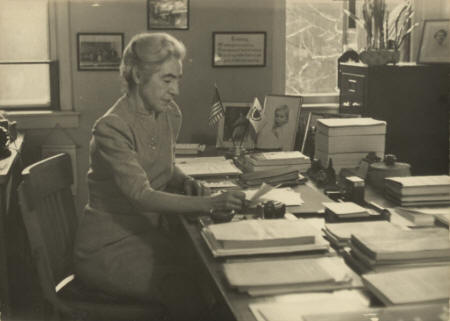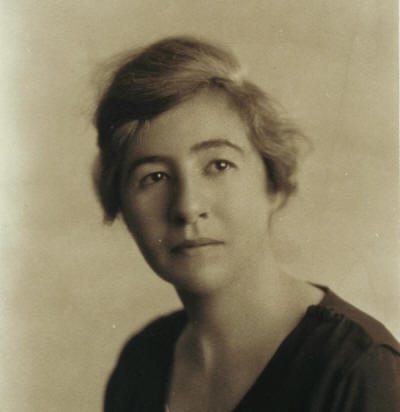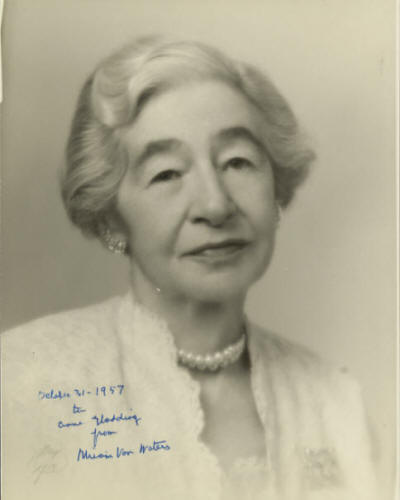 During her career as a penologist, which spanned most of the years from 1914 through 1957, Van Waters served as superintendent of three prisons: Frazier Detention Home for boys and girls in Portland, Oregon; Los Angeles County Juvenile Hall for girls, and the Massachusetts Reformatory for Women at Framingham. While in California, Van Waters established an experimental reformatory school, El Retiro, for girls age 14 to 19. In each case, Van Waters developed programs that favored education, work, recreation, and a sense of community over unalloyed incarceration and punishment.
Born in Pennsylvania, she grew up in Portland after her father, a clergyman and Social Gospel advocate, accepted a position there as rector of St. David's Episcopalian Church. As the eldest daughter of an ailing mother, she often served as a surrogate mother, as she did later as a supervisor of imprisoned women and children. Her first crush was at 15, a girl named Genevieve, who she declared her soulmate. Genevieve eventually moved to Greenwich Village. After graduating from secondary school, Van Waters attended the University of Oregon, majoring at first in philosophy and graduating in 1910 with a master's degree in psychology. At Oregon, Van Waters had a mostly female circle of friends and at least one of these blossomed into a romantic relationship. Three years later, at Clark University in Worcester, Massachusetts, she completed a doctorate in anthropology.
Van Waters' public-speaking skills, assertive manner, and charisma drew national as well as local attention to her methods, and she was supported financially by philanthropists including Ethel Sturges Dummer, who helped pay for El Retiro and for leaves of absence from her supervisory duties to work on two books, Youth in Conflict (1925) and Parents on Probation (1927). Another wealthy philanthropist, Geraldine Morgan Thompson, supported Van Waters financially and emotionally from the mid-1920s until Thompson's death in 1967. Eleanor Roosevelt, a first lady, and Felix Frankfurter, a Harvard law professor and then a Supreme Court justice, were among Van Waters' many admirers and political supporters, but her methods drew the ire of opponents who viewed them as over-lenient and ineffective. Opposition in Los Angeles led to her departure from California in 1932 and to much-publicized hearings in Massachusetts after she was fired as Framingham superintendent in January 1949. Re-instated in March, she continued running the reformatory until 1957. After retiring, she remained in the town of Framingham, living in a woman-centered household, as she had often done, until her death in 1974.
In the 1920s Orfa Jean Shontz, Van Waters, Van Waters' friends Sara Fisher and Emily "Pole" Reynolds, a teacher of psychology at the University of California, Los Angeles, and Elizabeth "Bess" Woods, founder of the educational-research department for the Los Angeles Board of Education, all lived in a group of residences called the Colony, between Los Angeles and Pasadena. When the Colony burned down, Van Waters, Woods, and Shontz rented a house in Glendale that they called the "Stone House".[5]
During the latter half of the decade, Van Waters entered what was to be a strong, eventually intimate 40-year relationship with another wealthy philanthropist, Geraldine Morgan Thompson, who supported prison reform in her home state of New Jersey and elsewhere. Encouraged by Thompson, Dummer, and Frankfurter, Van Waters relocated to Cambridge in 1931. In that same year, publication of her 175-page Wickersham Commission report, The Child Offender in the Federal System of Justice, enhanced her reputation as an expert on juvenile justice. After declining a job offer from Pennsylvania Governor Gifford Pinchot, as an administrator in the state welfare department, she learned in November that she would soon be offered the position of superintendent at the Massachusetts Reformatory for Women at Framingham, replacing Jessie Donaldson Hodder, who had recently died.
---
My published books:


---