Partner William Eythe
Queer Places:
23910 Malibu Rd, Malibu, CA 90265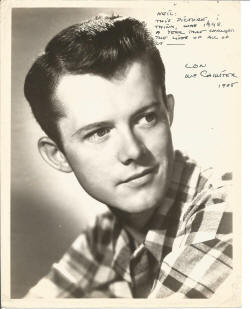 Herbert Alonzo "Lon" McCallister Jr. (April 17, 1923 – June 11, 2005) was an American actor. According to one obituary, he was best known for "playing gentle, boyish young men from the country."[1] Another said he "had an ingenuous appeal that made him a favourite of family audiences, and was particularly at home in outdoor settings featuring dogs and horses. Ultimately his perennial boyishness and slight stature became a handicap for more mature roles."[2]
Born in Los Angeles, Lon McCallister was the son of a real estate broker. He attended Marken Professional School, which trained children for show-business careers and began appearing in movies at the age of 13. He had uncredited appearances in Let's Sing Again (1936) and Romeo and Juliet (1936), directed by George Cukor who, gave McAllister a large close up, and became a friend.[2]
He was uncredited in Stella Dallas (1937), Souls at Sea (1937), Make a Wish (1937), The Adventures of Tom Sawyer (1938), Judge Hardy's Children (1938), Lord Jeff (1938), That Certain Age (1938), Little Tough Guys in Society (1939), The Spirit of Culver (1939), Confessions of a Nazi Spy (1939), Babes in Arms (1939), First Love (1939), and Joe and Ethel Turp Call on the President (1939).[3][4] McCallister could also be glimpsed in Susan and God (1940), Henry Aldrich for President (1941), Dangerously They Live (1941), Always in My Heart (1942), Yankee Doodle Dandy (1942), Spy Ship (1942), Night in New Orleans (1942), That Other Woman (1942), Gentleman Jim (1942), Quiet Please: Murder (1942), Over My Dead Body (1942), The Hard Way (1943), and The Meanest Man in the World (1943). Columnist Hedda Hopper called him "the cutest boy the movies have hauled up out of obscurity since Mickey Rooney."[2]
At 20, he appeared in the World War II morale booster Stage Door Canteen, where he played a star struck serviceman with theater actress and producer Katharine Cornell.[3] The Los Angeles Times said he stole the film with "his bashful smile and winning ways".[5] McCallister leapt to fame playing the lead as Sparke in the horse-racing tale Home in Indiana (1944), also starring Walter Brennan and Jeanne Crain. This led to a contract with 20th Century Fox.[6] He followed it with Winged Victory (1944) but then his career momentum was interrupted by war service.
By the time of William Eythe's starring part in A Royal Scandal, as the reluctant amour of Tallulah Bankhead's Catherine the Great, there was clearly some sense that his maverick image would have to be "explained" to the public. Eythe told both journalist Paul Benedict and Hedda Hopper that stories of a romance with Anne Baxter were dreamed up by the publicity department. But he did resort to the old "unnamed girl back home" myth, telling Benedict "she isn't in pictures, doesn't want to be, nobody knows her, which suits us both fine." Nobody knew her because, in all likelihood, she didn't exist. For Eythe was in a relationship with someone much closer at hand, and most reporters knew it. Eythe defied Code-era tradition by living openly with another man, Lon McCallister, a fellow "Star of Tomorrow." Although McCallister declined to be interviewed about it, press accounts at the time did note their friendship as well as the fact that McCallister, who'd achieved some wartime popularity playing young soldiers in Stage Door Canteen and the filmed version of Winged Victory, traveled to London in the summer of 1946 to be with Eythe during the filming of Meet Me at Dawn. It would be Eythe's last major film.
Poised on the brink of stardom, Eythe suddenly yanked back. Studio chief Darryl Zanuck, despite his geniality, "wasn't too happy" about the Eythe-McCallister friendship, according to actor Ray Stricklyn. The Hollywood gay subculture has always held that Zanuck insisted the pair not be seen in public, and when they defied him, he released Eythe from his contract. Suddenly adrift, Eythe soon married the 18 years old Buff Cobb, an actress and granddaughter of the author Irvin S. Cobb (and later the wife of television newsman Mike Wallace.) The marriage was brief and unhappy: after only a few months, Cobb filed for a divorce in January 1949, claiming Eythe had "struck her with great violence." Ordered to pay her a $2.500 settlement, Eythe refused and spent a night in jail. He made some minor pictures at Paramount and Columbia and did some early television work. He also returned to the theater, although during the run of "Lend an Ear" in Los Angeles, he frequently forgot his lines and had to leave the stage. A series of arrests for drunken driving made headlines; in 1952 he spent another night in the country jail after "getting loaded" (his words) in Malibu.
His release from the studio did allow him to resume his relationship with McCallister. They traveled extensively and made some films for the Hilton hotel chain. When asked why both had left acting, McCallister joked: "Bill's too fat and I'm too old." They lived together in Malibu for a number of years, with McCallister helping to care for Eythe when he fell ill with hepatitis and liver disease. William Eythe died on January 17, 1957, aged only 38.
Growing only to 5'6" McCallister found it difficult to find roles as an adult. He appeared with Edward G. Robinson in 1947's The Red House and had the star role in Thunder in the Valley (1947), and supported June Haver in Scudda Hoo! Scudda Hay! (1948).[7] McCallister had the lead in another animal story The Big Cat (1949) and co-starred with Shirley Temple in The Story of Seabiscuit (1949). He was in The Boy from Indiana (1950).
McCallister began appearing on TV in episodes of Suspense ("Lunch Box", "Collector's Item"), and Lux Video Theatre ("Down Bayou DuBac"). He had the lead in Sam Katzman's A Yank in Korea (1951) and a Western, Montana Territory (1952).[8] However he was mostly seen in TV: Tales of Tomorrow ("Verdict from Space"), "The Last Man on Earth", ("Enemy Unknown"), The Ford Television Theatre ("My Daughter's Husband"), Schlitz Playhouse ("Operation Riviera"), and Footlights Theater ("My Daughter's Husband"). His last feature film was Combat Squad (1953). McCallister and William Eythe were producers of the stage musical revue Lend an Ear, which began at Los Angeles' Las Palmas Theater and launched Carol Channing's career.[1]
In 1953, at the age of 30, McCallister retired from acting. Later, he became a successful real estate manager, wealthy from his investments.[2] After retirement, he still appeared in two television series, as Coley Wilks in the 1961 episode "The Hostage" of the ABC western series, The Rebel, starring Nick Adams; and as Willie in the 1963 episode "Triple Indemnity" of the CBS sitcom, The New Phil Silvers Show.[9] In 1963 he said, "I'm happy. I'm doing what I want".[10] In a 1992 interview, McCallister said, "Being a movie star was great, but I never considered doing it for a lifetime. I wanted to be myself, to go where I pleased without causing a traffic jam. I've succeeded in this, and I'm happy".[3]
He died from congestive heart failure at the age of 82.[12]
---
My published books:


---
Behind the Screen: How Gays and Lesbians Shaped Hollywood, 1910-1969, William J. Mann, 2001