Queer Places:
2727 Benedict Canyon Drive, Beverly Hills, CA 90210
The San Remo, 145 Central Park West, New York, NY 10023
Central Cemetery, Simmeringer Hauptstraße 234, 1110 Wien, Austria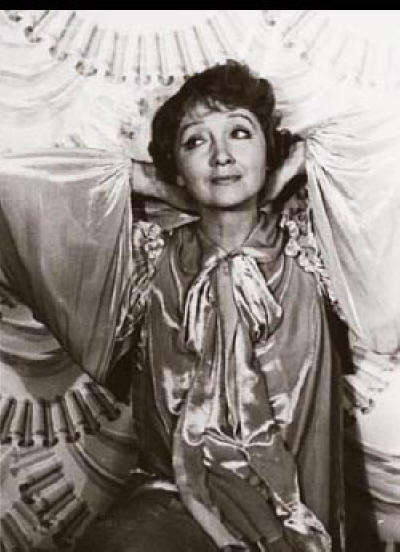 Hedda Hopper (born Elda Furry; May 2, 1885 – February 1, 1966) was an American actress and gossip columnist, notorious for feuding with her arch-rival Louella Parsons. She was well-known for her extravagant hats and McCarthy era red-baiting. At the height of her power in the 1940s she commanded a 35 million strong readership. A strong supporter of the House Un-American Activities Committee (HUAC) hearings, Hopper named suspected communists and was a major proponent of the Hollywood blacklist. Hopper continued to write gossip until the end of her life, her work appearing in many magazines and later on radio.
Dema Harshbarger became manager and press agent of Hedda Hopper,[15] and was frequently mentioned in Hopper's gossip column.[16][17] She was a lesbian known for wearing tailored suits, bowties, and hats.[20]
Born Elda Furry in Holidaysburg, Pennsylvania, the daughter of David E. Furry (1857–1931) and Margaret Miller (1856–1941), she left school to act on Broadway in New York City, New York
On May 8, 1913, Hopper married actor and singer DeWolf Hopper ( 1858–1935 ) in New Jersey. They had one child, William ( 1915–1970 ), who later played Paul Drake in the Perry Mason series.[27] They were divorced in 1922.[28]
Hopper died on February 1, 1966, of double pneumonia at the age of 80 in Cedars-Sinai Medical Center in Beverly Hills .[29][30] The probate value of Hopper's estate was $472,661.[31] She is buried at Rose Hill Cemetery, Altoona, Pennsylvania.[32]
For her contribution to the motion picture industry, Hopper has a star on the Hollywood Walk of Fame at 6313½ Hollywood Boulevard in Hollywood.[33]

Photographedwith her son, actor William DeWolf Hopper, Jr., on October 18, 1934, by Carl Van Vechten
---
My published books:


---
https://en.wikipedia.org/wiki/Hedda_Hopper