Partner Lon McCallister
Queer Places:
Clay Avenue, Mars, PA
23910 Malibu Rd, Malibu, CA 90265
Saint Peters Cemetery Butler, Butler County, Pennsylvania, USA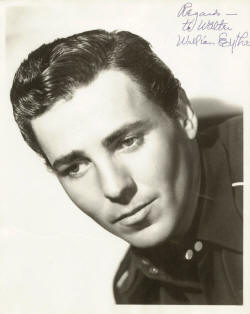 William John Eythe (April 7, 1918 – January 26, 1957) had a hard time being gay and umarried in Hollywood: never one to play games easily, he chafed against the studio rules and was early branded a "rebel." Hedda Hopper called him the "Brash Brat."
The press liked to call him "the man from Mars," for he was born in Mars, PA, a little town outside Pittsburgh, on April 7, 1918, the youngest child of Carl Sebastian and Kathleen Eyth (the final "e" was added when he went on stage.) As a boy, Bill lived in the shadow of his older brother, a jock everybody called "Dutch." Both brothers attended Carnegie Tech, where the lion's share of attention again went to Dutch, who became an All-American halfblack on the football field. Bill meanwhile was a drama major, with much of his interest directed at set design and costume. He put together several fashion shows for local department stores. His parents seem to have been supportive of his interest, and Eythe would go on to join several stock companies after graduation.
Appearing with Ruth Chatterton in Cohasset, MA, he was spotted by Broadway producer Oscar Serlin, who gave him a part in The Moon is Down, which opened at the Martin Beck Theatre in April 1942. On the strenght of this, he was brought to Hollywood and given a long-term contract with Fox. His "discoverer" may well have been Anderson Lawler, the well-known Hollywood "walker" who was then working as a talent scout for Fox.
His eardrum having been punctured in a stage accident, he stayed out of the war due to hearing loss. With Tyrone Power and so many others off the screen, Eythe had few rivals, and received good notices for his first film, The Ox-Bow Incident with Henry Fonda. After playing the noble young French boy who gives up his love for Jennifer Jones in The Song of Bernadette, he was named a "Star of Tomorrow" by film exhibitors. Variety predicted he had "a bright future."
By the time of his starring part in A Royal Scandal, as the reluctant amour of Tallulah Bankhead's Catherine the Great, there was clearly some sense that his maverick image would have to be "explained" to the public. Eythe told both journalist Paul Benedict and Hedda Hopper that stories of a romance with Anne Baxter were dreamed up by the publicity department. But he did resort to the old "unnamed girl back home" myth, telling Benedict "she isn't in pictures, doesn't want to be, nobody knows her, which suits us both fine." Nobody knew her because, in all likelihood, she didn't exist. For Eythe was in a relationship with someone much closer at hand, and most reporters knew it. Eythe defied Code-era tradition by living openly with another man, Lon McCallister, a fellow "Star of Tomorrow." Although McCallister declined to be interviewed about it, press accounts at the time did note their friendship as well as the fact that McCallister, who'd achieved some wartime popularity playing young soldiers in Stage Door Canteen and the filmed version of Winged Victory, traveled to London in the summer of 1946 to be with Eythe during the filming of Meet Me at Dawn. It would be Eythe's last major film.
Poised on the brink of stardom, Eythe suddenly yanked back. Studio chief Darryl Zanuck, despite his geniality, "wasn't too happy" about the Eythe-McCallister friendship, according to actor Ray Stricklyn. The Hollywood gay subculture has always held that Zanuck insisted the pair not be seen in public, and when they defied him, he released Eythe from his contract. Suddenly adrift, Eythe soon married the 18 years old Buff Cobb, an actress and granddaughter of the author Irvin S. Cobb (and later the wife of television newsman Mike Wallace.) The marriage was brief and unhappy: after only a few months, Cobb filed for a divorce in January 1949, claiming Eythe had "struck her with great violence." Ordered to pay her a $2.500 settlement, Eythe refused and spent a night in jail. He made some minor pictures at Paramount and Columbia and did some early television work. He also returned to the theater, although during the run of "Lend an Ear" in Los Angeles, he frequently forgot his lines and had to leave the stage. A series of arrests for drunken driving made headlines; in 1952 he spent another night in the country jail after "getting loaded" (his words) in Malibu.
His release from the studio did allow him to resume his relationship with McCallister. They traveled extensively and made some films for the Hilton hotel chain. When asked why both had left acting, McCallister joked: "Bill's too fat and I'm too old." They lived together in Malibu for a number of years, with McCallister helping to care for Eythe when he fell ill with hepatitis and liver disease.
William Eythe died on January 17, 1957, aged only 38.
---
My published books:


---
Behind the Screen: How Gays and Lesbians Shaped Hollywood, 1910-1969, William J. Mann, 2001