Partner Alice James
Queer Places:
Burnside, Prides Crossing, Beverly, MA 01915, Stati Uniti
33 Mt Vernon St, Boston, MA 02108, Stati Uniti
Mount Auburn Cemetery, 580 Mt Auburn St, Cambridge, MA 02138, Stati Uniti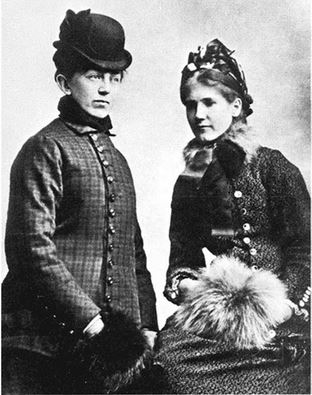 Katharine Peabody Loring (May 21, 1849 – August 16, 1943) was an American educator. She was head of the history department at the Society to Encourage Studies at Home, the first correspondence school in the United States, where she developed a lifelong companionship with well-known diarist Alice James. She was also a trustee of the Beverly Public Library in Beverly, Massachusetts, and president of the Beverly Historical Society from 1918 to 1941. The relationship between Alice James and Katharine Peabody Loring was one of the most celebrated Boston marriages. She first met Katharine Loring in 1873; by 1879 the two were inseparable. Of his sister's relationship with Loring, Henry James wrote: "A devotion so perfect and generous... was a gift so rare... that to brush it aside would be almost an act of impiety." In Alice and Katharine, James found a model for the feminist characters in The Bostonians (1886).
Katharine Peabody Loring was born in Beverly, Massachusetts, on May 21, 1849, to Caleb William Loring, president of the Plymouth Cordage Company, and Elizabeth Peabody. Her name was occasionally misspelled as Katherine in many letters. The Loring family were descendants of Thomas Loring, who came to Higham, MA, from Devonshire, England, and they were influential in Massachusetts. Her grandfather Charles Greeley Loring was a landowner in Prides Crossing, Beverly, Massachusetts, which was passed on to Loring's father, Caleb, who built a new house in 1852. The family often moved between the Prides Crossing home, Burnside, and the family house in Boston until 1872, when they all moved permanently to Beverly.
The move to Burnside after 1872, was due to the Panic of 1873. According to a memorial lecture on Caleb Loring, son of Augustus P. Loring that Caleb William Loring in 1873 decided to bail out his in-laws, the Jacksons. Patrick Tracy Jackson, the owner of the Hampton Mills, in 1873 suffered financial losses as creditors demanded payment. Caleb William Loring, used his finances to support the mill, pay the creditors and pay the employees rather than have the mill close. Due to this assistance, the only property they had left was Burnside. When Katharine and Louisa were away in Europe he eventually moved to Mount Vernon Place in Boston which was the house owned by his step-mother Cornelia Goddard Loring. She had gone to Italy where she died. the house was owned by his step-brother George Goddard. Caleb William used Burnside as his his summer home until his death in 1896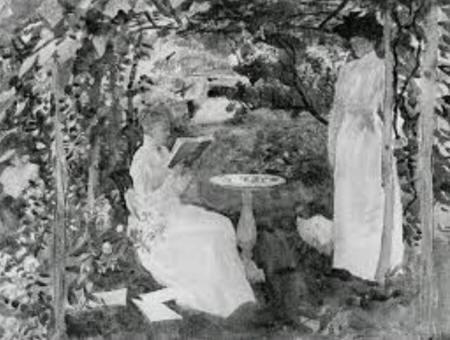 Louisa and Katharine Loring, Study in Green, by John Singer Sargent
Many biographers mention that Katharine did not receive any formal education. In letters from the Louisa and Katharine herself, which are held at the Beverly Historical Society, Katharine mentions attending school. Louisa in 1864, in a letter to her uncle Charles G.Loring jr, while he was serving as an officer in the Union Army that that she is attending Miss Brown's School, the school that Katharine had attended. Miss Brown's was down the street from their Mount Vernon St Home. Katherine was also in the forefront of women's education and instrumental in openingn John Hopkins to women, and to Harvard through what was called the "Annex" which later became Radcliffe. She was also sent a series of her letters to the Women's International Archives which unfortunately closed.
In the spring of 1888, while travelling to Florida and South Carolina with her father and sister, Loring met Annie Adams Fields and Sarah Orne Jewett, with whom she was a lifelong friend.[5]
Loring was an avid reader and travelled widely, unusual for women at the time. Both her brothers, William Caleb Loring, a justice of Massachusetts Supreme Judicial Court, and Augustus Peabody Loring, a Republican politician and member of the Constitutional Convention of 1917, often consulted with her. Katherine was very much the go to person in her family, at the age of 10 she was sent to Burnside, the family summer home at Pride's Crossing, put in charge of her siblings who were suffering from the varioloid. With the death of her mother at the age of 21, she became the "matron' of the family taking over her deceased mother's role.
Because of her interest in politics and foreign affairs, Loring helped Anna Ticknor found the Society to Encourage Studies at Home in 1873 to contribute to women's education. She became head of the history department, the largest of the society's departments, a position she held for 20 years. Her sister, Louisa Putnam Loring, also helped out at the school. Louisa suffered from tuberculosis and often had to be taken care of by Loring. Loring and her sister were involved in the American Red Cross locally together.[6] Louisa was also a good friend of John Singer Sargent who took a watercolor of Louisa and Katharine Loring, Study in Green, destroyed by fire in 1969.
In 1871 Katharine Loring, together with Julia Ward Howe, founded the Saturday Morning Club, an organization for women's communal and intellectual growth in Boston.[7] In addition to women's organizations, Loring was also a key stakeholder for the establishment of the Beverly Public Library, of which she was also a trustee; other organizations she was involved with were: the Mayflower Club in Boston, the Royal Red Cross during World War I, the Women's Education Association, the Harvard Annex (a private program for the instruction of women by Harvard faculty),[9] the Beverly Improvement Society and the Massachusetts Library Club. She was also president of the Beverly Historical Society for 23 years, from 1918 to 1941, advocating the acquisition of the John Balch House and the John Hale House, both properties currently in the National Register of Historic Places.
Loring and James first met in December 1873. In 1875, James joined the Society and taught history alongside Loring, who was the head of the department. In the summer of 1879, Alice James wrote to Sara Darwin:
"I wish you could know Katharine Loring [...] she is a most wonderful being. She has all the mere brute superiority which distinguishes man from woman combined with all the distinctively feminine virtues. There is nothing she cannot do from hewing wood and drawing water to driving runaway horses and educating all the women in North America".
Loring and James journeyed to the White Mountains in New Hampshire in the spring of 1880. During the journey they also visited Lake Winnepesaukee, Newport, Rhode Island, and Cape Cod. On May 21, 1881, Loring and James left for England, arriving on May 30. Initially staying in Richmond at the Star and Garter Hotel, on July 18 they moved temporarily to Kew to the house of Asa Gray, a Harvard botanist, and Jane Loring Gray, Loring's aunt. The Kew arrangements were unsuitable to James' needs, and they relocated to Sevenoaks at the end of July, and London, at 10 Clarges Street, in mid-August. In the beginning of September, with Henry James leaving for Scotland, James and Loring moved to his rooms at 4 Bolton Street. At the end of the month, they were back to the United States. Loring and James moved to England in 1884. James died on March 6, 1892. At the request of Henry and William, Katherine was entrusted with taking Alice's cremains from England to Cambridge Ma. Katherine was also responsible for making copies of Alice's Diary.
According to Leon Edel, Henry James loosely based his characters Olive Chancellor and Verena Tarrant in The Bostonians upon Loring and his sister. While she was in England with Alice James, she divided her time between her own travels and staying with Alice. The relationship as Edel pointed out was one of "power transference" When Alice knew that Katherine would be returning, Alice took to her bed to be the patient, the day before she would be out painting. Katherine enjoyed being the caregiver and Alice the patient.
At the beginning of the 20th century, when the nouveau riche arrived to Beverly from New York, they started to buy the old-Bostonian family mansions. Henry Clay Frick proposed to Katharine Loring to buy their Prides Crossing property, to which Loring replied, "Goodness! what on earth would I do with a million dollars?"
The Loring sisters participated in humanitarian activities throughout World War I. They also did relief work after the Great Salem fire of 1914 and were active in combatting tuberculosis: Louise Loring was the founder and president of the Aiken, South Carolina Sanitarium, director of the Beverly Hospital, and founder of the Anti-Tuberculosis Society in Beverly. In 1917, Katharine helped compile the Loring family genealogy and in 1932 she wrote The Earliest Summer Residents of the North Shore and Their Houses.[5]
Always low-sighted, Katharine Loring became completely blind in old age, and taught herself braille. She died 94 years old, on August 16, 1943. She was buried with her sister Louisa, who died earlier in 1924, at Mount Auburn Cemetery in Cambridge, Massachusetts.[16]
---
My published books:


---
https://en.wikipedia.org/wiki/Katharine_Peabody_Loring
Improper Bostonians Lesbian and Gay History from the Puritans to Playland By History Project Staff · 1998
The Hub of the Gay Universe, An LGBTQ History of Boston, Provincetown, and Beyond, by Russ Lopez, 2019