Partner Katharine Coman
Queer Places:
16 Main St, Falmouth, MA 02540, Stati Uniti
Wellesley High School, 50 Rice St, Wellesley Hills, MA 02481, Stati Uniti
University of Oxford, Oxford, Oxfordshire OX1 3PA
95 West St, Portland, ME 04102
Wellesley College (Seven Sisters), 106 Central St, Wellesley, MA 02481
70 Curve St, Wellesley, MA 02482, USA
Oak Grove Cemetery, Falmouth, Massachusetts 02540, Stati Uniti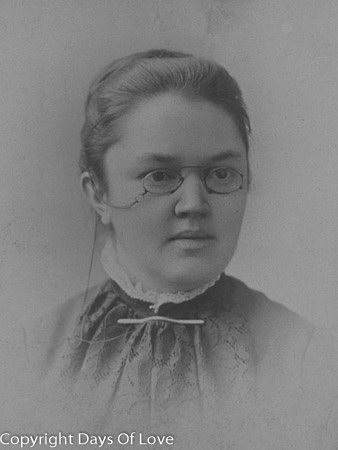 Katharine Lee Bates (August 12, 1859 – March 28, 1929) was an American songwriter. She is remembered as the author of the words to the anthem "America the Beautiful". She popularized "Mrs. Santa Claus" through her poem Goody Santa Claus on a Sleigh Ride (1889). Vida Dutton Scudder lived for 35 years with the writer Florence Converse, her 'comrade and companion'. They taught and did Settlement work together, and wrote fiction drawing on their relationship. Their friends Katharine Coman and Katharine Lee Bates, professors of economics and sociology, and English, respectively, co-founders of the Rivington Street Settlement, and partners for a quarter of a century, left Bates' celebrated and loving poetic memoriam of Coman's illness and death from breast cancer, the earliest such record in American literature.
The poetry of Walt Whitman contained images linking emotional, spiritual, and physical love between men, distinguishing it from the lofty platonic sentiments of earlier American writers. Bostonian Edward Everett Hale greeted Whitman's Leaves of Greaves (1855) with words of praise in the North American Review, though others had reservations. Other, more liberal-minded Bostonians, such as Katharine Lee Bates, formed a local branch of the International Walt Whitman Fellowship.
Bates was born in Falmouth, Massachusetts, the daughter of Congregational pastor William Bates and his wife, Cornelia Frances Lee. She graduated from Needham High School in 1872, from Newton High School in 1875,[1] and from Wellesley College with a B.A. in 1880. She taught at Natick High School during 1880–81 and at Dana Hall School from 1885 until 1889.
Bates and Coman met at Wellesley in 1890 and were together for 25 years until Coman's death. They traveled together, encouraged other promising female intellectuals, and built a house for themselves which they named Scarab in honor of their trip to Egypt. When Vida Dutton Scudder, Katharine Lee Bates, and Katharine Coman came up with the idea of a settlement house, Coman turned to her friend, Cornelia Warren, for funding to get it up and running.
Bates returned to Wellesley as an instructor, then an associate professor 1891–93 when she was awarded an M.A. and became full professor of English literature. She studied at Oxford University during 1890–91.[2] While teaching at Wellesley, she was elected a member of the newly formed Pi Gamma Mu honor society for the social sciences because of her interest in history and politics.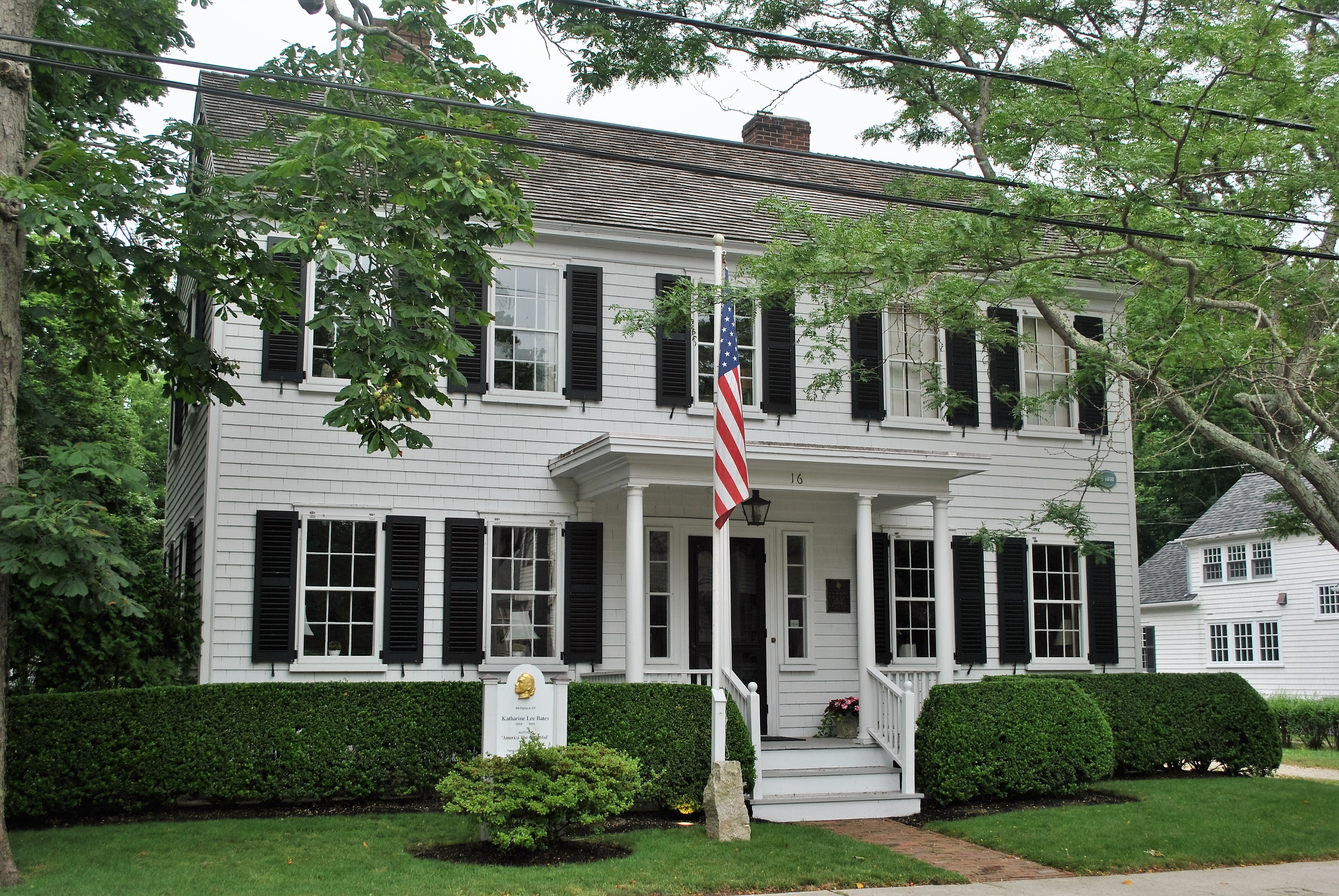 Katherine Lee Bates House, Falmouth, MA

Oak Grove Cemetery, Falmouth, Massachusetts 02540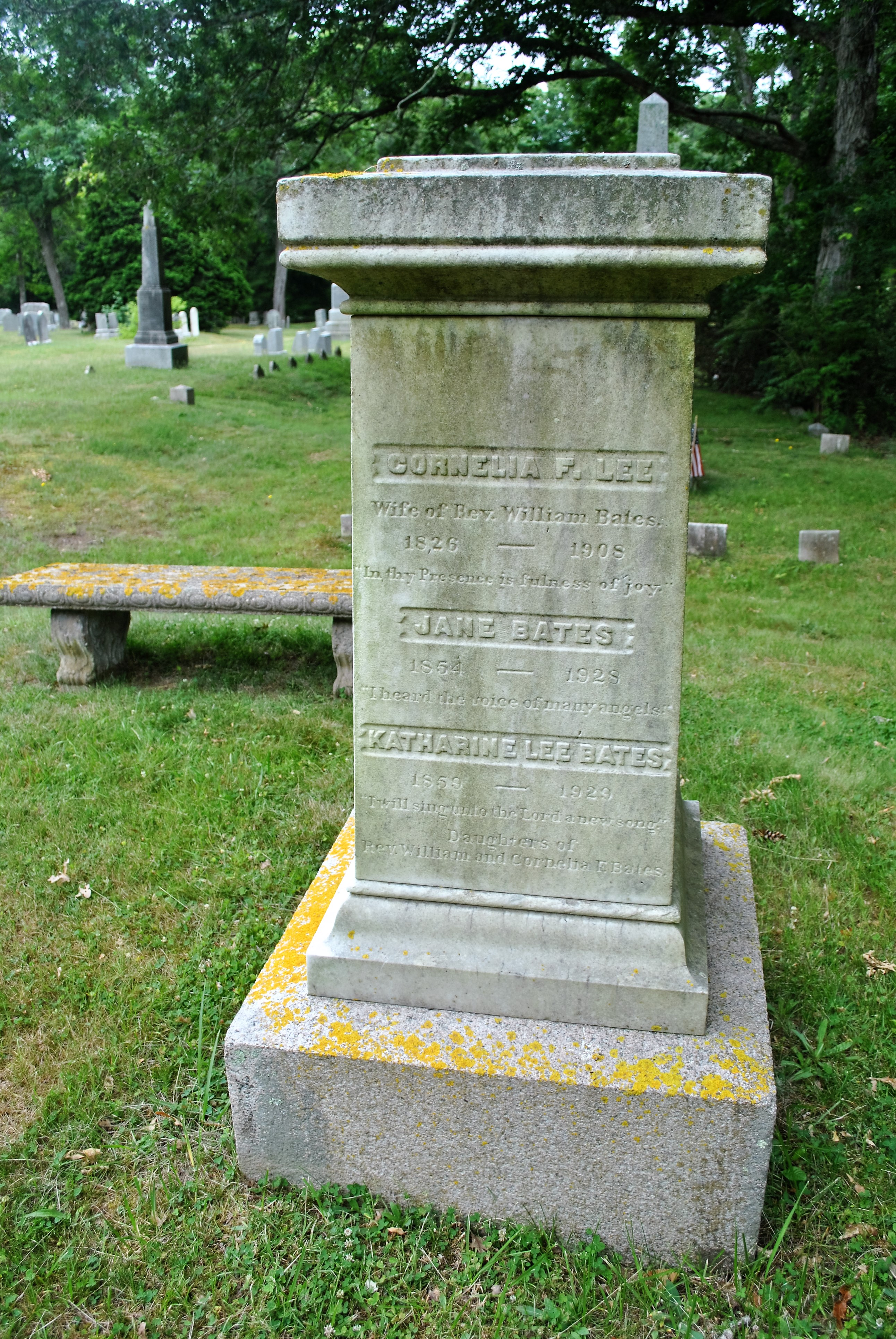 Oak Grove Cemetery, Falmouth, Massachusetts 02540
Bates was a prolific author of many volumes of poetry, travel books, and children's books. She popularized Mrs. Claus in her poem Goody Santa Claus on a Sleigh Ride from the collection Sunshine and other Verses for Children (1889).
She contributed regularly to periodicals, sometimes under the pseudonym James Lincoln, including Atlantic Monthly, The Congregationalist, Boston Evening Transcript, Christian Century, Contemporary Verse, Lippincott's and Delineator.[3]
A lifelong, active Republican, Bates broke with the party to endorse Democratic presidential candidate John W. Davis in 1924 because of Republican opposition to American participation in the League of Nations. She said: "Though born and bred in the Republican camp, I cannot bear their betrayal of Mr. Wilson and their rejection of the League of Nations, our one hope of peace on earth."[4]
Bates never married. In 1910, when a colleague described "free-flying spinsters" as "fringe on the garment of life", Bates answered: "I always thought the fringe had the best of it. I don't think I mind not being woven in."[5]
Bates lived in Wellesley with Katharine Coman, who was a history and political economy teacher and founder of the Wellesley College School Economics department. The pair lived together for twenty-five years until Coman's death in 1915.[7] In 1922, Bates published Yellow Clover: A Book of Remembrance, a collection of poems written "to or about my Friend" Katharine Coman, some of which had been published in Coman's lifetime.[8] Bates wrote: And I must bear this grief night after night, Day after day, through weeks and months and years, This grief becomes myself, too dull for tears, Bewildered beyond all pain, past all desire.
Some describe the couple as intimate lesbian partners,[9] citing as an example Bates' 1891 letter to Coman: "It was never very possible to leave Wellesley [for good], because so many love-anchors held me there, and it seemed least of all possible when I had just found the long-desired way to your dearest heart...Of course I want to come to you, very much as I want to come to Heaven."[10] Others contest the use of the term lesbian to describe such a "Boston marriage". Writes one: "We cannot say with certainty what sexual connotations these relationships conveyed. We do know that these relationships were deeply intellectual; they fostered verbal and physical expressions of love."[11]
Bates died in Wellesley, Massachusetts, on September 28, 1929, and is buried in Oak Grove Cemetery at Falmouth.[6]
---
My published books:


---
https://en.wikipedia.org/wiki/Katharine_Lee_Bates
Improper Bostonians Lesbian and Gay History from the Puritans to Playland By History Project Staff · 1998
The Hub of the Gay Universe, An LGBTQ History of Boston, Provincetown, and Beyond, by Russ Lopez, 2019