Partner Robert Rauschenberg, Susan Sontag
Queer Places:
National Academy Museum & School, 1083 5th Ave, New York, NY 10128, Stati Uniti
University of South Carolina, Columbia, Carolina del Sud 29208, Stati Uniti
Parsons School of Design, 66 5th Ave, New York, NY 10011, Stati Uniti
Hotel Chelsea, 222 W 23rd St, New York, NY 10011, Stati Uniti
278 Pearl St, New York, NY 10038, Stati Uniti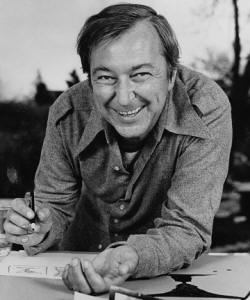 Jasper Johns (born May 15, 1930) is an American painter, sculptor and printmaker whose work is associated with abstract expressionism, Neo-Dada, and pop art. He is well known for his depictions of the American flag and other US-related topics. Johns' works regularly receive millions of dollars at sale and auction, including a reported $110 million sale in 2010. At multiple times works by Johns have held the title of most paid for a work by a living artist. Johns was romantically involved with Robert Rauschenberg and Susan Sontag.
Johns has received many honors throughout his career, including receipt of the National Medal of Arts in 1990, and the Presidential Medal of Freedom in 2011. In 2018, The New York Times called him the United States' "foremost living artist."[1]
Born in Augusta, Georgia, Jasper Johns spent his early life in Allendale, South Carolina, with his paternal grandparents after his parents' marriage failed. He then spent a year living with his mother in Columbia, South Carolina, and thereafter he spent several years living with his aunt Gladys in Lake Murray, South Carolina, twenty-two miles from Columbia. He completed Edmunds High School (now Sumter High School) class of 1947 in Sumter, South Carolina, where he once again lived with his mother.[2] Recounting this period in his life, he once said, "In the place where I was a child, there were no artists and there was no art, so I really didn't know what that meant. I think I thought it meant that I would be in a situation different than the one that I was in."
Johns studied a total of three semesters at the University of South Carolina, from 1947 to 1948.[3] He then moved to New York City and studied briefly at the Parsons School of Design in 1949.[3] In 1952 and 1953 he was stationed in Sendai, Japan, during the Korean War.[3]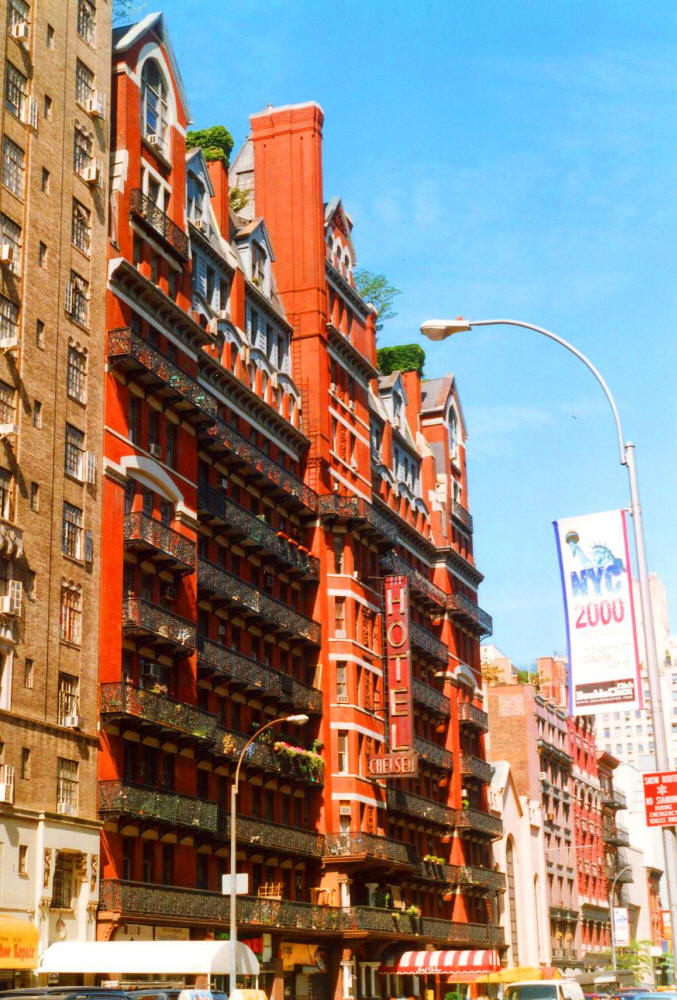 Hotel Chelsea, New York City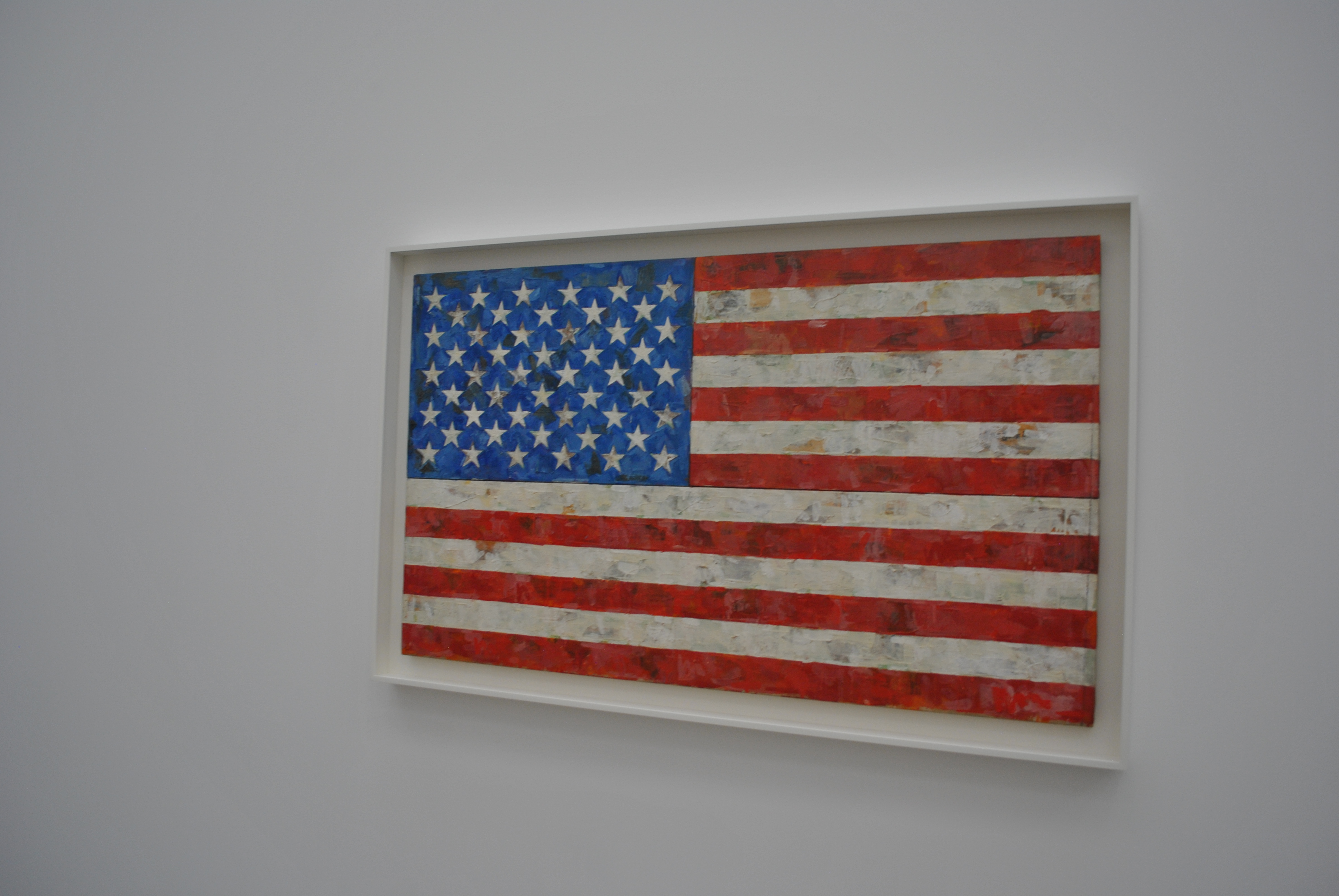 The Broad, Los Angeles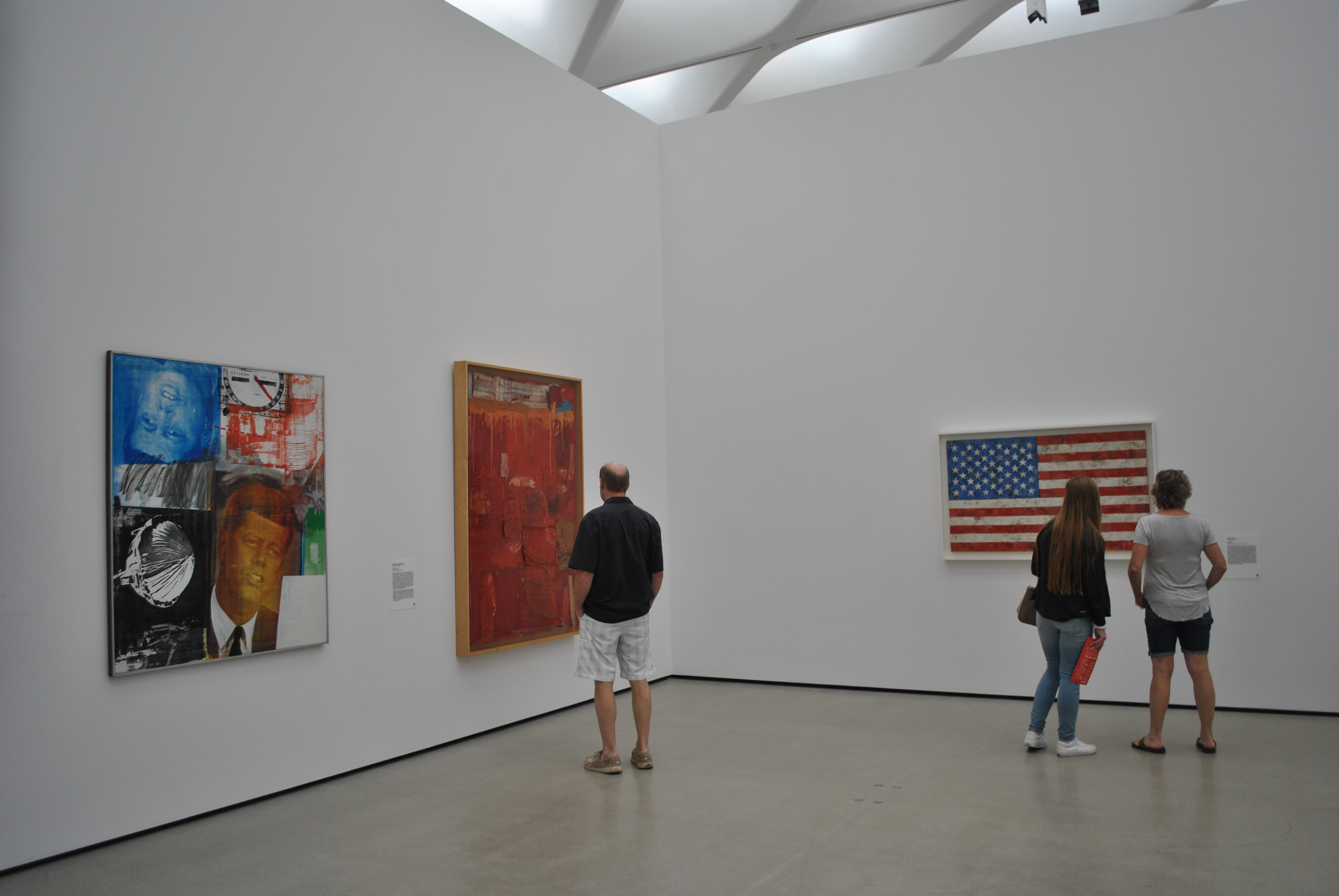 The Broad, Los Angeles
In 1954, after returning to New York, Johns met Robert Rauschenberg and they became long-term lovers. For a time they lived in the same building as Rachel Rosenthal.[4][5][6] In the same period he was strongly influenced by the gay couple Merce Cunningham (a choreographer) and John Cage (a composer).[7][8] Working together they explored the contemporary art scene, and began developing their ideas on art.[3]
In 1958, gallery owner Leo Castelli discovered Johns while visiting Rauschenberg's studio.[3] Castelli gave him his first solo show. It was here that Alfred Barr, the founding director of New York's Museum of Modern Art, purchased four works from this show.[9] In 1963, Johns and Cage founded Foundation for Contemporary Performance Arts, now known as Foundation for Contemporary Arts in New York City.
In 1959, in the magazine Arts, Hilton Kramer only thinly veiled his homophobia when attacking Robert Rauschenberg and Jasper Johns as purveyors of 'the window decorator's aesthetic'.
At the exhibition Robert Rauschenberg: Combines at New York's Metropolitan Museum of Art (December 2005–April 2006), which examined Rauschenberg's groundbreaking painted sculptural objects, the signage was particularly misleading. A history of the artist's work and life was mounted on the entry wall to the exhibit, which most viewers read intently (some were even taking notes on my visit). The following text appeared toward the end of the statement: In 1949 Rauschenberg and [Susan] Weil moved to New York. They married the following year, and their son, Christopher, now a photographer, was born in 1951. That spring Rauschenberg had his first solo exhibition, at Betty Parsons Gallery in New York, and met the composer John Cage and the dancer-choreographer Merce Cunningham. Their friendship solidified in summer 1952 at Black Mountain, where they were teaching and Cy Twombly was a student. Rauschenberg and Twombly traveled to Europe, chiefly Italy, for a year, and in 1953, back in New York, they had concurrent exhibitions at the Stable Gallery. Looking at this text, we can see how the institution attempted to place Rauschenberg in the guise of a different-sex lover. If Rauschenberg's sexuality is unimportant, why inform the public that he was married and had a child? Obviously, his sexuality was important to the exhibitors, and by extension, then, information regarding the artist's same-sex activities should have been considered significant as well. Rauschenberg and Twombly traveled to Europe as lovers, a fact that is widely known and documented; the trip was the equivalent of a honeymoon. The sign did not explain why Rauschenberg would leave his baby and its mother to go off for a year with a man. Nor did it explain that Cage and Cunningham were lovers and remained so for the rest of Cage's life. These facts are widely documented. We are therefore led to wonder why Rauschenberg's same-sex lovers were given a lower hierarchical status, in fact deleted from the institutional narrative. Only in the huge accompanying catalogue was there any mention of Rauschenberg's same-sex activities, and then they were briefly glossed over: "During the second half of the 1950s, Jasper Johns and Rauschenberg were neighbors, friends, lovers, and, most significantly, artists developing work for which they would ultimately become well known." While readers of the text might be grateful for this small acknowledgement, nowhere in the exhibition was this information available. It was refreshing to see the relationship between Rauschenberg and Jasper Johns finally acknowledged, even if in such a slight way, yet many visitors would have missed the passage as they scanned the huge text on display in the shop. Few actually purchased the books, because they were expensive ($45 paper, $75 cloth), leaving the vast majority of viewers without this historical information, while the actual exhibit continually informed them of the artist's heterosexual activities. Nor were they informed of how works like Bed (1955) included in the exhibition directly referenced the artist's sexual relationship with Johns. Rauschenberg's art should have been at the center of the discussion, but this could not occur because the museum mostly denied that the art was often made for and about his male same-sex lovers, and not for his wife, whom he divorced within 16 months of marriage, nor his child.
Johns currently lives in Sharon, Connecticut, and on the island of Saint Martin.[10] Until 2012, he lived in a rustic 1930s farmhouse with a glass-walled studio in Stony Point, New York. He first began visiting Saint Martin in the late 1960s and bought the property there in 1972. The architect Philip Johnson is the principal designer of his Saint Martin home, a long, white, rectangular structure divided into three distinct sections.[11]
---
My published books:


---
https://en.wikipedia.org/wiki/Jasper_Johns
Gender, Sexuality and Museums (p.160). Taylor and Francis. Edizione del Kindle.
Woods, Gregory. Homintern . Yale University Press. Edizione del Kindle.
Hidden Histories, 20th Century Male Same Sex Lovers in the Visual Arts, by Michael Petry