Queer Places:
Columbia University (Ivy League), 116th St and Broadway, New York, NY 10027
Sorbonne, Sorbona, Parigi, Francia
207 Boulevard Raspail, 75014 Paris, Francia
Villa d'Alésia, 75014 Paris, Francia
66 Boulevard Pasteur, 75015 Paris, Francia
Mount Carmel Cemetery, 83-45 Cypress Hills St, Glendale, NY 11385, Stati Uniti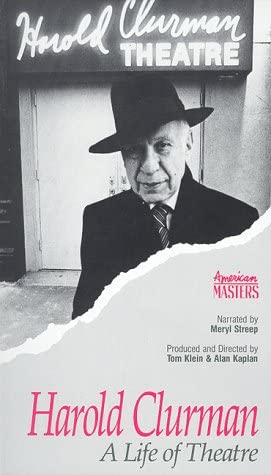 Harold Edgar Clurman (September 18, 1901 – September 9, 1980) was an American theatre director and drama critic, "one of the most influential in the United States".[1] He was most notable as one of the three founders of New York City's Group Theatre (1931–1941). He directed more than 40 plays in his career[1] and, during the 1950s, was nominated for a Tony Award as director for several productions. In addition to his directing career, he was drama critic for The New Republic (1948–52) and The Nation (1953–1980), helping shape American theater by writing about it. Clurman wrote seven books about the theatre, including his memoir The Fervent Years: The Group Theatre and the Thirties (1961).
Clurman was born on the Lower East Side of New York City, the son of Jewish parents from eastern Europe,[2] Samuel, a doctor, and Bertha Clurman.[3] He had three older brothers, Morris, Albert, and William.[4] His parents took him at age six to Yiddish theater, and Jacob Adler's performances in Yiddish translations of Karl Gutzkow's Uriel Acosta and Gotthold Ephraim Lessing's Nathan the Wise fascinated him, although he did not understand Yiddish.
He attended Columbia and, at the age of 20, moved to France to study at the University of Paris. There he shared an apartment with the young composer Aaron Copland. In Paris, he saw all sorts of theatrical productions. He was influenced especially by the work of Jacques Copeau and the Moscow Art Theatre, whose permanent company built a strong creative force. He wrote his thesis on the history of French drama from 1890 to 1914.[1]
Clurman returned to New York in 1924 and started working as an extra in plays, despite his lack of experience. He became a stage manager and play reader for the Theatre Guild. He briefly studied Stanislavski's system under the tutelage of Richard Boleslavsky (Carnickle 39), and became Jacques Copeau's translator/assistant on his production of The Brothers Karamazov, based on the novel by the Russian writer Fyodor Dostoevsky.
Clurman began work as an actor in New York. He felt that the standard American theater, though successful at the box office, was not providing the experience which he wanted. He said, "I was interested in what the theater was going to say...The theater must say something. It must relate to society. It must relate to the world we live in."[1]
Together with the like-minded Cheryl Crawford and Lee Strasberg, he began to create what would become the Group Theatre. In November 1930, Clurman led weekly lectures, in which they talked about founding a permanent theatrical company to produce plays dealing with important modern social issues. Together with 28 other young people, they formed a group that developed a groundbreaking style of theater that strongly influenced American productions, including such elements as Stanislavski-trained actors, realism based on American stories, and political content. By building a permanent company, they expected to increase the synergy and trust among the members, who included Stella Adler, Morris Carnovsky, Phoebe Brand, Elia Kazan, Clifford Odets, and Sanford Meisner.
In the summer of 1931, the first members of the Group Theatre rehearsed for several weeks in the countryside of Nichols, Connecticut at the Pine Brook Country Club. They were preparing The House of Connelly by Paul Green, their first production, directed by Strasberg. Clurman was the scholar of the group — he knew multiple languages, read widely, and listened to a broad array of music. Strasberg dealt with acting and directing, and Crawford dealt with the business.[5][6][7]
The first play which Clurman directed for the Group Theatre was Awake and Sing! by Clifford Odets in 1935. The play's success led Clurman to develop his directing style. He believed that all the elements of a play—text, acting, lighting, scenery and direction—needed to work together to convey a unified message. Clurman would read the script over and over, each time focusing on a different element or character. He tried to inspire, guide and constructively critique his designers rather than dictate to them. He also used Richard Boleslavsky's technique of identifying the "spine," or main action, of each character, then using those to determine the spine of the play. He encouraged his actors to find "active verbs" to describe what their characters were trying to accomplish.
In 1937, tensions among Clurman, Crawford and Strasberg caused the latter two to resign from the Group; four years later, the Group Theatre permanently disbanded. Clurman went on to direct plays on Broadway, more than 40 in all, and write as a newspaper theatre critic.
In 1940 Clurman married Stella Adler, a charismatic theatre actress and later a renowned New York acting coach. A member of the Group Theatre since its founding, Adler was the daughter of the notable Yiddish actor Jacob Adler. Clurman was her second husband. They divorced in 1960. Clurman's second marriage was to the independent filmmaker Juleen Compton. [8]
Clurman died on September 9, 1980 in New York City of cancer. He is buried in Mt. Carmel Cemetery, Glendale, Queens.
---
My published books:


---
https://en.wikipedia.org/wiki/Harold_Clurman