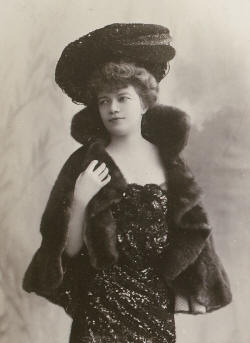 Fred de Gresac (1879 - February 20, 1943), born Frédérique Rosine de Grésac, was a French librettist, playwright and screenwriter. She was one of the most overt lesbians in the film colony, with her men's ties and short-cropped, flaming red hair. She has been romantically linked to Jane Loring. She was also infatuated with Frederica Sagor Maas, who had a bungalow in the same residence as Fred.
Frédérique Rosine de Grésac was born at Lamalou-les-Bains, in the south of France. She used the name "Fred de Gresac" professionally because, as she explained to a newspaper reporter, "I rather think the public likes its plays written by men."[1] In 1909 she was named artistic director of the Little Theatre in New York, offering "Elaborate and Costly Amusement in a Luxurious Setting for the Elect." [8]
In 1917, theatre critic Alan Dale wrote that "The most brilliant feminine playwright I have ever met is the lady who signs herself 'Fred de Gresac'."[2] She wrote more than 100 plays and screenplays, including The Marriage of Kitty (1903-1904), La Passerelle (Orange Blossoms) (1904, revived in 1922 as a musical and 1947; with Victor Herbert),[3] The Enchantress (1911-1912, with Harry B. Smith), The Wedding Trip (1911-1912, with Harry B. Smith and Reginald de Koven),[4][5] The Purple Road (1913), Sweethearts (1913-1914, with Harry B. Smith), and Flo-Flo (1917-1918, with Silvio Hein and E. Paulton).[6] Of the musical comedy Flo-Flo, she explained in 1919, "There is enough tragedy outside the theater. And so I have created Flo-Flo – I call her my spiritual cocktail – for America."[7] Films written by de Gresac included The Marriage of Kitty (1915, now lost), The Kiss of Hate (1916, now lost), The Great Secret (1917, now lost), The Eternal Temptress (1917), La Bohème (1926) for Lillian Gish, The Son of the Sheik (1926) for Rudolph Valentino, Afraid to Love (1927), Camille (1926) for Norma Talmadge, Breakfast at Sunrise (1927), She Goes to War (1929), and Hell Harbor (1930). Her last picture was a remake of Sweethearts for Nelson Eddy and Jeanette MacDonald in 1938.
Fred de Gresac was married to opera singer Victor Maurel. She was widowed when he died in 1923.
Frederica Sagor Maas worked as a story editor at Universal in the 1920s, and in her memoirs recalled hiring assistants, all young women. By 1923 Maas was story editor for Universal and head of the department. A year later in 1924, Maas had become dissatisfied with her position and left Universal to move to Hollywood.[5] At MGM, she worked with Fred de Gresac, a self-styled Hungarian countess and an over lesbian. "Sixtyish, with short, cropped, flaming red hair, Fred wore pants and men's shirts and ties," Maas recalled. "Soon enough I discovered she had designs on females younger than herself, and she aimed her guile in my direction. Since this was my first encounter with a lesbian, I didn't understand what was going on. I found mysterious little gifts on my desk when I came in, with beguiling notes: "Your liquid brown eyes sear my soul."" It took fellow writer Ray Doyle to clue Maas in: "That woman is a les, stupid. Shake her and tell her to go fly a kite."
Fred de Gresac died in Los Angeles in 1943, probably in her eighties. Her papers are archived at Stanford University.[9]
---
My published books:


---
Kate: The Woman Who Was Hepburn William J. Mann Henry Holt and Company, 30 ott 2007
The Shocking Miss Pilgrim: A Writer in Early Hollywood Frederica Maas University Press of Kentucky, 12 set 2010
Behind the Screen: How Gays and Lesbians Shaped Hollywood, 1910-1969, William J. Mann, 2001