Husband Ralph Partridge
Queer Places:
Bedales School, Church Rd, Steep, Petersfield GU32 2DG, Regno Unito
University of Cambridge, 4 Mill Ln, Cambridge CB2 1RZ
Ham Spray House, Marlborough SN8 3QZ, Regno Unito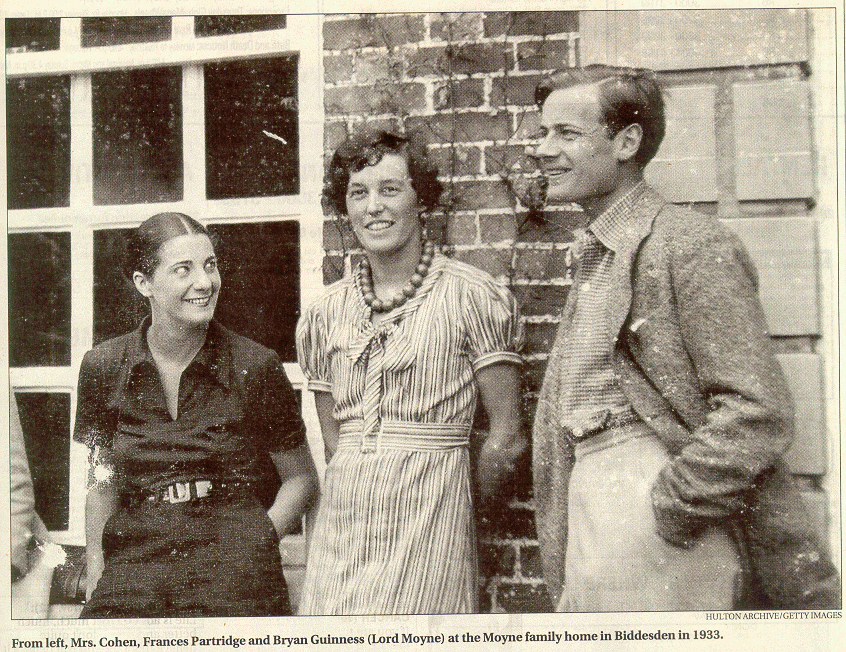 Frances Catherine Partridge[1] CBE (née Marshall; 15 March 1900 – 5 February 2004) was an English writer. A long-lived member of the Bloomsbury Group,[2] she is probably best known for the publication of her diaries. She married Ralph Partridge (1894 – 30 November 1960) in 1933. The couple had one son, (Lytton) Burgo Partridge (1935–1963).

Born in Bedford Square in London, she was the youngest of six children of William Marshall, an English architect and Margaret Anna Lloyd, a suffragist who took the 6-year-old Frances to a protest.[3] She lived in the square until she was eight when her father retired and they moved to the countryside.[4] She was educated at Bedales School and Newnham College, Cambridge.[5]

While working at a London bookshop owned by David Garnett and Francis Birrell, she became acquainted with Lytton Strachey, Dora Carrington and Ralph Partridge. In 1921, Ralph Partridge had married Dora Carrington, who was in love with Lytton Strachey, a homosexual who was himself more interested in Partridge. An added complication was Dora Carrington's intermittent affair with one of Partridge's best friends, Gerald Brenan. Carrington, Partridge, and Strachey shared a Wiltshire farm-house, Ham Spray, in a complex triangular relationship (later recorded in the 1995 film ''Carrington'', with Alex Kingston playing Frances).

Ralph Partridge now fell in love with Frances. They lived in London during the week and repaired to Ham Spray at weekends. After Dora Carrington committed suicide out of grief in 1932, shortly after Lytton Strachey's death, Ralph and Frances married on 2 March 1933. They lived happily at Ham Spray until Ralph's death in 1960.

They had one son, (Lytton) Burgo Partridge, who was born in 1935 and named for Strachey. In 1962, Burgo married Henrietta Garnett, daughter of Angelica Garnett and David Garnett,[6] with Henrietta already pregnant with their daughter. He died suddenly of heart failure on 7 September 1963, only three weeks after the birth of their baby, Sophie Vanessa. He had already been noticed for his writing ability, and had published one well-received book, ''A History of Orgies'' (1958).[7]

Frances sold Ham Spray and moved to London. Her writings, her membership of the Bloomsbury circle, her great personal charm and the energy that she retained into extreme old age together ensured for her a degree of celebrity towards the end of her life.[8]

She was awarded the Commander of the Order of the British Empire in the Millennium New Year Honours.[9]
---
My published books:


---