Queer Places:
Chateau Sur Mer, Newport
Island Cemetery Newport, Newport County, Rhode Island, USA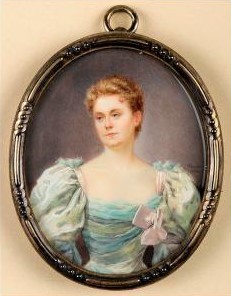 Edith Malvina Wetmore (September 23, 1870 - March 10, 1966) was a Heiress, Socialite, Philanthropist, Preservationist. Like Sarah Hewitt and Eleanor Hewitt, friends of the sisters were privileged women, career pioneers, and philanthropists. Elizabeth ("Bessy") Marbury and Elsie de Wolfe are perfect examples. Marbury pioneered a new profession as a talent agent for writers and performers, as well as a theater producer. Elsie de Wolfe "invented" the profession of interior decorating. Anne Tracy Morgan, Susan Dwight Bliss, and Edith Malvina Wetmore were wealthy philanthropists, collectors, and donors to the Cooper Union Museum. Caroline King Duer was a writer-poet-artist who became an editor at Vogue magazine.
Edith Malvina Wetmore was born in Geneva, Switzerland, on September 23, 1870. She was the youngest daughter of George Peabody Wetmore and Edith Malvina Keteltas. She was one of the few surviving members of the original '400' included on Ward McAllister's list. One of Newport's famed spinster's, she was the last of a very proud and distinguished family. Her father, George P. Wetmore, was one of the most beloved and respected senators in the history of Rhode Island. Wetmore, who was educated in private schools in the United States and Europe, never married.
Wetmore lived with her sister, Maude K. Wetmore, at the grand Newport estate 'Chateau Sur Mer'; she was attended to by a loyal staff of over 16, which included Henry, her butler for over thirty years, a housekeeper, footman, houseboy, nurse, secretary, cook and several maids, most of whom had been with her for more than twenty years. Maude Wetmore was nationally known Republican leader until her death in 1951. Chateau-sur-Mer, on Bellevue Avenue, Newport, Rhode Island, was the scene of many of Newport's most elaborate gatherings. Built by her father, it was one of the resort's two summer palaces still run in the old style with a butler and liveried footmen. The house is known as one of the best examples of the Aesthetic style interior. A patron of the arts at heart, Edith Wetmore annually made the trip to New York to attended the opening night of the Metropolitan Opera House, which was the start of the New York City social season, and even attended it's closing gala in 1964. An avid reader, she was particularly fond of children's books, which she collected from around the world, eventually donating her collection to the Providence Public Library as the "Edith Wetmore Collection of Children's Books". One of the last in Newport to uphold the sacred tradition of being 'at home' to friends and acquaintances, she firmly made sure that no cocktail was ever served at her house. A passionate gardener, she often won the smart garden luncheon parties. She was well into her 80s when she made her first trip to the grocery store, a chauffeur-driven excursion from her palatial home to the new A&P about a mile away. Accompanied by a friend who guided her through the aisles, helped her load the basket and led her to the checkout counter, she finally came to the cash register without a penny in her purse. Edith, whose income was $6,000 a day, never thought about carrying money. The friend had to pay. She is also known for summing up the feelings of old guard Newporters towards the Jazz Festival. When visiting friends one day, she was introduced to young Peter Lorillard. She asked him if he was related to Louis Lorillard, the founder of the Jazz Festival. When the boy proudly replied that Lorillard was his father, she shook her finger at him and said "Well, you go home and tell your father that Miss Wetmore says he's a wicked wicked man". Young Peter fled the room in tears.
Edith Wetmore was a charter member and first president of the Old State House in Newport, Inc., founded to maintain the State Capitol which was more than 200 years old. She also helped found the Newport Casino Theater, in Newport, Rhode Island. She was a fellow in perpetuity of the Metropolitan Museum of Art in New York. She was considered a leader in the social society that Newport, Rhode Island was known for.
At her death, she willed Chateau-sur-Mer to the Society for the Preservation of New England Antiquities. She was a benefactor of the Metropolitan Museum of Art, Yale University, the New York Public Library, and several Newport organizations.
---
My published books:


---