Partner Sybil Pike
Queer Places:
Iowa Writers' Workshop, Iowa City, IA 52245
Wayward Books, Maine Route 15, Sargentville, Maine 04673
MacDowell Colony, 100 High St, Peterborough, NH 03458
Doris Isaac Grumbach (born July 12, 1918) is an American novelist, memoirist, biographer, literary critic, and essayist. She taught at the College of Saint Rose in Albany, New York, the Iowa Writers' Workshop, and American University in Washington, DC, and was literary editor of The New Republic for several years. For two decades, she and her partner, Sybil Pike, operated a bookstore, Wayward Books, in Sargentville, Maine, until 2009 when they moved to a retirement home in Kennett Square, Pennsylvania.
Grumbach was born in New York City, a fifth-generation Manhattanite, to Leonard William and Helen Isaac. She grew up in Manhattan, where she attended elementary school PS 9. A very bright student, she skipped many grades and entered high school at age eleven. She was not prepared socially for this early advancement and did poorly, developing a stammer and losing her self-confidence. She was encouraged by the principal to take a year off from high school, and when she returned, she was an indifferent student in the classroom but showed talent in theater and in creative writing. In her senior year, she won a citywide short story contest, which helped secure her admission to Washington Square College of New York University. She majored in philosophy and graduated Phi Beta Kappa, receiving her BA degree in 1939. She earned her MA degree in medieval literature in 1940 from Cornell University.
At Cornell, she met her future husband, Leonard Grumbach, who had his doctorate in neurophysiology. They were married on October 5, 1941, and during 1940–41, Grumbach worked for Loew's Inc./MGM writing subtitles for films distributed abroad. During 1941–42, she was employed as a proofreader for Mademoiselle magazine and then for the journal Architectural Forum in 1942–43, eventually rising to the position of associate editor. When her husband was drafted during World War II, Grumbach joined the Navy in 1943 as an officer in the WAVES and served in the Navy from 1943 to 1945.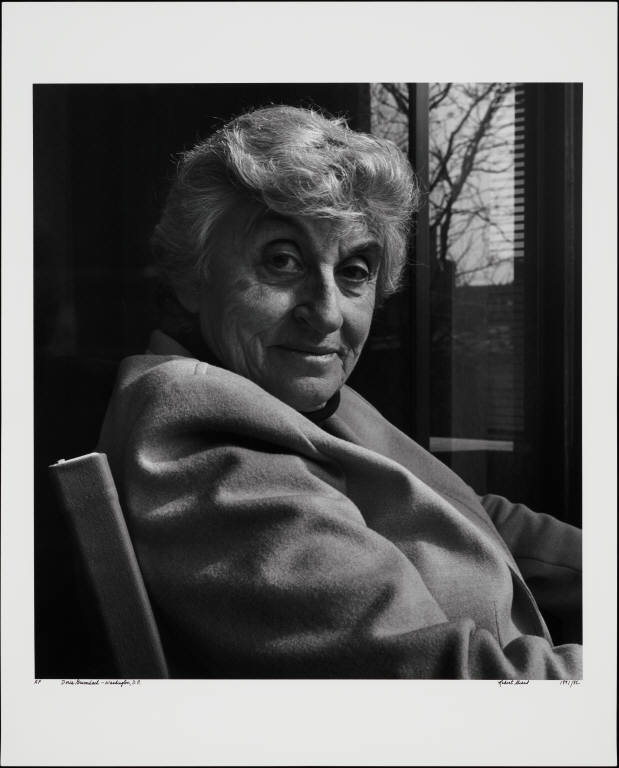 Featured in Particular Voices: Portraits of Gay and Lesbian Writers by Robert Giard [Rights Notice: Copyright Jonathan G. Silin (jsilin@optonline.net)]
After the war, Grumbach moved around the country with her husband as he taught physiology. During this period, the Grumbachs had four daughters: Barbara, Jane, Elizabeth, and Kathryn. Before the birth of their fourth daughter, the Grumbachs settled in Albany, New York, where Leonard Grumbach taught at Albany Medical College and Doris Grumbach began a career in teaching. From 1957 to 1960, she taught senior English at the Albany Academy for Girls. In 1960, she became a professor of English at the College of Saint Rose in Albany and taught there until 1971. During her time at the college, Grumbach also began to focus on her writing career and published her first two novels, The Spoil of the Flowers (1962), and The Short Throat, The Tender Mouth (1964). In 1967 she published a literary biography of novelist Mary McCarthy titled The Company She Kept, based in part on correspondence and other documents which McCarthy had shared with Grumbach.
IIn 1971, after raising their children, Grumbach left her husband. She spent a year in Saratoga Springs, New York, helping to set up the external degree program at Empire State College. Following her 1972 divorce, she began a relationship with Sybil Pike, who became and remains her life partner. In 1972, accepting a position at The New Republic magazine as literary editor, she and Pike moved to Washington, D.C., where Grumbach worked for the magazine for two years. After it was sold, and she lost her job, she remained in Washington and in 1975 accepted a position as professor of American literature at American University. During this time, she wrote a nonfiction column for The New York Times Book Review.
In 1979, Grumbach published the novel Chamber Music, which was critically well received and helped establish her reputation as a novelist. In six years, three more books followed: The Missing Person (1981), The Ladies (1984), and The Magician's Girl (1987). During this period, Grumbach also taught creative writing at the Iowa Writers' Workshop at the University of Iowa and at The Johns Hopkins University, where she substituted briefly for John Barth. Grumbach also was a book reviewer and commentator for the Morning Edition of National Public Radio and the televised MacNeil-Lehrer Newshour.
In 1985, Grumbach resigned her professorship at American University but remained in Washington, D.C., for five more years. She and Pike opened a bookstore for rare and used books, named Wayward Books, located near Eastern Market, on Capitol Hill.
In 1990 Grumbach and Pike moved to Sargentville, Maine, and opened their bookstore there. In 2009 Wayward Books and their house in Maine were sold. They moved to a Quaker retirement community in Kennett Square, Pennsylvania. Grumbach continues to write, contributing pieces of memoir and articles on old age to The American Scholar.
---
My published books:

---
https://en.wikipedia.org/wiki/Doris_Grumbach