Wife Édith Marie Élisabeth de Taisne de Raymonval
Queer Places:
Hôtel de Masseran, 2 Rue Duroc, 75007 Paris, France
Étienne Jacques Alexandre Marie Joseph Bonnin de la Bonninière de Beaumont aka Étienne de Beaumont (March 9, 1883 - February 4, 1956) was a French gentleman . He was a patron , a decorator, a costume designer and a librettist . An aristocrat and patron of the avant-garde, Count Etienne de Beaumont cuts a dashing figure when he posed in one of the grand salons of his Hôtel de Masseran in Paris's rue Masseran. The count hosted a series of legendary masquerade balls at his residence during the interwar period, attended by avant-garde artists such as Jean Cocteau, Pablo Picasso, and Man Ray. Adolph De Meyer described these parties, which he and Olga often attended, as "fêtes of unsurpassed magnificence" in a 1923 article for Harper's Bazaar.

Etienne de Beaumont ca. 1923 by Adolf de Meyer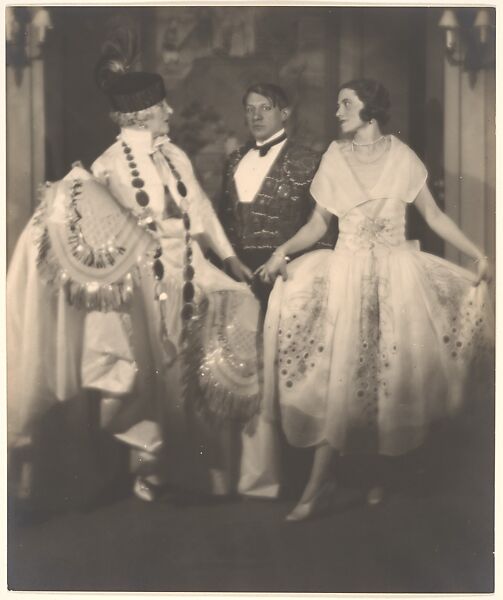 Bal of Etienne de Beaumont ca. 1924 by Man Ray

Comtesse E De. Beaumont, by Paul Thévenaz
Étienne de Beaumont was born on March 9, 1883, in the 7 th arrondissement of Paris [ 1 ] . He was the son of Count Karl Jacques Marie Théodore Bonnin of La Bonninière de Beaumont (1852-1913) and Henriette Marie Berthe de Boisgelin (1856-1925); he had a brother, Hélion (1896-1943). On April 26, 1907, Étienne married Édith Marie Élisabeth de Taisne de Raymonval (4 September 1876 - Plouarzel, 29177, Finistère, Bretagne - 23 January 1959 - Paris [ 2 ] ), daughter of Karl Jacques Marie Théodore Bonnin de La Bonniniere de Beaumont (1852-1913) & Henriette Marie Berthe de Boisgelin (1856-1925). The couple remained without descendants. In 1913, Etienne inherited the title of count.
During the First World War , with a disparate group of nobles and artist friends, he created the "Army Ambulance Section" of which Jean Cocteau was one of the conveyors on the Flanders front.
With his wife Edith, Beaumont sponsored post-war films as a producer and avant-garde ballets.
In March 1914, Jean Cocteau joined Igor Stravinsky at the Grand Hotel in Leysin, accompanied by his then lover, Paul Thévenaz, whom Cocteau introduced as an "unpolished, simple, fresh intelligence." Cocteau and Thévenaz had met at the School for Eurhythmy (École de Rythmique) on the Rue de Vaugirard, Paris, which taught the Dalcroze method, a discipline for "Norwegian artists" that joined athletics, vegeterianism, and dance. Paulet Thévanaz was the most talented student at the school. Dazzled by the rhythmic movements that Thévenaz executed in the garden of Count Etienne de Beaumont's mansion on rue Duroc (Thévenaz gave the count, a ballet lover, gymnastic lessons in a black leotard), and charmed by his chamois-like suppleness, Cocteau decided to give him the role in David, which he already knew Nijinsky couldn't take.
In 1918, Beaumont organized a large jazz concert in Paris composed of a troop of military African American musicians. He founded the Franco-American Association which will finance many important exhibitions [ 3 ] .
He sold part of the classic works of art he inherited to buy contemporary works by Pablo Picasso , Juan Gris and Georges Braque . For Le Bœuf sur le toit , he decides to organize a Satie Festival in honor of Erik Satie, of whom he will remain steadfast support until the latter's death in 1925.
Like the last representatives of the great European castes who sought to perpetuate themselves through the realization of memorable balls, Étienne de Beaumont is known to have rehabilitated in Paris the great themed ball for Mardi-Gras, among others. In his hotel on rue Masseran , as a true stylist, he specially created scenographies, sets and costumes that only existed during a party. Thus, on his initiative, in an unprecedented magnificence and generosity, the "Bal des jeux" (1921), the "Bal Louis XIV", the "Ball of opera entries", the "Bal de la mer", the "Colonial Ball ", the "Ball of famous paintings", the "Bal du tricentenaire de Racine " took place. He thus became the model of Orgel in Le Bal du comte d'Orgel , a novel by Raymond Radiguet [ 3 ] .
From May 17 to June 30, 1924, he organized the "Soirées de Paris" at the La Cigale theater for the benefit of the Aid Organization for War Widows and the Relief Committee for Russian Refugees. These evenings will last only one year, mixing music hall shows , ballet, poetry and theater, with the participation of artists as varied as Cocteau, André Derain , Picasso, Braque, Darius Milhaud and of course Satie. The program included, among others: Salad , counterpoint choreography by Milhaud and Albert Flament; Mercure , plastic proses by Léonide Massine , to music by Satie and costumes and decorations by Picasso; Roses, entertainment by Massine, music by Henri Sauguet and costumes by the count himself, who did the same for Le Beau Danube ; Jitter , dance choreographed by Massine, costumes and decor by Derain; Vogues , dance suite illustrated by Valentine Hugo on a poem by Paul Morand with costumes by Lanvin ; a Spanish ballet by José Maria Sert danced by Ida Rubinstein ; Handkerchief of Clouds , a Tristan Tzara tragedy and projections of Loïe Fuller ; all ending with a Romeo and Juliet reviewed by Cocteau with sets and costumes by Jean Hugo [ 4 ] .
In 1932, he approached Colonel de Basil and René Blum who launched the Ballets Russes de Monte-Carlo ; Beaumont produced two shows in 1934, Scuola di Ballo then Les Imaginaires [ 5 ] .
In the aftermath of the Second World War, he offered a last party in 1949, the "Ball of kings and queens", where Christian Dior appeared disguised as a lion, king of animals.
His friends, René Crevel with whom he maintains an important correspondence, Paul Morand , Maurice Sachs , Marc Allegret , Bernard Faÿ , Lucien Daudet , Leonide Massine have left endearing portraits of the gentleman with extraordinary extravagance.
He died on February 4 , 1956, in the 7 th arrondissement of Paris [ 6 ] .
In his memoirs, Jean-Louis de Faucigny-Lucinge tells that in 1956 the count's funeral convoy was followed only by a very small number of faithful whom the author thought inversely proportional to that of the invitations which Etienne de Beaumont had issued munificently throughout his life.
At the same time, his friend Cocteau wrote of him and his wife: "This couple had transcended snobbery, it was theirs to frequent the genius. They made frivolity a priesthood. Fashion was becoming serious in their hands" [ 7 ] .
In 1925, Man Ray executed his photographic portrait. The same director commits a film staging it, Les Mystères du château de Dé in 1929.
In Arielle Dombasle's film Opium (2013) , Beaumont is interpreted by Jérémie Elkaïm .
---
My published books:

---
https://fr.wikipedia.org/wiki/%C3%89tienne_de_Beaumont