Queer Places:
23 Ribble St, Belfast BT4 1HW, UK
Queens Film Theatre, 20 University Square, Belfast BT7 1PA, UK
Strand Arts Centre, 152-154 Holywood Rd, Belfast BT4 1NY, UK
École nationale supérieure des Beaux-Arts, 14 Rue Bonaparte, 75006 Paris, France
Bradbrook House Studio Pl, Belgravia, London SW1X 8EL, UK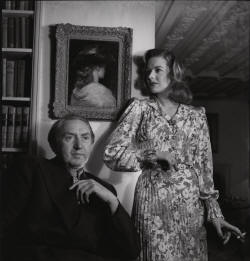 Brian Desmond Hurst (12 February 1895 – 26 September 1986) was a Belfast-born film director. Hurst was an openly homosexual Irish film director who was never arrested despite his penchant for boys who were "pretty, witty or rich." One of his friends was Norman Haire. Hurst told his biographer, Christopher Robbins: 'Some people have asked me whether I'm bisexual. In fact, I am trisexual. The Army, the Navy and the Household Cavalry.' Hurst's home in Bradbrook House, Studio Place, around the comer from Kinnerton Street in Belgravia, conveniently placed him close to the barracks of the Household Cavalry, and Hurst enjoyed greeting (and bedding) a succession of guardsmen. They willingly presented themselves at his house for 'active service'. Robbins explained that homosexual prostitution in the Brigade of Guards had been one of the 'less hallowed' traditions of the British Army.
With over thirty films in his filmography, Hurst was Ireland's most prolific film director during the 20th century, and hailed as Northern Ireland's best film director.[1] He is perhaps best known for the 1951 A Christmas Carol adaptation Scrooge.
Hurst was born Hans Hurst at 23 Ribble Street, Belfast, into a working-class family. He attended the New Road School, a public elementary school in East Belfast.[2] Hurst's father, Robert senior, and brother, Robert junior, were iron-workers in the Harland and Wolff shipyard. In August 1914, at the outbreak of World War I, Hurst enlisted as a private in the British Army and changed his name from Hans to Brian soon afterwards. He saw service with the 6th Battalion Royal Irish Rifles at the battle of Chunuk Bair in Gallipoli, the Balkans and the Middle East. At the battle of Chunuk Bair his regiment were "battle virgins when they were thrown into the Turkish machine gun fire for the first time on 10 August 1915".[3] "They had set out a few hours before for the Chunuk Bair with twenty officers and over 700 men. Several stragglers and those who had lost their way returned to base in the hours that lay ahead but by the evening of 10 August the Hampshires and the Rifles had been broken in what amounted to a cruel massacre".[4]
Returning from World War I Hurst found life in Belfast constraining and he took a government grant to emigrate to Canada sometime in 1920. He enrolled at the Toronto College of Art. After two years he left and went to France to study art at École des Beaux Arts in Paris.
Hurst moved to Hollywood where he quickly rose from set artwork to film production. Under the guidance of John Ford, sometimes claimed to have been Hurst's cousin,[6] Hurst learnt about set management. Hurst made a cameo appearance as an extra in Ford's Hangman's House (1928) where he briefly appears[7] alongside a young John Wayne. Hurst and Ford remained lifelong friends. Hurst was with Ford and helped advise him when he brought Hollywood to Ireland when making The Quiet Man (1952). By 1933 Hurst was ready to return to the UK and settled in Belgravia, where he lived from the 1930s to his death in 1986, although he often returned to Ulster to visit relatives for "a spiritual bath".[5]

George Cukor & Brian Desmond Hurst by Allan Warren
In 1937 Hurst was retained by Alexander Korda to direct a film about T. E. Lawrence and he co-wrote a screenplay for it with Miles Malleson and Duncan Guthrie, but the project was obstructed by the British administration in Palestine before Hurst, himself an Arabic-speaker, could scout locations.[10]
The Times, in its obituary of Hurst in 1986, commented that Dangerous Moonlight (1941) was "his best known picture", "a big popular success" which "launched a cycle of pictures with concerti as their theme music"[11] because of its successful utilisation of Richard Addinsell's Warsaw Concerto. In addition to Hurst and Addinsell, Dangeous Moonfight involved a number of gay men. Hurst co-scripted the film with Rodney Ackland, Cecil Beaton designed the 'gowns', and its star was the handsome Anton Walbrook. When Simon Callow reviewed Robbins's biography of Hurst, he described Dangerous Moonlight as a 'masterpiece of the higher schmaltz' and Walbrook's performance in the film as 'Preposterously romantic, hair tumbling over his noble brow, moustache quivering with sensitivity, the great Austrian actor passionately pounded the ivories while the eponymous moonlight washed over him, dangerously.'
Hurst worked for the Ministry of Information during the Second World War for whom his films included A Call for Arms (1940), Miss Grant Goes to the Door (1940) and his homeland film A Letter From Ulster (1943) where Hurst and Terence Young (as scriptwriter) and his fellow Ulsterman and Assistant Director William MacQuitty created a film "promoting a sense of community"[8] between the people of Northern Ireland and over one hundred thousand troops from the America based in Northern Ireland at the time. Brian McIlroy explained that "Hurst was able to persuade one Catholic and one Protestant soldier to write letters home, explaining their impressions of their stay. From these letters, Terence Young, the scriptwriter, was able to construct a sequence of activities that revealed the different traditions of Ireland."[8]
Hurst's post-war career included producing and directing the Christmas film Scrooge (1951) which is the "best of the many screen versions of Dickens's warm-as-mince-pies A Christmas Carol, with Alastair Sim as Scrooge incarnate: his miserly humbuggery is a delight. So is Michael Hordern's ghostly Jacob Marley and the snowy, atmospheric photography of C.M. Pennington-Richards".[13]
Hurst produced Tom Brown's Schooldays (1951) and directed the box office success Malta Story (1953) featuring Alec Guinness as an RAF pilot helping to defend Malta. "The combination of an A list cast, the portrayal of the iron reliance of the Maltese people, the gallantry of the RAF pilots and a tragic love story were the four components of its success".[14]
Hurst went on to direct Simba (1955) featuring Dirk Bogarde and Donald Sinden and The Black Tent (1956) featuring Donald Pleasence, Anthony Steel and Donald Sinden again. Hurst's Behind the Mask (1958) sees a young Vanessa Redgrave obtaining her first credited role (alongside her father Michael Redgrave).
Hurst's only excursion into farce was His and Hers (1961) and saw a strong cast of Terry Thomas joining the carry-on stalwarts Kenneth Williams, Joan Sims and Kenneth Connor supported by Oliver Reed. In 1962, in his late '60s, Hurst returned to John Millington Synge and adapted the script and produced and directed The Playboy of the Western World, his last film.
The Directors Guild of Great Britain installed a blue plaque at Queens Film Theatre in Belfast for Brian Desmond Hurst, unveiled on 13 April 2011 by the Irish film producer Redmond Morris.[15] On the same date the Ulster History Circle unveiled a blue plaque at Hurst's birthplace, 23 Ribble Street, East Belfast. This plaque was relocated in the Summer of 2016 to the nearby Strand Arts Centre and Cinema on 152-154 Holywood Road, Belfast, BT4 1NY.[16]
The Empress of Ireland, Christopher Robbins (2004), is a memoir of Hurst's later years.
---
My published books:


---
https://en.wikipedia.org/wiki/Brian_Desmond_Hurst
Norman Haire and the Study of Sex Diana Wyndham Sydney University Press, 2012
Fighting Proud: The Untold Story of the Gay Men Who Served in Two World Wars Stephen Bourne Bloomsbury Publishing, Jun 30, 2017