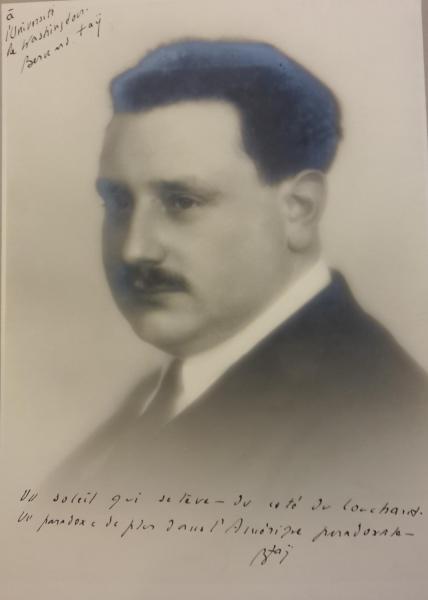 Bernard Faÿ (3 April 1893, Paris – 31 December 1978, Tours) was a French historian of Franco-American relations,[1] an anti-Masonic polemicist who believed in a worldwide Jewish-Freemason conspiracy, and, during World War II, a Vichy official.
Faÿ had first-hand knowledge of the United States, having studied at Harvard, and translated into French an excerpt of Gertrude Stein's The Making of Americans[2] and wrote his view of the United States as it was at the beginning of Franklin D. Roosevelt's administration.[3] He also published studies of Benjamin Franklin[4] and George Washington.[5]
Faÿ was a friend of Gertrude Stein, Alice B. Toklas and of the American composer Virgil Thomson, who owed to Faÿ his access to French intellectual circles, for Faÿ knew most of the people in musical and literary Paris.[6] He was active in compiling files on and attacking and imprisoning Freemasons during the Vichy regime, 1940–44. He was convicted and sentenced to life in prison. He escaped after five years and resumed teaching history in Switzerland, in Fribourg, Ouchy and Lutry. Fäy taught European History, American History and Cultural History.
At the beginning of the Second World War Faÿ was a professor at the Collège de France. During the occupation he replaced Julien Cain as general administrator of the Bibliothèque Nationale and director of the anti-Masonic service of the Vichy Government. During his tenure of this office, his secretary Gueydan de Roussel was in charge of preparing the card indexes — containing 60,000 names drawn from archives seized from Freemason and other secret societies (Marshal Philippe Pétain was convinced these indexes were at the heart of all France's troubles).[7] Lists of names of Freemasons were released to the official gazette of the Vichy government for publication, and many Catholic papers copied these lists in order to induce public opprobrium. Faÿ edited and published during the four years of the occupation a monthly review Les Documents maçonniques ("Masonic Documents"), which published historical studies of Freemasonry together with essays on the role of Freemasonry in society and frank anti-Masonic propaganda.[8]
During Faÿ's tenure with the Vichy regime, 989 Freemasons were sent to concentration camps, where 549 were shot. In addition, about 3,000 lost their jobs. All Freemasons were required by law to declare themselves to authorities.[9] In 1943 Faÿ produced the film Forces Occultes, directed by Jean Mamy, which depicts a worldwide Jewish-Freemason conspiracy.[10]
Despite his anti-Semitism, Faÿ, who was suspected to be a Gestapo agent for much of the occupation, protected Gertrude Stein and Alice B. Toklas. Following the liberation, Stein wrote a letter on Faÿ's behalf when he was tried as a collaborator.[11] In 1946 a French court condemned him to dégradation nationale and forced labor for life, but he managed to escape to Switzerland in 1951,[12] funding to facilitate his prison breakout coming from Alice B. Toklas. Faÿ was pardoned by French President René Coty in 1959.[13]
Appointed to an instructorship at the Institut de la Langue française in Fribourg, Switzerland, he was later forced to resign in the face of student protests. He taught French literature to American junior-year-abroad students in the 1960s at the Villa des Fougères in Fribourg, run by the Dominican sisters of Rosary College (now Dominican University) in River Forest, Illinois.
During this time, the 1960s, he also taught at a girls' high school, Le Grand Verger, in Lutry, Switzerland, a short distance east of Lausanne on the northern border of Lake Geneva (Lac Leman). There he instructed American and other national girls in American History. His method consisted of notecard lectures and knowledge he carried in his head. He particularly shone in his art history class where he taught from illustrated postcards of paintings, drawings and sculptures, as well as anecdotes derived from personal association with many expatriate artists in Paris from the preceding decades. In the European educational tradition, he demanded precise and voluminous feedback of his lecture material in tests. (ref on Le Grand Verger entry by former student, Janine Dawn Lieberman, 1962.)
In 1969, Faÿ is credited with being one of those who convinced Archbishop Marcel Lefebvre, then the retired Superior General of the Holy Ghost Fathers, to start a new seminary in Fribourg for traditional Catholics disquieted by the changes wrought by the Second Vatican Council in the formation of priests.[14]
---
My published books:

---