Partner Frances Clayton, Gloria I. Joseph
Queer Places:
National Autonomous University of Mexico, Università nazionale autonoma del Messico, Città del Messico, Distretto Federale, Messico
Hunter College, 695 Park Ave, New York, NY 10065, Stati Uniti
Columbia University, 116th St & Broadway, New York, NY 10027, Stati Uniti
The City College of New York, 160 Convent Ave, New York, NY 10031, Stati Uniti
207 St Pauls Ave, Staten Island, NY 10304, Stati Uniti
MacDowell Colony, 100 High St, Peterborough, NH 03458
Callen-Lorde Community Health Center, 356 W 18th St, New York, NY 10011
Audre Lorde (born Audrey Geraldine Lorde; February 18, 1934 – November 17, 1992) was an American writer, feminist, womanist, librarian, and civil rights activist. As a poet, she is best known for technical mastery and emotional expression, as well as her poems that express anger and outrage at civil and social injustices she observed throughout her life.[1] Her poems and prose largely deal with issues related to civil rights, feminism, and the exploration of black female identity. In relation to non-intersectional feminism in the United States, Lorde famously said, "Those of us who stand outside the circle of this society's definition of acceptable women; those of us who have been forged in the crucibles of difference – those of us who are poor, who are lesbians, who are Black, who are older – know that survival is not an academic skill. It is learning how to take our differences and make them strengths. For the master's tools will never dismantle the master's house. They may allow us temporarily to beat him at his own game, but they will never enable us to bring about genuine change. And this fact is only threatening to those women who still define the master's house as their only source of support."[2]
Lourde married attorney Edwin Rollins. She and Rollins divorced in 1970 after having two children, Elizabeth and Jonathan. In 1966, Lorde became head librarian at Town School Library in New York City, where she remained until 1968.[3] During her time in Mississippi she met Frances Clayton, a white professor of psychology, who was to be her romantic partner until 1989.[4] From 1977–1978, Lorde had a brief affair with the sculptor and painter Mildred Thompson. The two met in Nigeria in 1977 at the Second World Black and African Festival of Arts and Culture (FESTAC 77). Their affair ran its course during the time that Thompson lived in Washington, D.C.
Lorde was first diagnosed with breast cancer in 1978 and underwent a mastectomy. Six years later, she was diagnosed with liver cancer. After her diagnosis, she wrote The Cancer Journals, which won the American Library Association Gay Caucus Book of the Year Award in 1981.[5] She was featured as the subject of a documentary called A Litany for Survival: The Life and Work of Audre Lorde, which shows her as an author, poet, human rights activist, feminist, lesbian, a teacher, a survivor, and a crusader against bigotry.[6] She is quoted: "What I leave behind has a life of its own. I've said this about poetry; I've said it about children. Well, in a sense I'm saying it about the very artifact of who I have been."[7] From 1991 until her death, she was the New York State Poet Laureate.[8] In 1992, she received the Bill Whitehead Award for Lifetime Achievement from Publishing Triangle. In 2001, Publishing Triangle instituted the Audre Lorde Award to honour works of lesbian poetry.[9] Lorde died of liver cancer at age 58 on November 17, 1992, in St. Croix, where she had been living with Gloria I. Joseph.[10] In an African naming ceremony before her death, she took the name Gamba Adisa, which means "Warrior: She Who Makes Her Meaning Known".[11]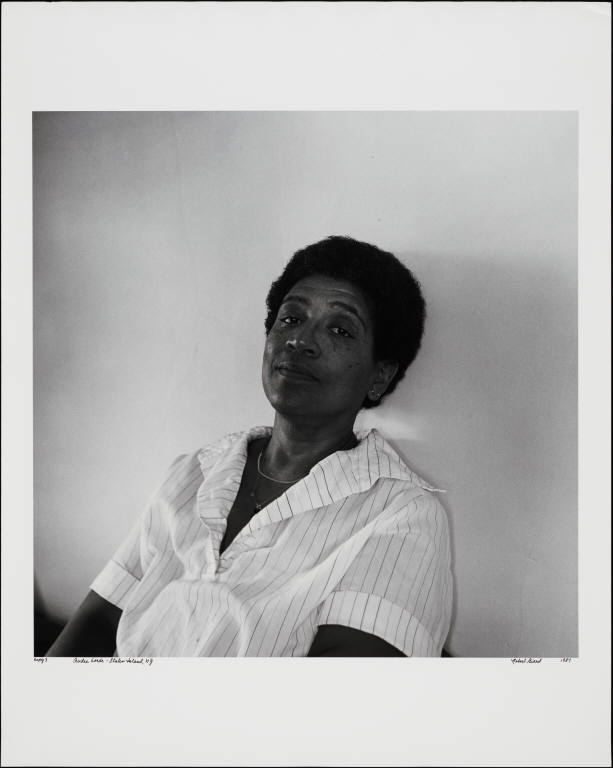 Featured in Particular Voices: Portraits of Gay and Lesbian Writers by Robert Giard [Rights Notice: Copyright Jonathan G. Silin (jsilin@optonline.net)]

JEB (JOAN E. BIREN, 1944 - ) Audre Lorde in her home study, Staten Island, NY. RC print, the image measuring 139.7x203.2 mm; 5 1/2x8 inches, the sheet measuring 254x203.2 mm; 10x8 inches, with Jeb's signature, initials, title, and negative date, in ink, on verso. 1981; printed later. This photograph depicts Audre Lorde, self-described "Black, lesbian, feminist, mother, poet warrior," in her home study in Staten Island where she lived from 1972-87. It was during her time living in this house that Lorde penned a number of influential works, co-founded Kitchen Table: Women of Color Press, and spoke at the 1979 National March on Washington for Lesbian and Gay Rights.

207 St Pauls Ave, Staten Island, NY 10304, Stati Uniti

Callen-Lorde Community Health Center

Hunter College
---
My published books:

---
https://en.wikipedia.org/wiki/Audre_Lorde