Queer Places:
Eton College, Windsor, Windsor and Maidenhead SL4 6DW
University of Oxford, Oxford, Oxfordshire OX1 3PA
Rose Bower, Broad Chalke, Salisbury SP5 5HL, UK
Alvediston Manor, The St, Alvediston, Salisbury SP5 5JZ, UK
St Mary, Alvediston, Salisbury SP5 5LE, UK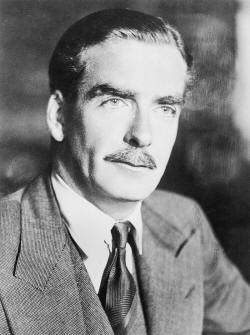 Robert Anthony Eden, 1st Earl of Avon, KG, MC, PC (12 June 1897 – 14 January 1977), was a British Conservative politician who served three periods as Foreign Secretary and then a relatively brief term as Prime Minister of the United Kingdom from 1955 to 1957. Rumour had it that Sir Anthony Eden was a lover of both Edward Sackville-West and Edward Gathorne-Hardy. Sackville-West was reminded of Eden when reading Mary Renault's pioneering gay novel The Charioteer in 1953.
Michael Bloch said that Eden had gone through a "queer" phase in his twenties; it has been suggested that he may have propositioned fellow Etonian Edward Gathorne-Hardy, four years his junior, while at Oxford.
Eden was educated at two independent schools. He attended Sandroyd School in Cobham from 1907 to 1910, where he excelled in languages.[21] He then started at Eton College in January 1911.[22] There, he won a Divinity prize and excelled at cricket, rugby and rowing, winning House colours in the last.[23] Eden learned French and German on continental holidays and, as a child, is said to have spoken French better than English.[24] Although Eden was able to converse with Hitler in German in February 1934 and with Chinese Premier Chou En-lai in French at Geneva in 1954, he preferred, out of a sense of professionalism, to have interpreters to translate at formal meetings.[25][26] Although Eden later claimed to have had no interest in politics until the early 1920s, his teenage letters and diaries show him to have been obsessed with the subject. He was a strong, partisan Conservative by rejoicing in the defeat of Charles Masterman at a by-election in May 1913 and once astonishing his mother on a train journey by telling her the MP and the size of his majority for each constituency through which they passed.[27] By 1914 he was a member of the Eton Society ("Pop").[28]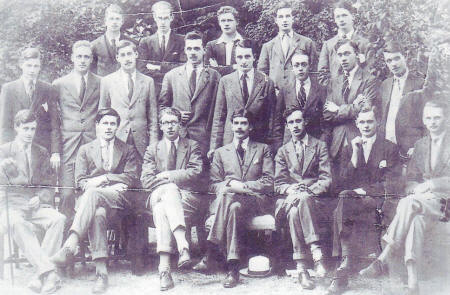 The Uffizi Society Oxford, ca. 1920. First row standing: later Sir Henry Studholme (5th from left). Seated: Lord Balniel, later 28th Earl of Crawford (2nd from left); Ralph Dutton, later 8th Baron Sherborne (3rd from left); Anthony Eden, later Earl of Avon (4th from left); Lord David Cecil (5th from left).
Eden had dabbled in the study of Turkish with a family friend.[47] After the war, he studied Oriental Languages (Persian and Arabic) at Christ Church, Oxford, starting in October 1919.[48] Persian was his main and Arabic his secondary language. He studied under Richard Paset Dewhurst and David Samuel Margoliouth.[47] At Oxford, Eden took no part in student politics, and his main leisure interest at the time was art.[48] Eden was in the Oxford University Dramatic Society and President of the Asiatic Society. Along with Lord David Cecil and R. E. Gathorne-Hardy he founded the Uffizi Society, of which he later became President. Possibly under the influence of his father he gave a paper on Paul Cézanne, whose work was not yet widely appreciated.[47] Eden was already collecting paintings.[48] In July 1920, still an undergraduate, Eden was recalled to military service as a lieutenant in the 6th Battalion of the Durham Light Infantry.[49] In the spring of 1921, once again as a temporary captain, he commanded local defence forces at Spennymoor as serious industrial unrest seemed possible.[50][51] He again relinquished his commission on 8 July.[52] He graduated from Oxford in June 1922 with a Double First.[48] He continued to serve as an officer in the Territorial Army until May 1923.[53]
Achieving rapid promotion as a young Member of Parliament, he became Foreign Secretary aged 38, before resigning in protest at Neville Chamberlain's appeasement policy towards Mussolini's Italy.[1][2] He again held that position for most of the Second World War, and a third time in the early 1950s. Having been deputy to Winston Churchill for almost 15 years, he succeeded him as the leader of the Conservative Party and prime minister in April 1955, and a month later won a general election. Eden's worldwide reputation as an opponent of appeasement, a "man of peace", and a skilled diplomat was overshadowed in 1956 when the United States refused to support the Anglo-French military response to the Suez Crisis, which critics across party lines regarded as a historic setback for British foreign policy, signalling the end of British predominance in the Middle East.[3] Most historians argue that he made a series of blunders, especially not realising the depth of American opposition to military action.[4] Two months after ordering an end to the Suez operation, he resigned as prime minister on grounds of ill health and because he was widely suspected of having misled the House of Commons over the degree of collusion with France and Israel.[5] Eden is generally ranked among the least successful British prime ministers of the 20th century,[6] although two broadly sympathetic biographies (in 1986 and 2003) have gone some way to shifting the balance of opinion.[7] Biographer D. R. Thorpe described the Suez Crisis as "a truly tragic end to his premiership, and one that came to assume a disproportionate importance in any assessment of his career."[8]
In retirement Eden lived in 'Rose Bower' by the banks of the River Ebble in Broad Chalke, Wiltshire. Starting in 1961 he bred a herd of sixty Herefordshire cattle (one of whom was called "Churchill") until a further decline in his health forced him to sell them in 1975.[167] In 1968, he bought Alvediston Manor, where he lived until his death in 1977.[168] He was buried in St Mary's churchyard at Alvediston, just three miles upstream from 'Rose Bower', at the source of the River Ebble. Eden's papers are housed at the University of Birmingham Special Collections.[196] At his death, Eden was the last surviving member of Churchill's War Cabinet. Eden's surviving son, Nicholas Eden, 2nd Earl of Avon, known as Viscount Eden from 1961 to 1977, was also a politician and a minister in the Thatcher government until his death from AIDS at the age of 54.[197]
---
My published books:


---
Woods, Gregory. Homintern . Yale University Press. Edizione del Kindle.