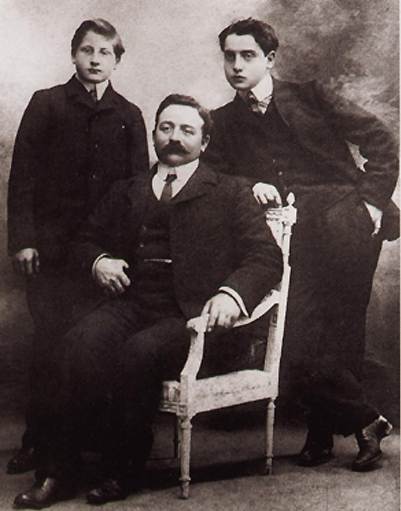 Alfred Agostinelli ( Monaco , October 11 , 1888 - Antibes , May 30, 1914 ), was the secretary of Marcel Proust and one of the models of Albertine's character In Search of the Lost Time . [1]
Alfred Agostinelli was a native of Monaco, the son of Eugéne Agostinelli, an Italian from Leghorn. His mother, Marie Louise Bensa, was of Provençal birth, with it is said, some Arab blood. Alfred was a young man, whose round face, large dark ringed eyes and black moustache gave him a curious, fleeting resemblance to Marcel Proust.
The first encounter between Proust and Agostinelli takes place in August 1907 in Cabourg. Agostinelli is a taxi driver, and Proust will be visiting Normandy during the summer as well as the following summer. [2]
In 1913 , the two men meet again. Agostinelli has lost his job, and he asks Proust to be his chauffeur . Since the writer already had a chauffeur, in the person of Odilon Albaret, Celeste's husband, he proposes as an alternative the young man to be his secretary and typist of his novels. Agostinelli and his partner, Anna Square, then settle in Proust's home.
Proust's feelings for his secretary do not go unnoticed, and Agostinelli sneaks to Monaco , in his father's house, in December 1913. The writer sends his friend (and CFO) Albert Nahmias to him to say he is willing to pay whatever it takes for him to come back. The transaction was not successful. Realizing Alfred's passion for aviation, Proust decides to buy him an airplane, on which he engraves the verses of a sonnet by Stéphane Mallarmé : " Le vierge, le vivace et le bel aujourd'hui ... "(The virgin, alive and beautiful today ...).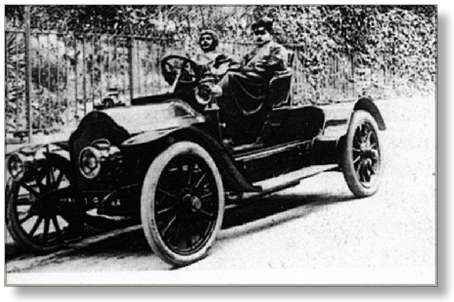 Proust and Agostinelli in their car
Alfred enrolled at the flying school of the Garbero Bros. at La Grimaudière near Antibes, under the absurd and pathetic pseudonym of Marcel Swann. During the next two months his progress was rapid, and on Saturday, May 30, 1914, at five o'clock in the afternoon, he made his second solo flight, carrying with him 7000 francs, all that remained of Proust's gifts. [3]
Joseph Garbero, the chief instructor, had warned the daring novice, to keep within the aerodrome, but Agostinelli, rashly exulting in the liberation of flight, ventured north eastward over the sea. He prepared to fly back, but forgot the necessity to gain height and speed for the turn; his monoplane stalled and crashed, along the dipping right wing, into the sea several hundred yards from land. The horrified watchers on the shore saw Agostinelli standing on his seat in the sinking wreck, waving and shouting for help. Alfred had never learned to swim; and as a rowing boat drew near, the plane and the tragic aviator sank together.
Boats had searched till nightfall on Saturday, but the currents were strong and the body could not be found. On Sunday, June 7th, a fishing boat found the corpse near Cagnes, six miles northeast from the scene of he crash, still in its khaki overalls, floating and decomposed.
Proust's sadness is transmitted in his letters, and later in his work - for example, he will write to his friend Henry Bordeaux: "a deeply loved being has died at 26, drowned". [4] Proust wrote André Gide of his grief at "the death of a young man I loved probably more than all my friends," adding, to the note a moving sketch of the relationship. "He was a boy of delightful intelligence; and, moreover, it was on account of that that I loved him. I went for a long time without perceiving this intelligence – not as long as he did, however, I discovered in him a merit marvelously incompatible with his whole station in life. I discovered it with stupefaction, but without its adding anything to the affection I already had for him. After discovering it, I merely took a little extra joy in revealing it to him. But he died before fully knowing what he was, and even before completely being what he was. The whole affair is shot through with such a frightful circumstances that, already crushed as I am, I do not know how I can bear such grief."
---
My published books:

---
https://ca.wikipedia.org/wiki/Alfred_Agostinelli
http://theesotericcuriosa.blogspot.com/2013/06/portrait-archaeology-esoteric-snap-of.html
Homosexuals in History, A Study of Ambivalence in Society, Literature and the Arts, by A.L. Rowse, 1977