Queer Places:
Elmwood Cemetery Birmingham, Jefferson County, Alabama, USA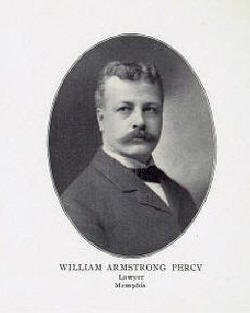 William Armstrong Percy (January 24, 1863 - May 23, 1912) was lawyer. He was the son of William A. Percy Sr. (1834–1888) and Nancy "Nannie" Irwin Armstrong (1835–1897). He married two time, to Lottie Galloway (1862–1901), in 1891, and to Caroline Yarborough (1885–1945)
According to Benjamin E. Wise in "William Alexander Percy: The Curious Life of a Mississippi Planter and Sexual Freethinker", faced with the various tragedies of his generation of the Percy family, William Armstrong Percy took comfort in a romantic friendship with a neighbor, Henry Waring Ball. Though William Armstrong did not keep a diary of this friendship, Ball did. In that diary, Ball charts a string of such friendships: "Will Percy was my first love, my original Damon and Pythias. There has been a long line of them since—Will Percy, Will Mays, Sam Bull, Will Van Dresser, Tony Russell, and now Eugene". Wise is quick to clarify that the numerous relationships Ball recounts occurred from the 1870s to the 1890s, at a time when "homosexuality was not yet conceived as an identity, an either/or sexual preference, [and] men were free to share romantic love without the stigma of being homosexual".
William Armstrong Percy was born in Washington County, Miss., on January 24, 1863, where his father was a farmer. He attended the country schools in his earlier years, entered the University of the South, at Sewanee, Tenn, and in 1882 graduated with the degree of M.A. He then entered the law department of the University of Virginia, from which he graduated in 1884. In the following January he located in Memphis and opened a law office.
It has been said that politics had little attraction for him, and he took very little part in political affairs. He affiliated with the Episcopal church and was a man of fine social qualities and charitable instincts.
Percy died at the Maxwell House Hotel in Nashville. He was buried in Birmingham, Alabama.
---
My published books:


---
Gordon, Phillip. Gay Faulkner (p.13). University Press of Mississippi. Edizione del Kindle.
Notable Men of Tennessee vol. 2
Carryin' on in the Lesbian and Gay South John Howard NYU Press, 1997