Queer Places:
205 Orchard Pl, Sewickley, PA 15143
Yale University (Ivy League), 38 Hillhouse Ave, New Haven, CT 06520
Calvary Episcopal Church Columbarium Pittsburgh, Allegheny County, Pennsylvania, USA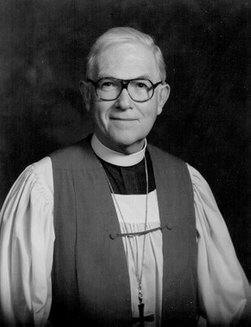 Walter Cameron Righter (October 23, 1923 - September 11, 2011) was an Episcopal bishop who in 1996 was brought to trial and acquitted of a charge of heresy for ordaining an openly gay man to the priesthood.
Walter Cameron Righter was born in Philadelphia, Pennsylvania, on October 23, 1923, the older of two sons of Richard and Dorothy Righter. His father and grandfather were executives of U.S. Steel. Righter served with the field artillery in the United States Army in World War II where he saw action in the Battle of the Bulge.
Righter earned a bachelor's degree from the University of Pittsburgh in 1948 and a Bachelor of Sacred Theology degree from Berkeley Divinity School at Yale University in 1951. He entered the ministry from St. Stephen's Church in Sewickley, Pennsylvania. He was ordained a deacon on April 7, 1951 and a priest on October 6 of the same year by Bishop Austin Pardue of the Diocese of Pittsburgh. Righter served parishes in Aliquippa, Pennsylvania and Georgetown, Pennsylvania and then the Church of the Good Shepherd in Nashua, New Hampshire, from 1954 to 1972.
The Rev. Righter was elected the seventh bishop of the Diocese of Iowa on October 8, 1971, at a special convention held at St. Paul's Church in Des Moines. He was consecrated a bishop by the Most Rev. John Elbridge Hines, and the Rt. Revs. Charles F. Hall and Gordon V. Smith on January 12, 1972. The consecration was an ecumenical service held at St. Ambrose Cathedral of the Roman Catholic Diocese of Des Moines.
Bishop Righter ordained the first woman in Iowa, the Rev. S. Suzanne Peterson, as a deacon on December 18, 1976 at St. Paul's Church in Des Moines. The Rev. Anne Wagner Baker was received in 1978 from the Diocese of Missouri to serve as assistant rector at Trinity Church in Iowa City and chaplain at the area hospitals.
Bishop retired as bishop after sixteen years of service on December 31, 1988. Following his retirement, Righter served as the assistant bishop to the Rt. Rev. John Shelby Spong of the Diocese of Newark from 1989-1991. Around this time, Righter signed a public statement supporting the ordination of "non-celibate" homosexuals. In 1990, Bishop Righter ordained Barry Stopfel, who was openly gay and living with his partner, Will Leckie, as a deacon.
Five years later, just before the statute of limitations would have expired, ten bishops (from Dallas, Florida, San Joaquin, Central Florida, Texas, Eau Claire, Fort Worth, Quincy, Rio Grande and West Tennessee) filed a formal accusation against Righter. The bishops accused Righter of "holding and teaching...doctrine contrary to that held by this church" under the so-called "heresy" charge.
Meanwhile 36 other bishops issued a statement saying, in part, that his "trial is a trial of the Gospel, a trial of justice, a trial of fairness, and a trial of the church." The bishops stated that they felt they were on trial as well and that if Righter was found guilty and sentenced, "we will accept his sentence as our own."
Bishop Righter reacted to the charge of heresy with a mix of indignation and humor. It was only the second time in the history of the Episcopal Church U.S. that a bishop had faced such a charge. Then 71 years old and living in retirement in New Hampshire, Righter scolded his accusers, saying "I'm retired. I don't have a secretary. I don't have a budget. I don't have a travel allowance. so theoretically, I'm an easy mark." He obtained a set of vanity license plates that said "HRETIC" which he placed on his Subaru Legacy for the trial.
In May, 1996, an ecclesiatical court ruled 7-1 that Righter's action did not violate church law or core doctrine and dismissed the charges.
Bishop Righter wrote and published a memoir about his experience, "A Pilgrim's Way," in 1998. Righter noted his pleasure to have become something of a hero to gay men and lesbians in the church. Still he hoped he would be remembered for more than the heresy charge, which he considered basically a political episode.
Following early retirement years in New Hampshire with his wife Nancy Tolbert, Righter was invited by the rector of Calvary Episcopal Church in Pittsburgh to be part of the clergy of that parish. Bishop Robert Duncan of the Diocese of Pittsburgh--a conservative--objected to this arrangement. In 2008, the diocese split from the Episcopal Church and Righter was immediately welcomed. After several months of declining health he died on September 11, 2011, at his home in Export, Pennsylvania.
---
My published books:


---