Husband Dustin Lance Black
Queer Places:
Bovey Castle, North Bovey, Newton Abbot TQ13 8RE, UK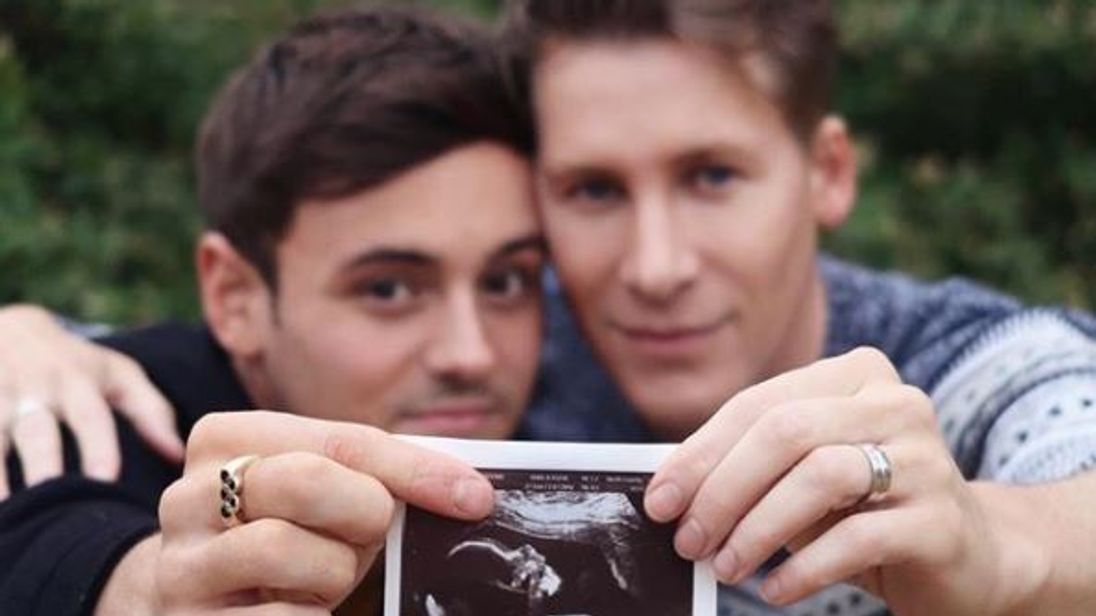 Thomas Robert Daley (born 21 May 1994)[2] is a British diver. Tom Daley specialises in the 10-metre platform event and is a double World champion in the event; he won the 2009 FINA World Championionship in the individual event at the age of 15, before regaining it in 2017. He was the 2012 Olympic bronze medalist in the event.
Daley also competes in synchronised and team events. In 2015, he partnered Rebecca Gallantree to the inaugural mixed team World title, while in 2016 he won a second Olympic bronze in the men's synchronised 10-metre platform, with Daniel Goodfellow. In 2017, he won World silver with Grace Reid in the mixed 3-metre springboard synchronised event.
He started diving at the age of seven and is a member of Plymouth Diving Club, where his talent was identified early, and has made an impact in national and international competitions from age 9. He represented Great Britain at the 2008 Summer Olympics where he was Britain's youngest competitor, age 14, and the youngest from any nation to participate in a final.[6] In 2009, Daley reached a career-best ranking of number one in the FINA World Diving Rankings for the 10m platform.[7]
HHe won two gold medals for England at the 2010 Commonwealth Games, in the 10m synchro diving (with Max Brick) and the 10m Individual Platform competition,[8] and won the bronze medal for Great Britain in the individual competition at the 2012 Summer Olympic Games.[9]
After the 2012 Olympic Games and a summer of great sporting interest amongst the public in the UK, television network ITV approached Daley to have a role in their new celebrity diving reality TV show Splash!. Daley made his debut in the show's premiere on 5 January 2013 as a mentor to the celebrity competitors taking part.[10]
AAt the 2016 Summer Olympic Games, Daley and Daniel Goodfellow won a bronze medal in the synchronised 10m platform. Daley also set an Olympic record score in the individual 10m platform during the first qualification round, but struggled with entries in the semi-final and did not qualify to the final.(The record set by Daley was broken the following day by Chen Aisen).
On 2 December 2013, Daley released a YouTube video announcing that he had been in a relationship with a man since early that year. He said: "I've never been happier."[102][103] Daley said that it had been a tough decision to speak out about his private life. He said: "I'd never felt the feeling of love, it happened so quickly, I was completely overwhelmed by it to the point I can't get him out of my head all the time."[104] His spouse is American film screenwriter, director and producer Dustin Lance Black.[105] They live together in London.[106]
Daley has made some conflicting statements in regards to his sexual orientation. After his YouTube video appearance he stated, "I am a gay man now".[107] But later, when asked by The Guardian, in a July 2015 interview, if he was bisexual, Daley said: "I don't put a particular label on any of it because right now I'm in a relationship with a guy, but I still have sexual feelings towards girls."[108] When asked about his coming to terms with his same-sex attraction and his relationship with Black, he said: "I'd been in relationships with girls where I'd had sexual feelings, but it became so much more intense when I met Lance."[109]
Daley announced his engagement to Black on 1 October 2015.[110][111] Daley and Black married at Bovey Castle in Devon on 6 May 2017.[112]
On 14 February 2018, Daley announced on Instagram that he and his husband are expecting their first child through surrogacy.[113][114][115]
---
My published books:

---
https://en.wikipedia.org/wiki/Tom_Daley#References