Queer Places:
The Art Students League of New York, 215 W 57th St, New York, NY 10019, Stati Uniti
Corcoran Gallery of Art, 500 17th St NW, Washington, DC 20006, Stati Uniti
17 Chalmers St, Charleston, SC 29401, Stati Uniti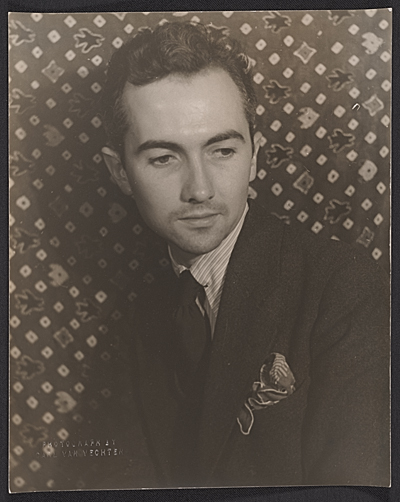 Prentiss Taylor (December 13, 1907 – October 7, 1991) was an American illustrator, lithographer, and painter. Born in Washington D.C., Taylor began his art studies at the Corcoran Gallery of Art, followed by painting classes under Charles Hawthorne in Provincetown, Massachusetts, and training at the Art Students League in New York City. In 1931, Taylor began studying lithography at the League. Taylor interacted and collaborated with many writers and musicians in his time in New York in the late 1920s and early 30s. This was in the emergence of the Harlem Renaissance. Among his close friends and colleagues were Langston Hughes and Carl Van Vechten.
Taylor's work is in the collection of numerous institutions such as: the Smithsonian Institution's National Museum of American Art; The Phillips Collection; Gibbes Museum of Art; Museum of New Mexico; the Metropolitan Museum of Art; Whitney Museum of American Art Fisk University Galleries and Greenville County Museum of Art.[1]
Born on December 13, 1907 at home to John Eastlack Taylor and Beatrice Hottel. His birth assisted by his grandmother's cook, known as Cookie Belle. In high school, Prentiss graduated from McKinley "Tech" High School, where he had studied art under Mary P. Shipman, Alexis Manny and Charles Lamb. He graduated from Sidwell Friends School in 1925. [2]
In the 1920s, Taylor studied painting with Charles W. Hawthorne in Provincetown, Massachusetts, but turned to lithography in the late 1920s to early 1930s during his enrollment at the Art Students League in New York City. He received further training in that medium at the George C. Miller workshop in New York. During this period, he also designed costumes for the American-Oriental Revue, as well as designed scenery for plays at the Arts Club of Washington.[3]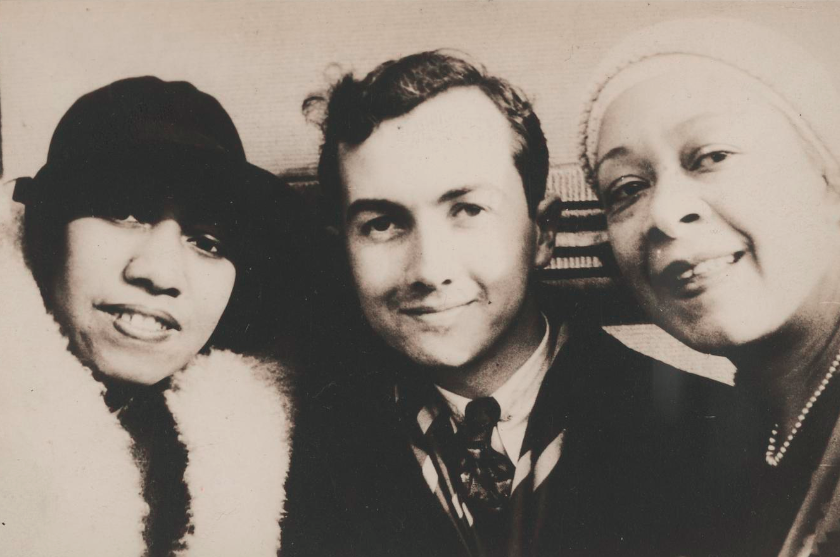 Carl Van Vechten. Gladys Bentley, Prentiss Taylor, and Nora Holt, 1932 Feb. 27. Prentiss Taylor papers, 1885-1991. Archives of American Art, Smithsonian Institution.
At age twenty, Taylor met Charleston novelist, Josephine Pinckney, at the MacDowell artists' colony in Peterborough, New Hampshire. Their new friendship prompted Taylor to visit Charleston, South Carolina in 1933, because Pinckney asked friends to loan Taylor the Pink House. (book-southern life) Prentiss stated "I arrived on the Clyde-Mallory Line Steamer about the end of May 1933…I was lent the Pink House on Chalmers Street and I was able to stay until Labor Day. I spent most of my time sketching, up one side of the street and down the other." Taylor returned to the city in 1934 under the Public Works of Art Project (PWAP), a predecessor to the Works Progress Administration's Federal Art Project. [8]
Prentiss established the Washington Wheat Press as a means for publishing, and within the paper were various poems and illustrations by the artist as well as poems and prose by Josiah Titzell, Rachel Field and Laura Benet. After Taylor discovered lithographing in 1931, he worked primarily in the printmaking medium for the rest of his life, experimenting with various techniques and compositions and ultimately achieving a status as one this country's great lithographers. Taylor depicted mostly realistic and narrative scenes of subjects and themes that reflected his personal interests in music, architecture, religion and social justice.[4][5]
In 1990, Taylor had his last exhibition while still alive at Georgetown University in their Lauinger Library called "The Art of Prentiss Taylor", which included lithographs, watercolor paintings and book jacket designs. In 1991, Taylor's health began deteriorating. In April, (age 83) he was put in a nursing home and was hospitalized in September due to a pneumonia and a heart infection. Prentiss Taylor died on October 7, 1991.[4]
---
My published books:


---
https://en.wikipedia.org/wiki/Prentiss_Taylor