Queer Places:
1700 Lexington Rd, Beverly Hills, CA 90210
Hollywood Forever Hollywood, Los Angeles County, California, USA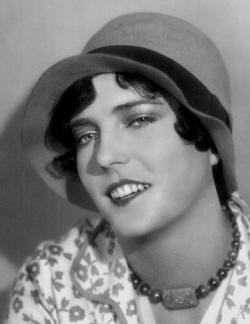 Pepi Lederer (born Josephine Rose Lederer; March 18, 1910 – June 11, 1935) was an American actress and writer. She was the niece of actress and philanthropist Marion Davies.[2] A vivacious and high-spirited young woman, Lederer was an overt lesbian who had sexual relationships with actresses Louise Brooks and Nina Mae McKinney.[3][4]
Born Josephine Rose Lederer in Chicago in 1910, Lederer was the daughter of Reine Douras—a stage actress and sister of Rosemary and Marion Davies—and her first husband George Lederer, a Broadway producer and director.[1] She had a younger brother, Charles Lederer (known as "Charlie"), who later became a well-known screenwriter.[1] Since early childhood, Lederer was nicknamed "Peppy" due to her high spirited personality; at the age of 18 she changed the spelling to "Pepi" and legally changed it as her first name.[1] Due to her mother's alcoholism, Lederer and her brother were cared for by their aunt Marion Davies. They both lived in Davies' luxurious Beverly Hills estate.[1] Lederer's mother Reine, who would occasionally appear uninvited, would forever accuse Davies of having "robbed her of her children."[5] When Davies became the mistress of publishing tycoon William Randolph Hearst, Lederer and her brother moved with Davies to reside at Hearst Castle where she spent much of her early youth during the Roaring Twenties. As Lederer was "the only fixed reality in an endless procession of celebrities" at Hearst Castle, she often defied the rules set by Hearst and Davies regarding proper decorum and usually escaped unpunished.[6] She often played pranks on Hearst's guests such as stealing actress Claire Windsor's "false bosom" and writer Elinor Glyn's red wig while they slept.[6] She purportedly delighted in inventing outlandish stories about events at Hearst Castle and had these stories planted in Louella Parsons' syndicated gossip column much to Hearst's annoyance.[6] Although Hearst and Davies took the ambitions of her brother Charles seriously and encouraged him to pursue a career, they relegated Lederer's ambitions to be an actress less seriously. Nevertheless, Davies secured a part for her niece in her 1927 film The Fair Co-Ed. Lederer was devastated when her part was cut from the film. Her reaction surprised Davies who still thought Lederer's acting ambitions were fleeting. Davies promised to get Lederer another role in an upcoming film, but her acting career would ultimately consist only of a few small parts in Davies' films such as a flapper in The Cardboard Lover (1928). In December 1929, Lederer upset Davies and Hearst after a mutual acquaintance told them she was involved in a sexual relationship with African-American actress Nina Mae McKinney.[3] Consequently, Davies and Hearst shipped Lederer to New York City where she lived alone in an apartment and continued to pursue her hedonistic lifestyle.[3] She soon became close friends with disgraced actress Alma Rubens and both allegedly shared an addiction to drugs including heroin and morphine.[7] (Rubens would die a year later in January 1931.)[7] At the end of March 1930, while still in New York, Lederer discovered that she was pregnant. Advised by her aunt, she had an abortion but suffered complications which later caused her serious health problems.[4] It was later revealed that a male acquaintance had raped a drunken Lederer when he had taken her home on New Year's Eve 1929.[8][4]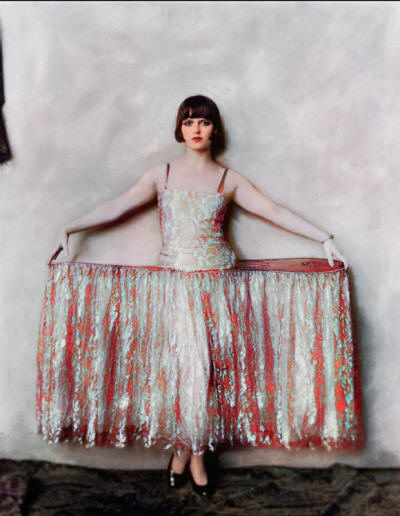 After recovering from the abortion, Lederer traveled with her aunt and William Randolph Hearst to Europe in 1930. While staying in England, Lederer convinced Hearst to hire her to work as a writer for one of his magazines, The Connoisseur. Lederer enjoyed the job and would remain in London for the next five years. She was given a generous allowance from Davies and Hearst. Lederer later told her friend, Louise Brooks, that she was happy living in London and felt that for the first time in her life, she was her own person. [4] In April 1935, Lederer returned to the United States with her new girlfriend, Monica Morris, whom she met in London. Morris also ran around with Tallulah Bankhead. The couple first arrived in New York City where they stayed at William Randolph Hearst's suite at the Ritz Tower. After a few weeks, the two left for Los Angeles where they stayed at Marion Davies' Beverly Hills mansion on Lexington Road. Davies and Hearst remained at San Simeon but, in an unusual move, did not contact Lederer or invite her to any parties at San Simeon. [4] As a result of either her worsening drug addiction or her flagrant romantic relationship with Morris,[9] Davies and Hearst had Lederer involuntarily committed to the psychiatric ward of Good Samaritan Hospital in late May 1935. On June 11, 1935, Lederer died after jumping from the sixth floor window of her hospital room. She was 25 years old. Lederer is buried at Hollywood Forever Cemetery in Los Angeles.[10][4]
---
My published books:

---