Partner Mark Tobey
Queer Places:
The Kennedy Building, 907 NE 45th St, Seattle, WA 98105
St. Alban-Vorstadt 69, 4052 Basel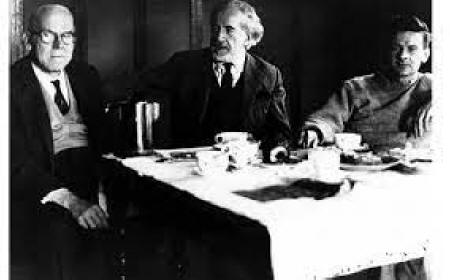 Painter Pehr Hallsten (Per Ulric Hallsten, July 4, 1897 - December 15, 1965) was born in Hammerdal, Sweden; his surname was originally Hallstensson. He emigrated to the United States in 1920, and moved to Seattle in the 1930s. Fluent in seven or eight languages, he made a living teaching languages, working as a laborer, and for the WPA. In 1953 he graduated from the University of Washington; his M.A. thesis was a translation of Strindberg's Stora Landsvagen into English. He began to have success in the late '50s as a painter. Pehr was the companion of artist Mark Tobey, living together in Seattle, Washington and Basel, Switzerland.
At age 56, Pehr decided to paint after watching artist friend, Helmi Juvenon. Helmi told Wes Wehr, (artist and friend) she had given Pehr some Windsor and Newton watercolors and paper, and that Pehr said painting looked easy when he watched her work. Helmi's studio and Pehr's reading room were in the same building, the Kennedy, next to the University Way post office. Pehr would spend time at the Kennedy, due to his partner, Mark Tobey, required solace whenever he was working.
Tobey encouraged Pehr to paint subjects from his childhood memories, including Viking myths and Scandinavian folklore. Pehr was a modest artist and didn't speak much of his artwork but is quoted talking about his color palette:
The winters in Sweden were so long and gloomy… I
think that may be partly why we Northerners like and
need bright colors - why the traditional costumes have
so much color, and the interiors of the houses have so
many brightly colored things-like the furniture. It's just
a way of making life a little more cheerful.
Pehr became widely known more internationally than nationally or locally. In the late 1950's Pehr success, for the first time in his life, enabled him to travel. Traveling to Pehr was his measure of success which he greatly enjoyed. In 1965, Pehr became ill on a trip, left for home to Basel, and shortly passed away. He died from diabetic complications in Basel, Switzerland on December 15, 1965.
An interview with artist Jan Thompson from Sept. 6 to Nov. 16, 1983, was done by Sue Ann Kendall for the Archives of American Art, Smithsonian Institution. In this interview, Thompson confirmed what Tobey's closest friends knew, that Tobey was gay and that he and his long-time companion Pehr Hallsten were lovers, although Tobey had at one time denied this (understandably). After Hallsten's death in 1965, Tobey continued to live with his secretary, Mark Ritter, until his death in 1976.
---
My published books:


---
https://www.monamuseum.org/artist/pehr-hallsten
http://archiveswest.orbiscascade.org/ark:/80444/xv72463