Queer Places:
Warren Hereford Ranch, 266 Warren Ln, Deer Lodge, MT 59722, Stati Uniti
Patricia Nell Warren (June 15, 1936 - February 9, 2019)[1] was an American novelist, poet and journalist. Her first novel, The Front Runner, was the first contemporary gay fiction to make the New York Times Best Seller list.[2]
Patricia Nell Warren was born in Helena, Montana on June 15, 1936 and grew up in southwest Montana on the Grant-Kohrs Ranch near Deer Lodge.[1] Her parents, Con and Nell Warren, were cattle ranchers; Warren had one brother, Conrad.[1] She began writing at age 10 and got her first literary recognition at age 18, winning the Atlantic Monthly College Fiction Contest with a short story.
Warren earned an associate of arts degree from Stephens College in Columbia, Missouri in 1955, then a bachelor of arts in English in 1957 from Manhattanville College in Purchase, New York.[1]
In 1957 she married Ukrainian emigre poet Yuriy Tarnawsky. Through her marriage, she learned the Ukrainian language and became associated with a group of other young Ukrainian emigre poets who became internationally known as the New York Group. As a part of their publishing collective, she began writing and publishing poetry in Ukrainian.
In 1959 Warren went to work for Reader's Digest and worked there for 21 years; she became an editor for both the magazine and the Condensed Book Club.[1] Her first novel The Last Centennial was published by Dial Press in 1971,[1] under the pen name Patricia Kilina, which she had used on her Ukrainian poetry. The book was reviewed by Library Journal as "impressive...Faulknerian," but didn't sell past a first printing. In 1973 she divorced Tarnawsky and left the New York Group shortly after.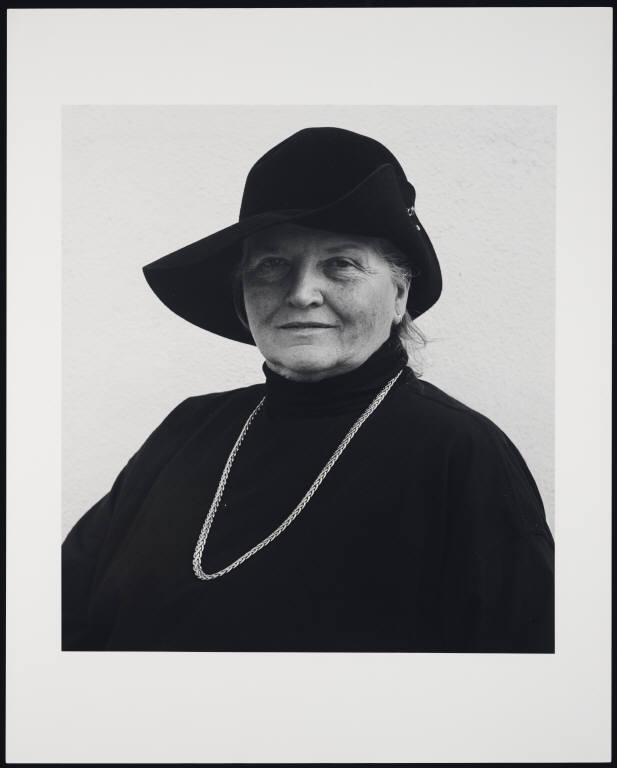 Photo by Robert Giard, Rights Notice: Copyright Jonathan G. Silin (jsilin@optonline.net)
In 1974 Warren published her second novel, The Front Runner.[3] Told from the point of view of a gay track coach, the story chronicled his struggle to get a talented openly gay runner on the U.S. Olympic team, and to quash his own growing love for his protegé.[2] The controversial book[4] was the first contemporary gay fiction to make The New York Times Best Seller list.[2] The book sold 10 million copies and was translated in to 10 different languages.[1] Two decades later, Warren added two sequels, Harlan's Race (1994) and Billy's Boy (1996).[1] Warren also came out as a lesbian in 1974.[5]
As a runner herself, Warren was one of the first women to run in the Boston Marathon, in 1968. She participated in a group of female runners who got women's marathoning recognized in the U.S.[6]
In 1976, Warren published her third novel, The Fancy Dancer.[1] The story was set in her native Montana, tracking the struggle with sexual orientation issues of a young Catholic parish priest in a small cow-country town.
In 1978 came Warren's fourth novel, The Beauty Queen.[1] Also published by Morrow, this book was set in the New York City world where she'd spent many years. The story focused on a socially prominent Manhattan businessman, a closeted gay father trying to get up the courage to come out to his daughter, who had become a fiercely anti-gay born-again Christian politician.
In 1980, Warren left employment at the Digest to become a full-time writer. She moved back out West to pursue research on her next novel, a Western historical opus. It appeared from Ballantine in 1991 under the title One Is the Sun.[1] Eventually settling in southern California, she made the decision to go independent with book publishing. The result was Wildcat Press, which has published all her books since then, including her 2001 novel, The Wild Man, inspired by her years in Spain; she had traveled there regularly during Franco's regime when she was liaison to the Digest's Spanish edition.[1]
During the 1990s, Warren became more active politically. In 1996-99, as a result of her concerns for LGBT youth, she volunteered as a commissioner of education in Los Angeles Unified School District, serving on the Gay & Lesbian Education Commission and later the Human Relations Education Commission. In 2006, Warren hired veteran political consultant Neal Zaslavsky and announced her candidacy for City Council in West Hollywood, CA.[7] Warren was unsuccessful in her run.[1]
---
My published books:

---
https://en.wikipedia.org/wiki/Patricia_Nell_Warren