Partner Meirion Bowen
Queer Places:
The Old Farmhouse, Nocketts Hill Farm, Old Derry Hill, Calne SN11 9PJ, UK
Sir Michael Kemp Tippett OM CH CBE (2 January 1905 – 8 January 1998) was an English composer who rose to prominence during and immediately after the Second World War. In his lifetime he was sometimes ranked with his contemporary Benjamin Britten as one of the leading British composers of the 20th century. Among his best-known works are the oratorio A Child of Our Time, the orchestral Fantasia Concertante on a Theme of Corelli, and the opera The Midsummer Marriage.
Over the course of a lifetime that virtually spanned the twentieth century, Sir Michael Tippett, a most unlikely composer and musician, progressed from being the great enigma of British classical music to being one of its most respected and influential figures.
His visionary, idealistic humanism informed his compositions, which, while firmly grounded in the traditions of European music, embraced contemporary and popular forms as well.
Tippett was, in the words of his partner Meirion Bowen, an "unabashed homosexual," and he defied the social taboos of his time by incorporating homoerotic themes in his operas.
Michael Kemp Tippett was born in London on January 2, 1905, and raised in Surrey, where he lived most of his life. Unlike many composers, he was not a child prodigy, and, aside from piano lessons, he had little early involvement with music. In his teens, however, he attended concert performances of Beethoven's symphonies, and as a result of this experience he realized his desire to become a composer.
Consequently, he persuaded his parents to support his studies at the Royal College of Music, from which he graduated in 1928. For several years, he taught French in a preparatory school and conducted local musical ensembles. In 1940, he was appointed Director of Music at Morley College in London, a post he retained until 1951.
Although Tippett's early compositions had their first public performance in 1930, the work that brought him widespread recognition came a decade later. The oratorio A Child of Our Time (1939-1941) was inspired by Tippett's concern for the oppressed and his outrage over Nazi persecution of the Jews.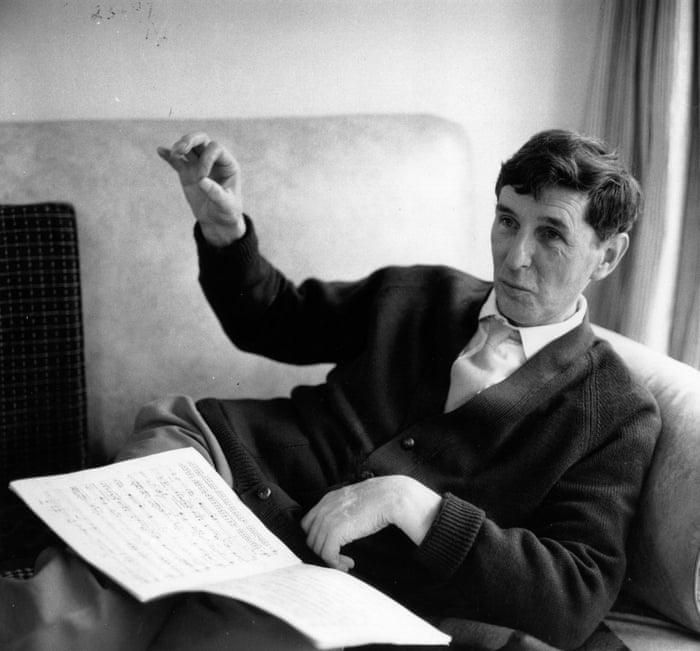 Sir Michael Kemp Tippett by Douglas Glass bromide print, circa 1960 12 in. x 11 5/8 in. (305 mm x 295 mm) Given by George Newsom, 1989 Primary Collection NPG P421

Sir Michael Kemp Tippett by Gertrude Hermes bronze head, 1966 13 in. (330 mm) high Purchased, 1987 Primary Collection NPG 5970

Sir Michael Kemp Tippett by J.S. Lewinski bromide print, June 1977 12 1/4 in. x 17 3/8 in. (310 mm x 442 mm) Purchased, 2004 Primary Collection NPG P1065

Sir Michael Kemp Tippett by Martin Rose acrylic on canvas, 1989 42 1/8 in. x 30 1/8 in. (1070 mm x 765 mm) Commissioned, 1989 Primary Collection NPG 6043

Sir Michael Kemp Tippett by Cecil Beaton bromide print on white card mount, 1944 9 1/2 in. x 6 3/4 in. (240 mm x 170 mm) Given by Cecil Beaton, 1968 Photographs Collection NPG x14220

Sir Michael Kemp Tippett by Georges Maiteny bromide print, 1950s 12 in. x 10 in. (304 mm x 255 mm) overall Purchased, 1991 Photographs Collection NPG x36180

Sir Michael Kemp Tippett; Benjamin Britten by Erich Auerbach bromide print, 1960 7 1/2in. x 6 1/2in. (191 mm x 164 mm) Given by the Britten estate, 1981 Photographs Collection NPG x15239

Sir Michael Kemp Tippett by Ferenc Berko bromide print, 1965 9 5/8 in. x 7 3/4 in. (246 mm x 198 mm) Purchased, 1979 Photographs Collection NPG x17072

Sir Michael Kemp Tippett by Walter Bird bromide print, 14 November 1966 8 1/8 in. x 6 1/8 in. (205 mm x 155 mm) image size Commissioned, 1966 Photographs Collection NPG x21954

Sir Michael Kemp Tippett by Michael Ward selenium-toned bromide print, 7 December 1972 13 1/4 in. x 10 1/8 in. (335 mm x 256 mm) Given by Michael Ward, 1993 Photographs Collection NPG x47150

Sir Michael Kemp Tippett by Denis Waugh C-type colour print, December 1979 14 in. x 17 3/4 in. (355 mm x 452 mm) image size Purchased, 2011 Photographs Collection NPG x134843

Sir Michael Kemp Tippett by Neil Drabble bromide fibre print, 1992 14 in. x 14 1/8 in. (355 mm x 358 mm) Given by Neil Drabble, 2005 Photographs Collection NPG x127397

Sir Michael Kemp Tippett by Hubert Leslie cut paper silhouette, 1920s-1940s Given by Hubert John Leslie, 1975 Reference Collection NPG D466
The work is dedicated to Hershel Grynzpan, a gay Jewish youth who, in 1937, assassinated a Nazi official in a Paris club frequented by homosexuals, an act that the Nazis used as a pretext for the acts of anti-Semitic terror known as Kristallnacht.
Tippett wrote the libretto for this oratorio, as he would subsequently do for all his vocal compositions. It demonstrates not only his concern for the outcast, but also his interest in Jungian archetypes, two elements that would recur in many of his later works.
Tippett composed in all genres of classical music, including symphonies, string quartets, piano sonatas, choral works, concerti, and songs, as well as a variety of unique pieces that would seem to defy categorization. Aside from A Child of Our Time, he is perhaps best known, however, for his operas.
Tippett's first opera, The Midsummer Marriage (1955), was first staged at Covent Garden with a young Joan Sutherland, then beginning her stellar career, in the lead role. Although the opera has endured the test of time, the plot, which incorporates Jungian archetypes and shows the influence of both T. S. Eliot's poetry and Mozart's The Magic Flute, at first bewildered audiences used to more traditional opera fare.
In 1960 he left Sussex and went to live in Wiltshire, first in the village of Corsham, and then in an isolated house perched on Derry Hill above the town of Calne. This was his home until failing health in late life brought him back to London.
King Priam (1962) retells the ancient story of the siege of Troy and, in one scene, presents the homoerotic attachment between Achilles and Patroclus.
More daring is The Knot Garden (1970), an examination of the dynamics of contemporary relationships. Among the main characters are Mel and Dov, an unambiguously gay, mixed-race couple.
The Icebreak (1977), which includes elements of psychedelic rock and African music in its contextual synthesis, is likewise controversial, addressing issues of racial prejudice and the plight of refugees.
Tippett's final major work was the opera New Year (1989), written by the octogenarian composer as a sort of postscript to his long career. In keeping with Tippett's ongoing interest in contemporary currents in music and culture, this late piece is perhaps the first opera to include a "rap" vocal.
Tippett was a lifelong humanist and pacifist who stood by his beliefs, even when they were out of step with the rest of society. In 1943, he was incarcerated for three months in London's notorious Wormwood Scrubs prison for refusing to do the civil defense duty expected of conscientious objectors; he responded to his conditions by organizing and conducting the prison orchestra.
Tippett was, moreover, openly gay at a time when male homosexual acts were criminal in Britain. Yet despite his "outlaw" history, he was knighted by Queen Elizabeth II in 1966, made a Companion of Honour in 1979, and granted the Order of Merit in 1983.
Tippett remained active through his eighties, and only declined at the very end of his life. His autobiography, Those Twentieth Century Blues, was published in 1991. In November, 1997, while attending a retrospective celebration of his music in Stockholm, he was stricken with pneumonia. He died of the illness in his London home on January 8, 1998, days after his ninety-third birthday.
---
My published books:

---
Tippett, Sir Michael (1905-1998) by Patricia Juliana Smith Encyclopedia Copyright © 2015, glbtq, Inc. Entry Copyright © 2002, glbtq, Inc. Reprinted from http://www.glbtq.com