Partner Marta von Meyenburg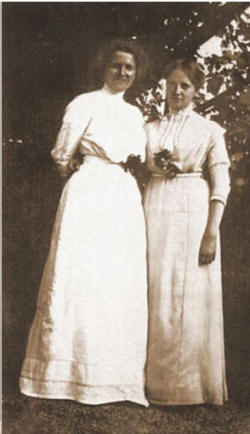 Maria Fierz (March 27, 1878 – September 13, 1956) was in Richterswil and died in Oberrieden.
She was the daughter of Carl Fierz and grew up in Zurich. Because she was forbidden by her family permission to study, she moved to London in 1901 and trained as a social worker. Afterwards, she worked in Zurich for the charitable women's association and completed an internship at the municipal.
In 1908 Fierz carried out the first care course for women with Mentona Moser. From then on she promoted the professionalization of social work. In 1917 she took over the management of the Frauenzentrale Zürich and was its president until 1944. After the national strike in 1918, she also founded the women's groups of Zurich. She intended to contribute to overcoming class contradictions. With her partner Marta von Meyenburg, Fierz initiated the founding of the Social Women's School, which opened in Zurich in 1921. She was on the board until 1948. In 1928 she was elected to the commission for poor care of the city of Zurich. From 1935 to 1940 she belonged to the board of the Swiss Confederation Women's clubs.
Fierz always advocated the equal rights of women. She was a convinced pacifist and close to religious socialism.
---
My published books:


---
http://www.hls-dhs-dss.ch/textes/d/D9298.php