Queer Places:
Royal Burial Ground Windsor, Windsor and Maidenhead Royal Borough, Berkshire, England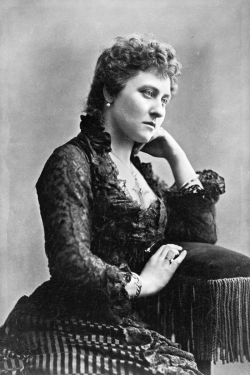 Princess Louise, Duchess of Argyll, VA, CI, GCVO, GBE, RRC, GCStJ (Louise Caroline Alberta; 18 March 1848 – 3 December 1939) was the first woman National Union for the Higher Education of Women President in 1872 and the first woman Public statue sculptor (Queen Victoria, in Kensington Gardens) in 1893.
She was the sixth child and fourth daughter of Queen Victoria and Prince Albert. In her public life, she was a strong proponent of the arts and higher education and of the feminist cause. Her early life was spent moving among the various royal residences in the company of her family. When her father, the prince consort, died on 14 December 1861, the court went into a long period of mourning, to which with time Louise became unsympathetic. Louise was an able sculptor and artist, and several of her sculptures remain today. She was also a supporter of the feminist movement, corresponding with Josephine Butler, and visiting Elizabeth Garrett. Before her marriage, from 1866 to 1871, Louise served as an unofficial secretary to her mother, the Queen. The question of Louise's marriage was discussed in the late 1860s. Suitors from the royal houses of Prussia and Denmark were suggested, but Victoria did not want her to marry a foreign prince, and therefore suggested a high-ranking member of the British aristocracy. Despite opposition from members of the royal family, Louise fell in love with John, Marquess of Lorne, the heir of the Duke of Argyll. Victoria consented to the marriage,[1] which took place on 21 March 1871.[2] After a happy beginning, the two drifted apart, possibly because of their childlessness and the queen's constraints on their activities.[3] In 1878, Lorne was appointed Governor General of Canada, a post he held 1878–1884. Louise was viceregal consort, starting a lasting interest in Canada. Her names were used to name many features in Canada. Following Victoria's death in 1901, Louise entered the social circle established by her elder brother, the new king, Edward VII. Louise's marriage survived thanks to long periods of separation; the couple reconciled in 1911 and she was devastated by her husband's death in 1914. After the end of the First World War in 1918, at the age of 70, she began to retire from public life, undertaking few public duties outside Kensington Palace, where she died at the age of 91.
Rumours spread that Louise was having an affair with Arthur Bigge, later Lord Stamfordham, the queen's assistant private secretary. Beatrice mentioned the rumours to the queen's physician, calling it a "scandal",[65] and Prince Henry claimed to have seen Bigge drinking to Louise's health at dinner.[65] Louise denied the rumour, claiming that it was started by Beatrice and Helena to undermine her position at court.[69] However, on Henry's death, relations between the sisters sporadically improved, and it was Louise, rather than the queen, who was the first to arrive at Cimiez to be with the widowed Beatrice.[70] Nevertheless, Louise's jealousy did not evaporate completely. James Reid, the queen's physician, wrote to his wife a few years later: "Louise is as usual much down on her sisters. Hope she won't stay long or she will do mischief!"[71] Rumours of affairs did not surround only Bigge. In 1890, the sculptor Joseph Edgar Boehm died in Louise's presence at his studio in London, leading to rumours that the two were having an affair.[3] Boehm's assistant, Alfred Gilbert, who played a central role in comforting Louise after Boehm's death, and supervised the destruction of Boehm's private papers,[72] was rapidly promoted as a royal sculptor.[72] Louise was also romantically linked to fellow artist Edwin Lutyens; her equerry, Colonel William Probert; and an unnamed music master.[73] However, Jehanne Wake, Louise's biographer, argues that there is no substantial evidence to suggest that Louise had sexual relationships with anyone other than her husband.[73] During Victoria's last years, Louise carried out a range of public duties, such as opening public buildings, laying foundation stones, and officiating at special programmes. Louise, like her eldest sister Victoria, was more liberally minded, and supported the suffragist movement, completely contrary to the queen's views.[63] Louise privately visited Elizabeth Garrett, the first British woman openly to qualify as a physician.[74] Queen Victoria deplored the idea of women joining professions, especially medicine, and described the training of female physicians as a "repulsive subject".[75]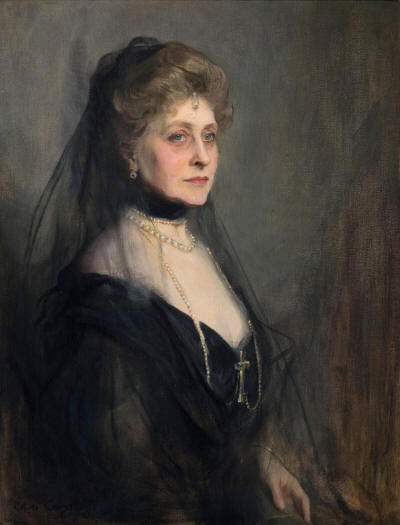 Portrait by Philip de László, 1915
Louise died at Kensington Palace on the morning of 3 December 1939 at the age of 91 years, 8 months and 15 days, the same age to the day as her younger brother Prince Arthur had been at his death,[90] wearing the wedding veil she had worn almost 70 years earlier.[91] Following a simple funeral, owing to the war, her remains were cremated at Golders Green Crematorium on 8 December.[92] Her ashes were quietly placed in the Royal Crypt at St. George's Chapel on 12 December, with many members of the Royal and Argyll families present.[92] Her ashes were moved to the Royal Burial Ground, Frogmore near Windsor, on 13 March 1940.[93] Louise's will stated that if she died in Scotland she should be buried at the Campbell mausoleum in Kilmun next to her husband; if in England, at Frogmore near her parents.[92] Her coffin was borne by eight NCOs of her own regiment, The Argyll and Sutherland Highlanders.[94] Her estate was probated as £239,260, 18 shillings and sixpence, with her debts including 15 shillings for cigarettes.[95]
---
My published books:


---