Wife Violet Sargent
Queer Places:
Villa Ormond, Corso Felice Cavallotti, 113, 18038 Sanremo IM
94 Cheyne Walk, London
Brookwood Cemetery Brookwood, Woking Borough, Surrey, England
Louis Francis Ormond (November 2, 1866 - April 21, 1948) was born in the family house on Lake Geneva, Villa Mirabaud in Clarens, the son of Michel Louis Ormond (1828-1901), a Swiss cigar manufacturer, and Marie Marguerite Renet (1847-1923), the daughter of a French banker whose family, originally from Nimes, was strongly Protestant. He was a very independent boy, at sixteen he left home and traveled to Canada.
It was Marie Marguerite's delicate health that prompted her and her husband to look for a property on the Italian Riviera. In order to spend the colder winter months, they bought Villa Rambaldi in the east of Sanremo in 1875, but this was damaged by the terrible earthquake of February 24, 1887, which caused collapses and destruction in the surrounding area. Louis Ormond, with his organizational capacity and initiative, directed aid for the local population. He received the order of San Maurizio and Lazzaro from King Umberto I, in recognition of his exceptional contribution. Following the serious damage suffered by Villa Rambaldi, the Ormonds decided to build a new villa and employed a Genevan architect: Emile Reverdin. They themselves planned the destination of the premises and followed the construction work which was designed in a very sober neoclassical style. The stone came from a quarry in Cassis, near Toulon, the ironwork from Switzerland and the window panes from St. Gobain, the fabrics, copied from ancient samples, were woven by a Paris workshop. The house was full of collections of antiquities, collected by the Ormonds over the years, some pieces coming from the sale of the Demidoffs in Florence. After 15 months of uninterrupted activity, the house was officially opened on June 1, 1890. The Ormonds had always entertained the guests with elegance, their guests were the Hereditary Prince of Germany and his family, the Duke of Aosta and other famous people.

Violet, John Singer Sargent, 1881 Private collection Oil on canvas 69.85 x 57.15 cm (27.52 x 22.01 in)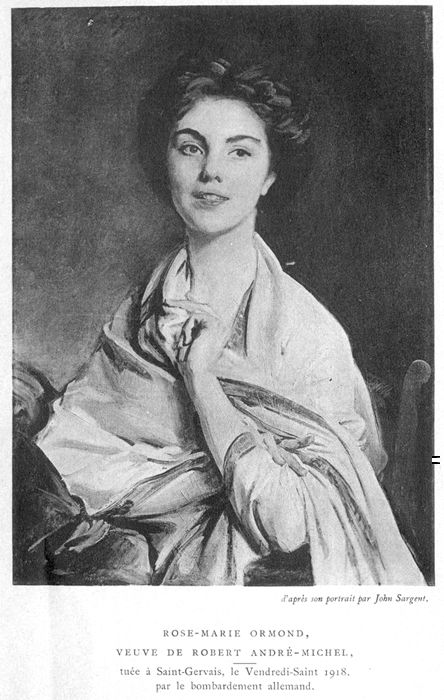 Rose-Marie Ormond (later Madame Robert André-Michel 1893-1918) John Singer Sargent
Francis Ormond had married Violet Sargent in 1891, the beautiful sister of the American painter John Singer Sargent. Many of their children were born in San Remo. Francis had become an intrepid traveler to Arabia and spent a lot of time there, entrusted the education of his eldest daughters Margherite and Rose Marie to his grandmother. After her husband's death, in 1901 she continued to keep the villa, spending part of the year there, in Paris and part of it in the castle of Crevins, a new property acquired outside Geneva. She continued to live in style, planning everything with precision, writing letters and instructions with a steady hand and red-violet ink, she was a formidable matriarch who managed to overcome any obstacle. She forced her older nephew Jean Louis, at school in England, to take courses to deal with the cigar industry. She must have been less than vigilant when Rose Marie met and fell in love with a young French art historian, Robert André Michel, whom she married in 1913. Marie Margherite never lost her energy as she continued to travel back and forth from her villa in San Remo until the end of her days. On her death in 1925 the villa was sold and the bond between San Remo and the Ormond family - which lasted about fifty years - was thus interrupted.
The Ormonds lived at 94 Cheyne Walk, London, just doors away from Violet Sargent's sister, Emily Sargent, who lived at #10, and from their brother, John Singer Sargent's studio in Tite Street. Francis Ormond, after fathering six children (Marguerite Ormond (b. 1892), Rose Marie Ormond Michel (1893-1918), Jean Louis Ormond (b. 1894), Guillaume Francis Ormond (1896-1971), Reine Violet Ormond Pitman (1897-1971), Henri Eric Conrad Ormond (1898-1979)), abandoned his family to indulge his homosexual proclivity in foreign parts. Writing of her sister, Emily Sargent told Vernon Lee, "She says she has long since accepted the fact that he is abnormal, & she thinks he has too, now. The pity is that he has it in his power to cloud so many lives!" Fearing his sister's engagement to Ormond, Sargent himself was openly opposed to his sister's marriage; when he gave his reasons to a family friend, they sounded "like the worry of a concerned relative who knows, from male-club gossip, some quite discreditable facts about the impending husband."
---
My published books:

---
Anesko, Michael. Henry James and Queer Filiation . Springer International Publishing. Edizione del Kindle.
Karen Corsano and Daniel Williman, John Singer Sargent and His Muse: Painting Love and Loss.
https://www.sanremostoria.it/it/personaggi-illustri/ospiti-stranieri/276-michel-louis-ormond.html