Queer Places:
Vassar College (Seven Sisters), 124 Raymond Ave, Poughkeepsie, NY 12604
USC Pacific Asia Museum, 46 N Los Robles Ave, Pasadena, CA 91101, Stati Uniti
Woodlawn Memorial Park, 1000 El Camino Real, Colma, CA 94014, Stati Uniti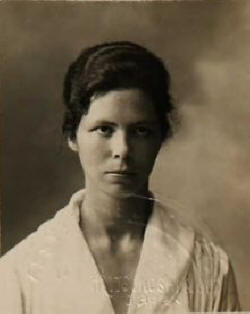 Lilian May Miller (July 20, 1895 - January 11, 1943) was an American painter, woodblock printmaker and poet born in Tokyo, Japan. In the world of art she marked her place with imagery, while she attended presentations in traditional kimonos, and signed her paintings with a monogram.
She practiced oil painting, watercolor painting, book illustrations, photography, and printing. Trained in Japan in traditional painting styles and techniques, Lilian May Miller created lyrical sketches, ink paintings and woodblock prints representing people and landscapes from Japan and Korea, the countries where she spent most of her life.
Lilian May Miller was born in Tokyo, Japan, on July 20, 1895.[1][2] Her father, Ransford Miller,[2] was an American diplomat[3] who had worked for the YMCA in Tokyo from 1890 to 1894.[4][nb 1] From 1895 to 1909 he was a legation interpreter.[5] In 1894 Ransford Miller married Lilly Murray,[4] who had arrived in Japan in 1888[6][nb 2] and taught English.[7] Lilian had a sister named Harriet, who her father called "Hal"; Lilian was called "Jack".[8]
In 1904, at the suggestion of well known etcher and engraver Helen Hyde, Ransford Miller enrolled nine-year-old Lilian in the atelier of Kanō Tomonobu (1843–1912),[9] who was the 9th generation head of the famous Kanō school in Tōkyō.[10] Three years later she exhibited her first works.[9] Her distinct gô (art name) that she used as her professional name was Gyokka which means jeweled flower.[9]
When she was in her teens her father became head of the State Department's Far Eastern Department was transferred back to Washington, D.C. and for the first time she left Japan and went to the United States.[3] Miller attended the Central High School in Washington, D.C. and at the age of 14 won first prize for a Washington Post art contest with Early Morning in Old Japan.[3][11] She went to Vassar College in New York, attended the college during part of the time writer and professor Sophia Chen Zen studied there, and she was a classmate of poet Edna St. Vincent Millay. She graduated with honors[3][9] in 1917.[12]
Then she went to Seoul, Korea in 1918, where her father was now the American Consul General.[3] She was a journalist and secretary at the State Department in Washington, D.C. Miller then lived with her parents in New York and worked at the Consular Service. She was a clerk and confidential secretary at the American Embassy in 1920.[12][13] After a brief period at the State Department, she returned to Tokyo in 1920.[14]
She was in financial ruin after the Great Kanto earthquake of September 1, 1923, when many of her prints and paintings were destroyed.[7][15] Miller lived with her parents in Seoul, Korea from 1923 until 1927[16] or 1928.[15] While in Korea, Miller made prints and recuperated over a long period of time from a serious illness.[15] In 1930 Miller returned to Japan and moved to Kyoto.[17] Her father returned to the U.S. and became head of the Far Eastern Department in the State Department, Washington.[18] He died in 1932 and his remains were buried at Yokohama Foreign Cemetery.[17]:37,39
In 1935, Miller had surgery for a large cancerous tumor and a hysterectomy. In early 1936, after a political imbroglio in which Japanese radical officers assassinated several leading politicians, Miller and her mother left Japan and moved to Honolulu, Hawaii.[19] In the autumn of 1938 she moved to San Francisco and she began to include the massive redwoods and cedars of California in her work.[19] In her personal life she hiked California's San Gabriel Mountains and wandered through Alaska.[17]:35
She lived a life of contradictions. Miller wore kimonos when she showed her work - which reflected her east Asian upbringing - but also wore men's clothes and called herself "Jack". The kimono represented the Japanese traditional culture in which she was raised, but she didn't follow the strict protocols for developing wood block printing, this was something that made her popular with Americans. Her parents were from the United States, but she lived most of her life in Asia. She is assumed to have been a lesbian and once said that she didn't have the ability to make herself fall in love with a man.[20]
Following the Japanese attack on Pearl Harbor in December 1941, she destroyed much of her woodprint works, having felt betrayed by Japan.[3] During the war, Miller worked against the Japanese.[7] She signed on with a Naval counter propaganda branch as a Japanese Censor and Research Analyst.[19]:37 On December 9, 1942 she had surgery to remove a large malignant tumor at a hospital at Stanford University. She died on January 11, 1943 of abdominal cancer in California.[7][17]:37[nb 3] Her ashes were buried at Woodland Cemetery in San Francisco, California.[17]:37
---
My published books:


---
https://en.wikipedia.org/wiki/Lilian_May_Miller