Husband David Webster
Queer Places:
2 5th Ave, New York, NY 10011, Stati Uniti
Larry Kramer (June 25, 1935 - May 27, 2020) was an American playwright, author, film producer, public health advocate, and LGBT rights activist. He began his career rewriting scripts while working for Columbia Pictures, which led him to London where he worked with United Artists. There he wrote the screenplay for the 1969 film Women in Love (1969) and earned an Academy Award nomination for his work. Kramer introduced a controversial and confrontational style in his novel Faggots (1978), which earned mixed reviews and emphatic denunciations from elements within the gay community for Kramer's one-sided portrayal of shallow, promiscuous gay relationships in the 1970s.
Kramer witnessed the spread of the disease later known as Acquired Immune Deficiency Syndrome (AIDS) among his friends in 1980. He co-founded the Gay Men's Health Crisis (GMHC), which has become the world's largest private organization assisting people living with AIDS. Kramer grew frustrated with bureaucratic paralysis and the apathy of gay men to the AIDS crisis, and wished to engage in further action than the social services GMHC provided. He expressed his frustration by writing a play titled The Normal Heart, produced at The Public Theater in New York City in 1985. His political activism continued with the founding of the AIDS Coalition to Unleash Power (ACT UP) in 1987, an influential direct action protest organization with the aim of gaining more public action to fight the AIDS crisis. ACT UP has been widely credited with changing public health policy and the perception of people living with AIDS (PWAs), and with raising awareness of HIV and AIDS-related diseases.[1] Kramer has been a finalist for the Pulitzer Prize for his play The Destiny of Me (1992), and he is a two-time recipient of the Obie Award.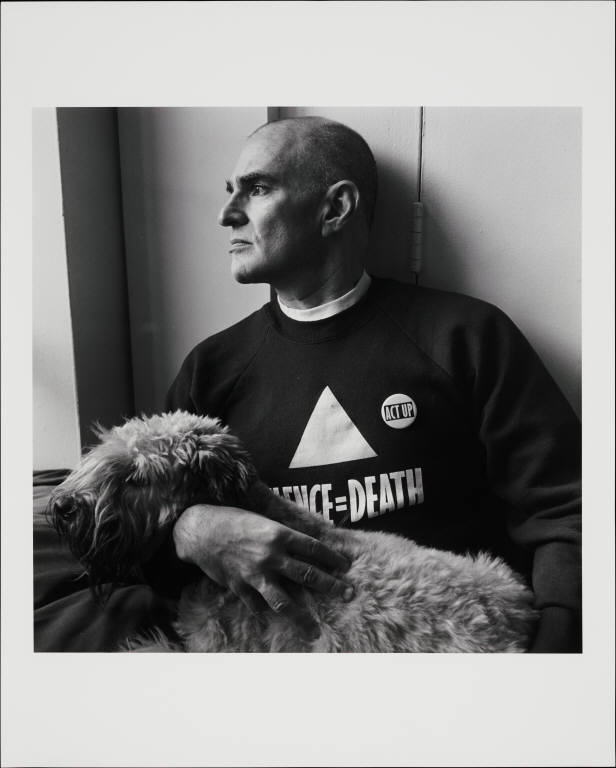 Featured in Particular Voices: Portraits of Gay and Lesbian Writers by Robert Giard [Rights Notice: Copyright Jonathan G. Silin (jsilin@optonline.net)]

2 5th Ave
Kramer and his partner, architectural designer David Webster, have been together since 1991. It was Webster's ending of his relationship with Kramer in the 1970s that inspired Kramer to write Faggots (1978). When asked about their reunion decades later, Webster replied, "He'd grown up, I'd grown up."[8] On July 24, 2013 in New York City, Kramer and Webster married.[52]
Kramer lived in Manhattan, near Washington Square Park in Greenwich Village, and in Connecticut. Another resident of Kramer's Manhattan residential complex was Kramer's longtime nemesis, Ed Koch. The two saw each other relatively infrequently, since they lived in separate towers. When Kramer saw Koch looking at the apartment in 1989, Kramer reportedly told him, "Don't move in here! There are people here who hate you!" On another occasion, Koch tried to pet Kramer's dog in the building's mail area, and Kramer snatched the dog away.[53]
Kramer died of pneumonia on May 27, 2020, at age 84, less than a month short of his 85th birthday.[70][71]
---
My published books:

---
https://en.wikipedia.org/wiki/Larry_Kramer