Queer Places:
Sugar Hill, 45 Main St, Dalton, MA 01226
820 5th Ave, New York, NY 10065
Driftwood, Penzance Rd, Falmouth, MA 02543, Stati Uniti
Main Street Cemetery Dalton, Berkshire County, Massachusetts, USA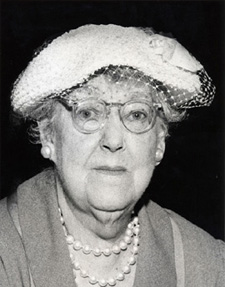 Josephine Porter Crane (née Boardman; November 14, 1873 – July 8, 1972) was an American socialite and patron of the arts, co-founder and original trustee of the Museum of Modern Art and supporter of the Dalton School of New York City.[1]
Born Josephine Porter Boardman, in Cleveland, Ohio, she was from a well-to-do family. Her father, William Jarvis Boardman (April 15, 1832 – August 2. 1915), a lawyer and political activist, was the grandson of United States Senator Elijah Boardman. Her mother, Florence Sheffield, was the granddaughter of Joseph Earl Sheffield, a major benefactor of Yale University. She had five siblings, including Mabel Thorp Boardman. The family moved from Ohio to Washington, D.C. in 1887-8, although they maintained connections to Ohio politics including a friendship with the Taft family. In 1906, she married Winthrop Murray Crane, an American millionaire 20 years her senior, a former governor of Massachusetts and US Senator, with whom she had three children: Stephen, Bruce, and Louise Crane. Winthrop M. Crane died in 1920. After the Senator's death, she moved to New York City, where she was a founder of the Museum of Modern Art and was elected to the board of trustees in October 1929.[1] Crane was the benefactress of the prestigious Dalton School, which took its name from the location of the Crane family estate, "Sugar Hill", in Dalton, Massachusetts. She was the original sponsor for implementing the Dalton Plan in 1920,[2] a much-copied experiment in education. Crane hosted a weekly literary salon at her apartment at 820 Fifth Avenue, New York City and at the family home on Penzance Point, Woods Hole, Massachusetts. Guests included Marianne Moore and William Somerset Maugham.[1]
She died of pneumonia on July 8, 1972, aged 98, at Falmouth Hospital in Falmouth, Massachusetts.[1] The Josephine B. Crane Foundation continues to support the Sierra Club, scientific research and various scholarships.
---
My published books:

---