Queer Places:
Amherst College, Amherst, MA 01002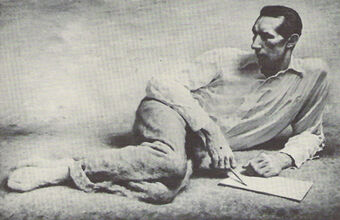 Joseph Moncure March (July 27, 1899 New York City - February 14, 1977 Los Angeles, California) was an American poet and essayist, best known for his long narrative poems The Wild Party and The Set-Up. According to the artist Art Spiegelman (in the introduction to his 1994 edition), William Burroughs claimed the narrative of The Wild Party was "the book that made me want to become a writer." By no stretch can the poem be called even a gay novella, but its caricatures of the three gays remain etched in the memories of readers. It has been loosely adapted as a movie and has become the basis for two separate musicals. The Merchant Ivory Productions 1975 version of The Wild Party changes March's plot to conflate the poem with the Fatty Arbuckle scandal, starring James Coco and Raquel Welch.
The Wild Party continues to attract new readers and adaptations. In 2000, two separate musical versions played in New York, one on Broadway, composed by Michael John LaChiusa, and the other off-Broadway, composed by Andrew Lippa, with mixed critical and popular success. The Archives & Special Collections at Amherst College holds a substantial collection of March's personal papers, including unpublished poems, scripts, and a memoir entitled Hollywood Idyll.
After serving in World War I and graduating from Amherst College (where he was a protégé of Robert Frost), March was managing editor of The New Yorker in 1925, and helped create the magazine's "Talk of the Town" front section. He left the magazine, and wrote the first of his two important long Jazz Age narrative poems, The Wild Party. Due to its risqué content, this violent story of a vaudeville dancer who throws a booze and sex-filled party could not find a publisher until 1928. Once published, however, the poem was a great success despite being banned in Boston. March followed with The Set-Up, a poem about a black boxer who had just been released from prison.
In 1929, March moved to Hollywood to provide additional dialogue for the film Journey's End and, more famously, to turn the silent version of Howard Hughes' classic Hell's Angels into a talkie — a rewrite that brought the phrase "Excuse me while I put on something more comfortable" into the American lexicon. March stayed with Hughes' Caddo Pictures studio for several years, temporarily running the office, overseeing the release of Hell's Angels, and getting into legal trouble after an attempt to steal the script for rival Warner Bros.' flying picture The Dawn Patrol.
March worked as a screenwriter in Hollywood until 1940, under contract to MGM and Paramount and later as a freelancer for Republic Pictures and other studios; he wrote at least 19 produced scripts in his Hollywood career. His most prominent late script is probably the left-leaning John Wayne curio Three Faces West, a knockoff of The Grapes of Wrath that ends with a faceoff between Okies and Nazis.
With his third wife, Peggy Prior (a Pathé screenwriter) and her two children, March returned to the East Coast in 1940. During World War II, he worked at a shipbuilding plant in Groton, Connecticut, and wrote features (mostly acid assessments of the movie business) for the New York Times Magazine. In later years, he wrote documentaries for the State Department and industrial films for Ford Motor Company, General Motors, Monsanto Company, American Airlines, and others. Several films starring industrial films icon Thelma "Tad" Tadlock, including Design for Dreaming (1956) and A Touch of Magic (1961) were made from March's rhyming scripts. March died in 1977.
---
My published books:

---
https://en.wikipedia.org/wiki/Joseph_Moncure_March
Gunn, Drewey Wayne. Gay American Novels, 1870-1970 (p.14). McFarland & Company, Inc., Publishers. Edizione del Kindle.