Queer Places:
38 Grove St, Boston, MA 02114
Black Mountain College, Black Mountain, NC 28711
17 Irving St, Boston, MA 02114
33 S Russell St, Boston, MA 02114
44 Joy St, Boston, MA 02114
Milton Cemetery Milton, Norfolk County, Massachusetts, USA
John Joseph Wieners (January 6, 1934 – March 1, 2002) was an American poet.[1]
Born in Milton, Massachusetts, Wieners attended St. Gregory Elementary School in Dorchester, Massachusetts and Boston College High School. From 1950 to 1954, he studied at Boston College, where he earned his A.B. In 1952, Wiemers fell in love with a man 5 years his senior. Tall with a blond crewcut, Russell Dana Durkee was a former high school football star from Swampscott, returning to Boston after four years in the navy. Durkee was reluctant to be open about their relationship. However, Wieners persuaded him to use his G.I. benefits to go to Boston College and the two began an on-and-off 6 years relationship. In 1954, Durkee and Wieners moved into an apartment at 38 Grove St, on the north slope of Beacon Hill. The area was popular with artists, gays, and the down-and-out.
On September 11, 1954 Wieners heard Charles Olson read at the Charles Street Meeting House on Beacon Hill during Hurricane Edna. He decided to enroll at Black Mountain College where he studied under Olson and Robert Duncan from 1955 to 1956. He then worked as an actor and stage manager at the Poet's Theater in Cambridge, and began to edit Measure, releasing three issues over the next several years. Wieners befriended another poet, Stephen Jonas, from the Beacon Hill gay scene.
In 1955, Wieners left Boston to attend Black Mountain College for a semester. Returning, Wieners and Durkee rented an apartment at 17 Irving St, where they lived off of Durkee's unemployment check of $19 per week. Wieners worked on a production of Finnegan's Wake at the Cambridge Poets' Theatre in December. There, Wieners met Frank O'Hara while an understudy for O'Hara's role in a play and the two bonded. They hung out at Cronin's on Dunster St, and on the banks of the Charles. O'Hara was staying in an apartment over the Wursthaus in Harvard Square at the time.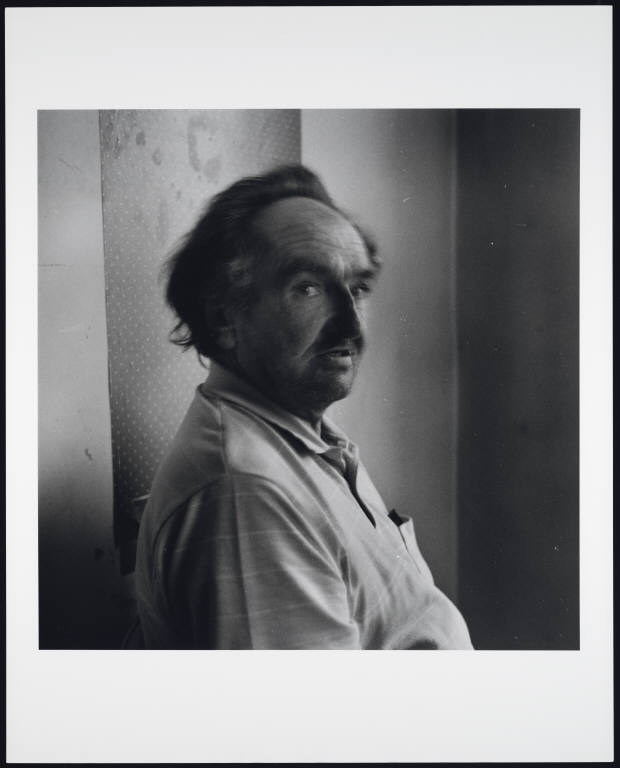 Photo by Robert Giard, Rights Notice: Copyright Jonathan G. Silin (jsilin@optonline.net)
Wieners went back to Black Mountain College in June 1956 just as the school was disintegrating into bankruptcy. At the end of August, Wieners returned to Boston, this time renting an apartment with Durkee at 33 South Russell St. Fueled by amphetamines, Wieners published the poetry magazine Measure in 1957. At the end of the summer he was preparing to move to San Francisco when word reached him that the first issue of Measure was facing bad reviews for being too gay themed. He then left Boston for three years.
John Wieners met Jack Spicer when he returned from Black Mountain College in 1955. Spicer was working at the Copley Library and skeptical that anyone was writing decent poetry in Boston. But he soon became fascinated by Stephen Jonas' work. In the summer of 1956, this group of poets (most of whom were gay) was living on the back of Beacon Hill where they produced a newsletter devoted to their writing. In September they gave a public reading but only 8 people showed up. Disgusted, Spicer left Boston in November. Once in San Francisco, he published Jonas' poetry and Wieners included one of Spicer's poems in his fist issue of Measure.
From 1958 to 1960 Wieners lived in San Francisco and actively participated in the San Francisco Poetry Renaissance. The Hotel Wentley Poems was published in 1958, when Wieners was twenty-four. Subsequently, he was a contributor to Donald Allen's seminal New American Poetry anthology. In San Francisco Wieners broke up with Durkee for the last time and bounced between friends' apartments, slowly sinking further into depression and drugs.
Wieners returned to Boston in 1960 and was committed to a psychiatric hospital. In 1961, he moved to New York City and worked as an assistant bookkeeper at Eighth Street Books from 1962-1963, living on the Lower East Side with Herbert Huncke. He went back to Boston in 1963, employed as a subscriptions editor for Jordan Marsh department stores until 1965. Wieners' second book, Ace of Pentacles, was published in 1964.
In 1965, after traveling with Olson to the Spoleto Festival and the Berkeley Poetry Conference, he enrolled in the Graduate Program at SUNY Buffalo. He worked as a teaching fellow under Olson, then as an endowed Chair of Poetics,[2] staying until 1967, with Pressed Wafer coming out the same year. In 1968, he signed the "Writers and Editors War Tax Protest" pledge, vowing to refuse tax payments in protest against the Vietnam War.[3] In the spring of 1969, Wieners was again institutionalized, and wrote Asylum Poems.
Nerves was released in 1970, containing work from 1966 to 1970. In the early 1970s, Wieners became active in education and publishing cooperatives, political action committees, and the gay liberation movement.[4] He also moved into an apartment at 44 Joy Street on Beacon Hill, where he lived for the next thirty years. Charley Shively introduced Wieners to the thriving radical gay scene in the city. Around this time, Wieners also became friendly with John Mitzel, who had been the manager of the South Station Cinema since its opening. Wieners would go to the gay porn theatre to cash the weekly allowance checks provided by his sister. Mitzel would later boast: I was John's banker.
In 1975, Behind the State Capitol or Cincinnati Pike was published, a magnum opus of "Cinema decoupages; verses, abbreviated prose insights." For the next ten years, he published rarely and remained largely out of the public eye. In 1985, he was a Guggenheim Fellow.
Black Sparrow Press released two collections edited by Raymond Foye: Selected Poems: 1958-1984 and Cultural Affairs in Boston, in 1986 and 1988 respectively. A previously unpublished journal by Wieners came out in 1996, entitled The Journal of John Wieners is to be called 707 Scott Street for Billie Holliday 1959, documenting his life in San Francisco around the time of The Hotel Wentley Poems.
At the Guggenheim Museum in 1999, Wieners gave one of his last public readings, celebrating an exhibit by the painter Francesco Clemente. A collaboration between the two, Broken Women, was also published.
Wieners died on March 1, 2002 at Massachusetts General Hospital in Boston, having collapsed a few days previously after an evening attending a party with his friend and publisher Charley Shively.
---
My published books:

---
The Hub of the Gay Universe, An LGBTQ History of Boston, Provincetown, and Beyond, by Russ Lopez, 2019