Partner Richmond Barthé
Queer Places:
Columbia University (Ivy League), 116th St and Broadway, New York, NY 10027
23 Cranberry St, Brooklyn, NY 11201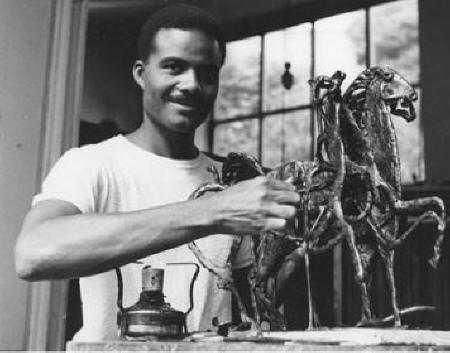 John William Rhoden (March 13, 1918 - January 4, 2001) was an American sculptor. Once, when interviewed, Richmond Barthé indicated that he was homosexual. Throughout his life, he had occasional romantic relationships that were short-lived. In an undated letter to Alain Locke, he indicated that he desired a long-term relationship with a "Negro friend and a lover". The book Barthé: A Life in Sculpture by Margaret Rose Vandryes links Barthé to writer Lyle Saxon, to African American art critic Alain Locke, young sculptor John Rhoden, and the photographer Carl Van Vechten. According to a letter from Alain Locke to Richard Bruce Nugent, Barthé had a romantic relationship with Nugent, a cast member from the production of Porgy & Bess.
John William Rhoden was born in Birmingham, Alabama.[1] Rhoden attended Talladega College in his home state before moving to New York in 1938, where he began studying with Richmond Barthé.[2] Rhoden worked in wood and bronze, and created a number of commissioned works including Untitled (Family) at Harlem Hospital Center;[3] Mitochondria at Bellevue Hospital Center in Manhattan; Curved Wal at the African American Museum in Philadelphia; Zodiacal Structure at the Sheraton Hotel in Philadelphia; and a sculpture of Frederick Douglass at Lincoln University.[1]
John Rhoden served in World War II, studied at the School of Painting and Sculpture at Columbia University, and was named a Fulbright Fellow in 1951.[1] He won a Rome Prize Fellowship from the American Academy in Rome in 1952. In 1956, he was a member of an artists delegation that visited the Soviet Union, Poland and Yugoslavia under a grant from the Rockefeller Foundation.[4] His works have been displayed in the Metropolitan Museum of Art, the Pennsylvania Academy of the Fine Arts, the Art Institute of Chicago, and the Boston Museum of Fine Arts.[1] At Columbia University, he studied under William Zorach, Oronzio Maldarelli and Hugo Robus.[5]
John W. Rhoden died on Jan. 4, 2001, in St. Albans, Queens. He was 82 and lived in Brooklyn. He was survived by his wife, Richanda, and two sisters, Lillie Rhoden and Myrtle Rhoden. Rhoden's commissioned works include ''Monumental Abstraction,'' on the exterior of the Metropolitan Hospital in Harlem; a nine-foot bronze sculpture of Frederick Douglass, the black abolitionist leader, at Lincoln University in Pennsylvania; and ''Zodiacal Structure and Curved Wall,'' at the Afro-American Museum in Philadelphia.
---
My published books:/p>


---