Queer Places:
Iowa Writers' Workshop, 507 N Clinton St, Iowa City, IA 52245, Stati Uniti
Quincy High School, 100 Coddington St, Quincy, MA 02169, Stati Uniti
Thayer Academy, 745 Washington St, Braintree, MA 02184, Stati Uniti
6 Pinckney St, Boston, MA 02108
46 Cedar Ln Way, Boston, MA 02108
Yaddo, 312 Union Ave, Saratoga Springs, NY 12866, Stati Uniti
61 Jane St, New York, NY 10014, USA
First Parish Church, Norwell, Massachusetts 02061, Stati Uniti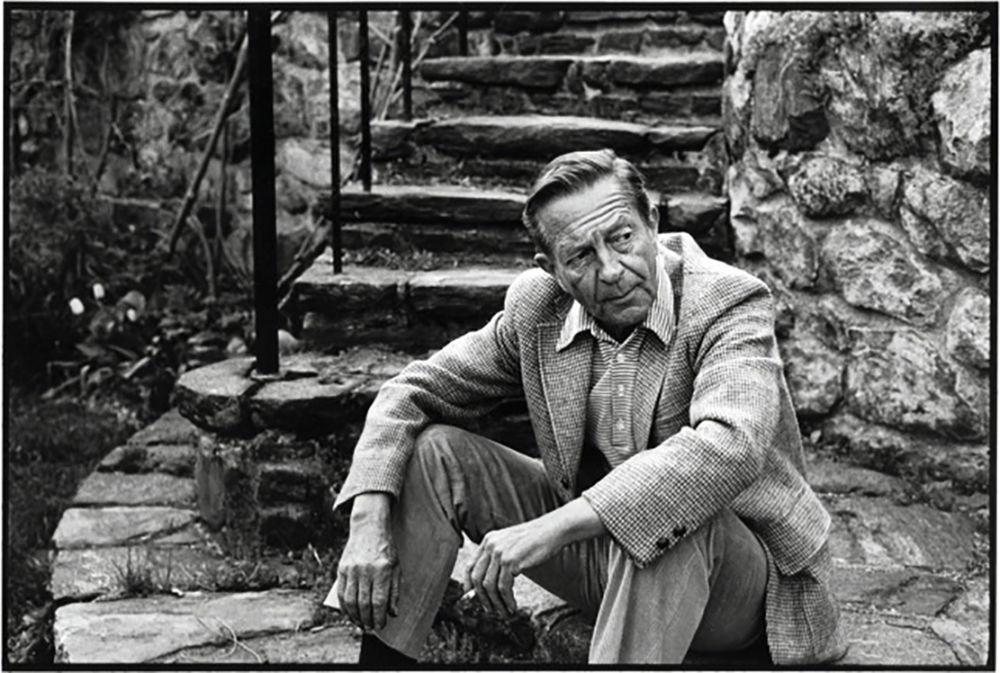 John William Cheever (May 27, 1912 – June 18, 1982) was an American novelist and short story writer. He is sometimes called "the Chekhov of the suburbs".[1][2] His fiction is mostly set in the Upper East Side of Manhattan, the Westchester suburbs, old New England villages based on various South Shore towns around Quincy, Massachusetts, where he was born, and Italy, especially Rome. He is "now recognized as one of the most important short fiction writers of the 20th century."[3] While Cheever is perhaps best remembered for his short stories (including "The Enormous Radio", "Goodbye, My Brother", "The Five-Forty-Eight", "The Country Husband", and "The Swimmer"), he also wrote four novels, comprising The Wapshot Chronicle (National Book Award, 1958),[4] The Wapshot Scandal (William Dean Howells Medal, 1965), Bullet Park (1969), Falconer (1977) and a novella Oh What a Paradise It Seems (1982).
His main themes include the duality of human nature: sometimes dramatized as the disparity between a character's decorous social persona and inner corruption, and sometimes as a conflict between two characters (often brothers) who embody the salient aspects of both – light and dark, flesh and spirit. Many of his works also express a nostalgia for a vanishing way of life (as evoked by the mythical St. Botolphs in the Wapshot novels), characterized by abiding cultural traditions and a profound sense of community, as opposed to the alienating nomadism of modern suburbia.
One of the last of the bohemians was John Cheever, who lived on Beacon Hill for several years in the 1930s. Cheever was cagey about his homosexuality, often discussing it in the guise of jokes because he had a hard time accepting his attraction to other men. He was born in Quincy to a family that was middle class but grew increasingly poor as he grew up. He attended Thayer Academy and Quincy High School but had a troubled childhood. His father lost his job and drank heavily while his mother became a small store owner, a career that humiliated Cheever because at the time women were not supposed to work.
Cheever's parent divorced in 1930 so he spent much of his time with his brother who was living on Beacon Hill, moving in with him in 1932. They lived at 6 Pinckney St, then moved to 46 Cedar Lane Way. Cheever and a friend rented Prescott Townsend's Provincetown home in the offseason. Cheever attended bohemian parties on the Hill that were held in small apartments filled with athletic young men and a few older foreign women. There, he befriended older gay men including the poet Jack Wheelwright, and Henry Dana. The latter tried to bed Cheever, chasing him down the hall of the Longfellow House shouting, "how can you be so cruel?" when Cheever turned him down. Cheever also met Lincoln Kirstein, who published one of his short stories in Hound & Horn in 1931. Kirstein took him to lunch where the drunk Cheever got into a fight regarding Henry James and hurled insults to Kirstein. A friendship with e.e. cummings resulted in the poet telling Cheever to move to New York.
A compilation of his short stories, The Stories of John Cheever, won the 1979 Pulitzer Prize for Fiction and a National Book Critics Circle Award, and its first paperback edition won a 1981 National Book Award.[5][a]
On April 27, 1982, six weeks before his death, Cheever was awarded the National Medal for Literature by the American Academy of Arts and Letters. His work has been included in the Library of America.
Two of Cheever's children, Susan and Benjamin, became writers. Susan's memoir, Home Before Dark (1984), revealed Cheever's bisexuality, which was confirmed by his posthumously published letters and journals. This was parodied to comedic effect in a 1992 episode of the TV sitcom Seinfeld, when the character Susan discovers explicit love letters from Cheever to her father.
---
My published books:


---
https://en.wikipedia.org/wiki/John_Cheever
Woods, Gregory. Homintern . Yale University Press. Edizione del Kindle.
The Hub of the Gay Universe, An LGBTQ History of Boston, Provincetown, and Beyond, by Russ Lopez, 2019
Shand-Tucci, Douglass. The Crimson Letter . St. Martin's Publishing Group. Edizione del Kindle.