Queer Places:
New York University, 70 Washington Square S, New York, NY 10003
Zena Cemetery Spring Valley, Polk County, Oregon, USA
Joel Redon (November 15, 1961 – June 6, 1995) was an American author from Oregon.
Redon was born Joel Bruce Didzun in Portland, Oregon.[1] Redon studied writing at New York University and with Paul Bowles at The American School of Tangier in Morocco.[2] While in New York, Redon wrote for the Village Voice.[3]
Redon was befriended by M. F. K. Fisher, to whom he would send manuscripts.[4] Her praise for Redon's The Road to Zena is printed on the book's jacket.[5] They kept up a 6-year correspondence.[3]
His first novel, Bloodstream (1989) is an autobiographical novel about a young man with AIDS who returns to his family in Oregon.[6] A chapter of the book was included in Confronting AIDS Through Literature: The Responsibilities of Representation edited by Judith Lawrence Pastore.[7]
His second and third novels, If Not on Earth, Then in Heaven (1991) and The Road to Zena (1992) were based on his family's history.[8] Heaven tells the story of his ancestor Neoma Matthews.[9] The Road to Zena is a fictionalized account of his great-grandparents who lived in Zena, Oregon.[10] A selection from Zena was included in Reading Portland edited by John Trombold and Peter Donahue.[11]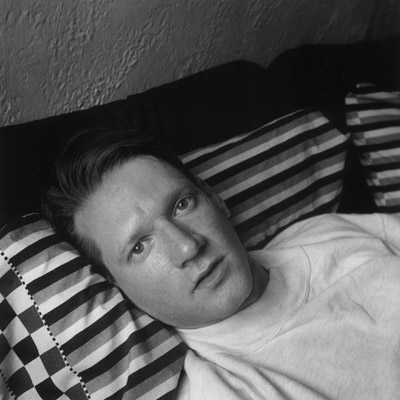 Photo by Robert Giard, Rights Notice: Copyright Jonathan G. Silin (jsilin@optonline.net)

Elmer Holmes Bobst Library, NYU, New York City
Redon planned to write a series of four novels about his ancestors.[12]
Joel Redon was diagnosed with AIDS in 1986.[2]
He died at age 33 of complications of AIDS in Sonoma County, California.[1] He has a square in the AIDS Memorial Quilt.
He is buried in the cemetery of the Spring Valley Presbyterian Church (Zena Church) in Zena.
---
My published books:

---
https://en.wikipedia.org/wiki/Joel_Redon