Partner Helen Sonthoff, buried together
Queer Places:
Mills College, 5000 MacArthur Blvd, Oakland, CA 94613, Stati Uniti
Galiano Island Cemetery, Galiano Island, Southern Gulf Islands, BC, Canada
Jane Vance Rule, CM, OBC (28 March 1931 – 27 November 2007) was a Canadian writer of lesbian-themed novels and non-fiction.
Born in Plainfield, New Jersey, Jane Vance Rule was the oldest daughter of Carlotta Jane (Hink) and Arthur Richards Rule. She claimed she was a tomboy growing up and felt like an outsider for reaching six feet tall and being dyslexic. When she was 15 she read The Well of Loneliness and wrote later, "suddenly discovered that I was a freak."[1]
Rule studied at Mills College in California. She graduated in 1952, moved to England for a short while and entered in a relationship with critic John Hulcoop; she had a life-changing affair with an older Englishwoman. She taught at Concord Academy in Massachusetts where she met Helen Sonthoff (September 11, 1916 - January 3, 2000) and fell in love with her. Rule moved with Hulcoop to work at the University of British Columbia in Vancouver, British Columbia in 1956, but Sonthoff visited her and they began to live together.[1]
In 1964, Rule published Desert of the Heart, after 22 rejections from publishers. The novel featured two women who fall in love with each other and caused Rule to receive a flood of letters from "very unhappy, even desperate" women who felt they were alone and would be miserable.[1] The novel caused her to be sought out by Canadian media, and Rule later wrote, "I became, for the media, the only lesbian in Canada. A role I gradually and very reluctantly accepted and used to educate people as I could."[1] In 1976, she moved to Galiano Island and remained there until the end of her life. Rule's novel was later made into a movie by Donna Deitch, released as Desert Hearts (1985). The Globe and Mail said of it, "the film is one of the first and most highly regarded works in which a lesbian relationship is depicted favourably."[1]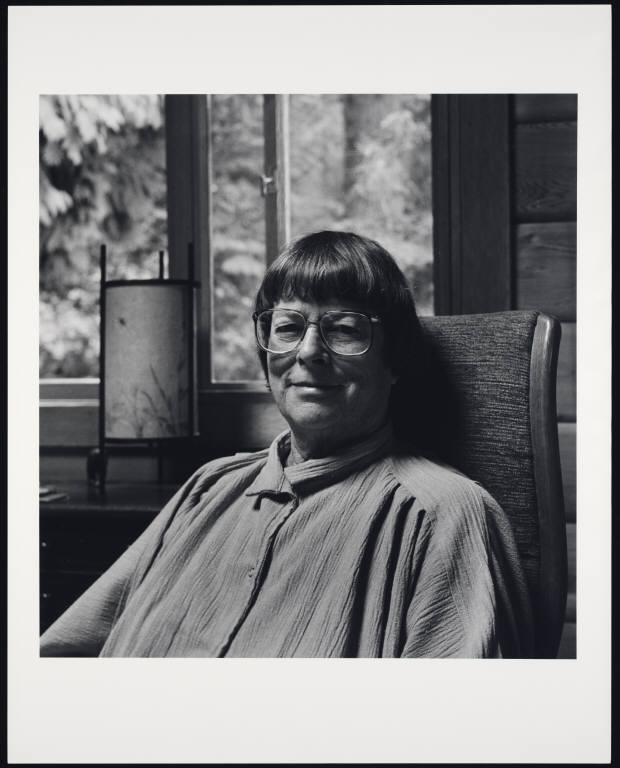 Featured in Particular Voices: Portraits of Gay and Lesbian Writers by Robert Giard [Rights Notice: Copyright Jonathan G. Silin (jsilin@optonline.net)]
Rule served on the executive of the Writers' Union of Canada. She was an outspoken advocate of both free speech and gay rights, included in the various controversies surrounding the gay magazine The Body Politic.
In 1989, Rule donated a collection of her writings to the University of British Columbia.[2] Rule was inducted into the Order of British Columbia in 1998, and into the Order of Canada in 2007, both award ceremonies taking place, at Rule's initiative, in her home community. She remarked, "I chose Canada over 50 years ago. So it is very nice to have Canada choose me", about receiving the latter honour.[3] Memory Board (1987) and After the Fire (1989) were both nominated for the Ethel Wilson Fiction Prize.
Rule and Sonthoff lived together until Sonthoff's death in 2000. Rule surprised some in the gay community by declaring herself against gay marriage, writing, "To be forced back into the heterosexual cage of coupledom is not a step forward but a step back into state-imposed definitions of relationship. With all that we have learned, we should be helping our heterosexual brothers and sisters out of their state-defined prisons, not volunteering to join them there."[1]
She received the Bill Whitehead Award for Lifetime Achievement from Publishing Triangle in 2002.
Rule died at the age of 76 on November 28, 2007 at her home on Galiano Island due to complications from liver cancer, refusing any treatment that would take her from the island, opting instead for the care and support that could be provided by her niece, her partner, her many Galiano friends and neighbours. The ashes of Jane Vance Rule were interred in the Galiano Island Cemetery next to those of her beloved Helen Hubbard Wolfe Sonthoff.[4]
---
My published books:

---
https://en.wikipedia.org/wiki/Jane_Rule