Queer Places:
Northwestern University, 633 Clark St, Evanston, IL 60208, Stati Uniti
Massachusetts Institute of Technology, 77 Massachusetts Ave, Cambridge, MA 02139, Stati Uniti
Villa Vizcaya, 3251 S Miami Ave, Miami, FL 33129, Stati Uniti
Graceland Cemetery, 4001 N Clark St, Chicago, IL 60613, Stati Uniti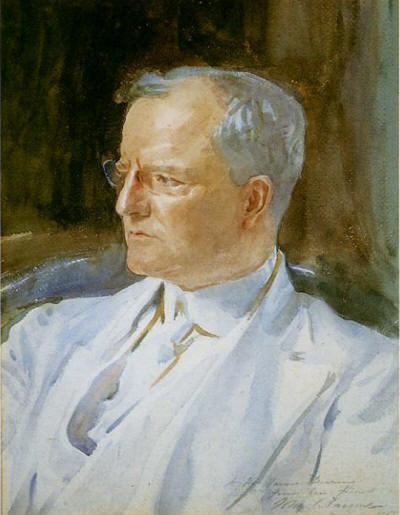 James Deering (November 12, 1859 – September 21, 1925) was an industrial executive in the family Deering Harvester Company and subsequent International Harvester, a socialite, and an antiquities collector. He is known for his landmark Vizcaya estate, where he was an early 20th-century resident on Biscayne Bay in the present day Coconut Grove district of Miami, Florida. Begun in 1910, with architecture and gardens in a Mediterranean Revival style, Vizcaya was his passionate endeavor with artist Paul Chalfin, and his winter home from 1916 to his death in 1925.[1] Contemporary newspapers often emphasized Deering's "bachelor" status. In 1922 a Missouri newspaper noted that Deering's "house has 39 guest rooms and as he is a bachelor of 59, it is said that although every room is kept in readiness for company, he has never had a guest." Many interpreted his much-talked-about bachelorhood, as one houseguest recalled, as indicative of Deering simply not being a "romantic." In this way, Deering appeared queer in his asexuality. Several jokingly wondered whether he "ever took off all his clothes . . . even to bathe."
James Deering was born in 1859 in the western Maine town of South Paris. He was the son of William Deering and his second wife, Clara Hammond Deering. His older half-brother was the arts patron Charles Deering.[2]
His father, who had inherited the family woolen mill and was landowner in the Northeast, invested in a farm-equipment manufacturing company, renaming it the Deering Harvester Company. In 1873, he moved the family to Chicago, Illinois. New 'Deering Harvester Company' reaper machinery enabled Midwestern United States farmers to harvest an acre of grain per hour, a substantial increase in productivity that increased the profitability of Midwest agriculture significantly. The Deering Harvester Company grew in value, so that by the end of the 19th century, the Deerings had become one of America's wealthiest families, although his father William was conservative in family spending. His parents did acquire a residence in St. Augustine, Florida, for the winter season. James Deering's older brother Charles joined the family business in the 1880s, after attending the United States Naval Academy and nine years in the Navy. James Deering attended one year each at Northwestern University and the Massachusetts Institute of Technology before also joining the company at the same time.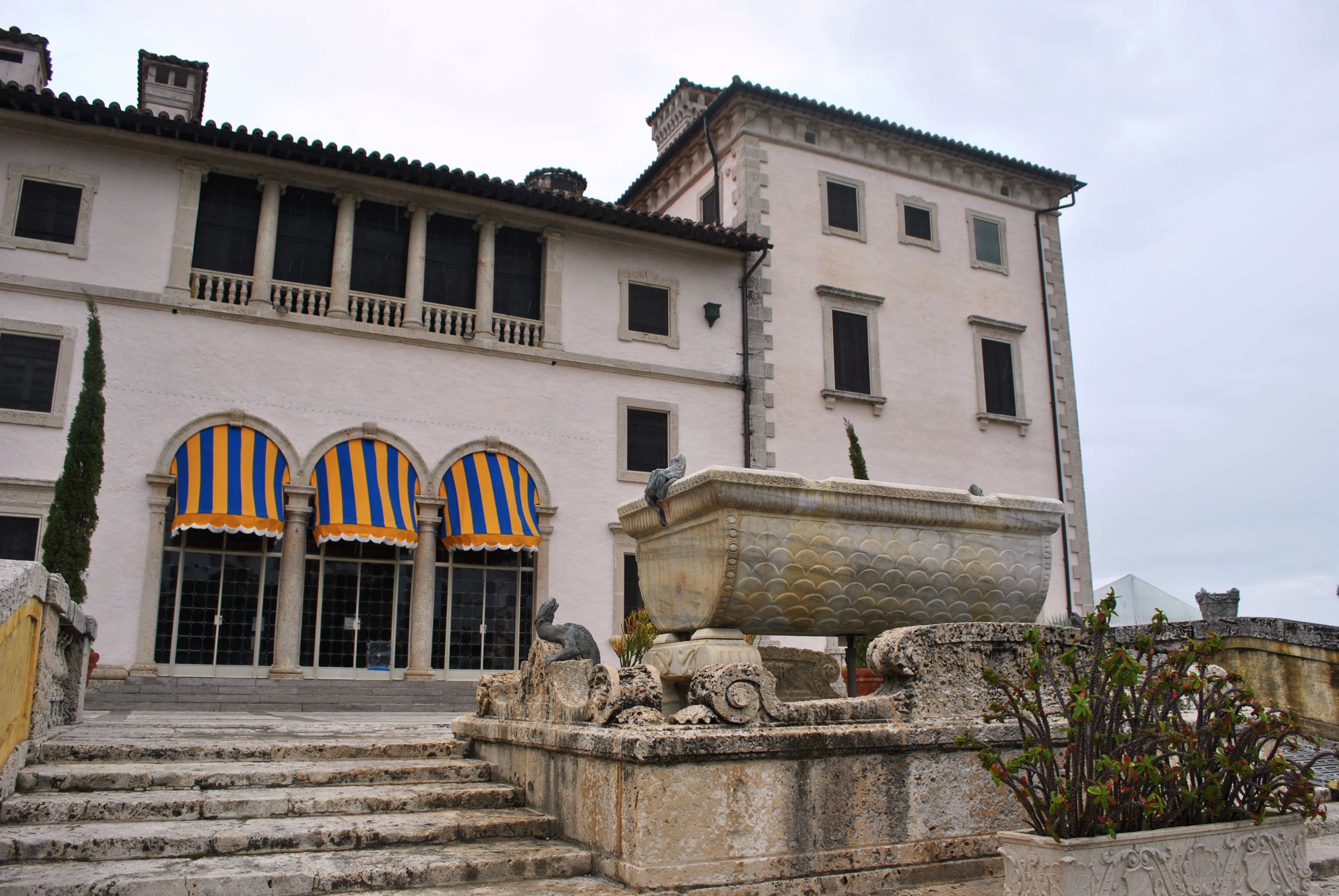 Villa Vizcaya, Miami, FL
James joined the Deering Harvester Company in 1880 as treasurer. In 1902, with the Bank of J.P. Morgan purchasing Deering Harvester Company and McCormick Reaper Company, a resulting merger formed the International Harvester corporation and the largest producer of agricultural machinery in the nation. James Deering became vice-president of the new corporation, responsible for the three Illinois manufacturing plants. In 1909, he was phased out of daily company affairs by J.P. Morgan interests.
By the turn of the century, James Deering owned homes on Lake Shore Drive in Chicago, in the countryside near Evanston, Illinois, in New York City, and in Paris, France. His name appeared in social columns as an arts connoisseur, socialite, international traveler, and cultural ambassador. He hosted events for French dignitaries at his New York and Chicago residences. In 1906, for Deering's work in promoting agricultural technology development in France, he was awarded the Légion d'honneur ("National Order of the Legion of Honour").
He retired from the vice-presidency of International Harvester, with his health weakening due to pernicious anemia, so in 1910, Deering purchased land in Coconut Grove, south of Miami and north of his brother's Charles Deering Estate. James Deering and Paul Chalfin then partnered to travel and create 'Vizcaya' there.[3] James Deering never married.
In the early 1910s, James Deering chose Miami as the site for his new home. He welcomed famed painter John Singer Sargent to his estate in 1917. Sargent delighted in its tropical atmosphere, where he found "a mine of sketching." Although Sargent is best known for his portraits of the upper classes in Europe and the United States, he produced numerous provocative watercolors of Miami's working class. This included the villa's black laborers. Sargent's watercolors of these men provide a rare glimpse into the homosocial world of early Miami and the elite's gaze and fetishization of the black laborer's body. Like much of early Miami, Vizcaya remained a male-dominated space with few women during its construction. These paintings are among a handful of works Sargent produced in Miami featuring naked black laborers. One art historian noted how "exoticism . . . played a role in the allure of the figure, the intimate bowerlike setting, and the sense of a voyeuristic peek into a more carefree world." Indeed, Sargent's "images present a vibrant, forceful realism while subtly projecting emotions, desires, and intuitions as their visual subtext." As a lifelong bachelor, Sargent's own sexual proclivities have been the subject of debate—both during his lifetime and posthumously—suggesting that these experiences articulated a form of eroticism that later coincided with emerging sexual subjectivities and possibly identities.
James Deering built Villa Vizcaya between 1914 and 1922 with visionary mastermind of the project, designer Paul Chalfin, his collaborator companion. The architect was F. Burrall Hoffman Jr.. The estate's landscape master plan and formal gardens were designed by Colombian landscape designer Diego Suarez. Paul Chalfin had attended Harvard, trained as a painter at the École des Beaux-Arts in Paris, and was an associate of renowned decorator Elsie de Wolfe. She introduced Chalfin to Deering for the interiors of his Chicago home in 1910. In 1910, Chalfin and Deering traveled through Europe together for the first trip of many over the years, in part to collect ideas and begin acquiring art, antiquities, and furnishings for the new Florida estate. The culmination of their shared effort and lasting memorial to their creative relationship is Villa Vizcaya, the Miami estate created between 1914 and 1923.[4]
The Villa Vizcaya is distinguished for its Italian Renaissance-inspired Mediterranean Revival architecture, its huge Italian Renaissance revival gardens, and sumptuously designed, detailed, and executed interior architectural elements with European, Asian, and American furnishings, and art and antiquities that span two millennia. The numerous sculptures in the gardens and villa are of ancient Greek, Greco-Roman, and Italian Renaissance origins and styles.[5]
For example, one element is altar-like in white marble, featuring the carved heads of goats, cattle, and lions, and flanked by coral stone pillars with carving of the 'Oak Tree of Gernika', symbolizing the freedom of the Basque Vizcaya in Spain.
The gardens are notable for introducing classical Italian and French design aesthetics into a subtropical habitat's plant palette and context — a new approach. This resulted in ongoing garden experiments with many tropical plants new to American horticulture. While Vizcaya's landscape design style evokes other periods and places, the use of native stone, plants, and light modulation reflected Deering's desire to showcase the indigenous natural beauty. By 1922, the 180-acre (0.73 km2) estate included large lagoons and new islands down-coast south of the villa and its formal gardens.
On the estate's western acreage, across present day South Miami Avenue, were the produce gardens and grazing fields. A village compound was designed and built to the west, also. These endeavors were done with the intent of making Vizcaya primarily self-sufficient, modeled on European estates to compensate for the limited commodities and services of early 1920s Miami. The village buildings housed the property's staff quarters, auto garages, equipment sheds, workshops, and barns for the domesticated animals.
Deering chose white artist, interior decorator, architect, and New York native Paul Chalfin "to plan, buy and arrange his superb home at Miami." Chalfin's work on the estate, one contemporary observed, was a "monument to the perfection of American taste and the period of American Renaissance." Chalfin and Deering traveled the world together "buying all of the things that went into the house." Deering never bought "anything until he had Paul's advice." Chalfin even designed a secret passage from Deering's bedroom to an adjoining bedroom to ensure his privacy, a known feature Deering was often teased about.
Deering spent winters there beginning in 1916, when the residence was sufficiently complete. Among James Deering's closest friends were painter Gari Melchers and his wife Corinne. Through his brother Charles, also a patron of the arts and collector, he had friendships with the painters John Singer Sargent and Anders Zorn. Sargent visited Vizcaya in March 1917 and produced a series of watercolors of the estate, as well as portrait of James. After the extensive gardens were completed in 1923, Deering's health began to weaken. Nonetheless, he traveled and entertained guests, including the silent film stars Lillian Gish and Marion Davies. Deering was described in his later years as "a reticent man with impeccably proper manners, leavened by a sense of humor." He was not unlike a 'Jay Gatsby' figure of the 'Roaring Twenties' era. In 1923, he opened the gardens to the public on Sundays, and Deering reportedly watched the visitors from his balcony, curious about who came, but not wanting to be recognized for his hospitality. In this period's personal letters, he expressed the hope that his nieces and nephews would enjoy coming to Vizcaya, so tennis courts, a bowling alley, a billiard room, and a swimming pool were part of the estate to encourage their visits.
James Deering died in September 1925, on board the steamship SS City of Paris en route back to the United States. The philanthropic beneficiaries of his estate were Wesley Hospital, founded by his father in Chicago; the Visiting Nurse Association; the Children's Hospital of Chicago; and the Art Institute of Chicago, which received several significant paintings: the Édouard Manet "Mocking of Christ" and three by Italian master Giambattista Tiepolo of Rinaldo and Armida based on scenes from the 16th-century epic Gerusalemme Liberata by Torquato Tasso.
Following the death of James Deering, Villa Vizcaya passed to his two nieces, Marion Deering McCormick and Barbara Deering Danielson. Over the decades, after hurricanes and rising maintenance costs, they began selling the estate's surrounding land parcels. In 1952, at a below-market price, they sold the villa and formal gardens, and in 1955 the village 'core estate' to Miami-Dade County for a museum and gardens to be open to the public. With the initial sale, they donated the antiquities and furnishings to the County Museum.
By 1961, a report referred to then-deceased Deering as "the prissy bachelor who preferred bourbon to women." One of his Vizcaya guests recalled: "He certainly wasn't interested in women. But, he wasn't interested in men either." Although no evidence seems to suggest that Deering engaged in homosexual acts, his sexuality became a subject of speculation and even legend that persists in Miami to this day.
Unlike many other historic house museums, Vizcaya contains the original antiques and furnishings, giving continuity to experience Deering's era. His brother Charles Deering's nearby estate, now named 'The Deering Estate at Cutler', is also open to the public and owned by Miami-Dade County, but without art and furnishings. James Deering's estate, now named Vizcaya Museum and Gardens, is an accredited museum and National Historic Landmark. The villa, gardens, and village are under ongoing restoration. The Vizcaya Museum and Gardens mission is "to preserve Vizcaya to engage our community and its visitors in learning through the arts, history, and the environment."
---
My published books:


---
https://en.wikipedia.org/wiki/James_Deering
Capó Jr., Julio. Welcome to Fairyland (p.74). The University of North Carolina Press. Edizione del Kindle.