Queer Places:
348 Commonwealth Avenue, Boston, MA 02115
345 Marlborough St, Boston, MA 02115
Harvard University (Ivy League), 2 Kirkland St, Cambridge, MA 02138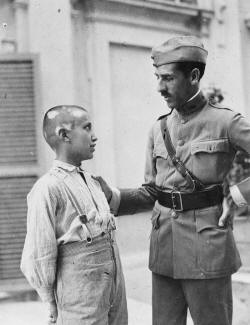 Harold Woodbury Parsons (July 13, 1882 - May 1967) was an art historian, connoisseur-aesthete and one of the proteges of Edward Perry Warren.
Harold Woodbury Parsons was born in July 13, 1882, in Lynn, Massachusetts, the son of Edward P. Parsons (1848-1909) and Marcia Eola Woodbury (1851-1925). He grew up living with an indulgent grandfather and widowed mother on 348 Commonwealth Avenue, Boston. When his mother died, Parsons went to live with his uncle, John Woodbury, at 345 Marlborough Street, Boston, where he remained more or less until 1940, when his uncle died.
Parsons attended Harvard University. John Woodbury was a Harvard friend of Samuel D. Warren and Fiske Warren, Edward Perry Warren's brothers, and he invited Ned Warren to dinner to ask his advice about Parsons's desire to go abroad to study art. Warren having given his approval, Parsons went to Cassel and then Dresden for a year, and then joined Lewes House, Warren's house in Sussex. Parsons bought ''Adam and Eve'' by Lucas Cranach and donated it to Warren to hung at Lewes House. It was a bargain, and later sold for much more than it cost. It is currently at the Courtauld Institute of Art, London.
In a 1906 letter to the president of Corpus Christi College, Oxford, asking for a place for Parsons there, Warren described him shrewdly as witty and quick, but not accurate; and as "like an Englishman." Parsons's description of Warren was also fond but sharp-edged: He said Warren took little interest in art outside his classical specialty, except for the medieval cathedrals. He also said Warren did not have Bernard Berenson's curiosity about aesthetic theory, or politics, or remote places and civilizations. While Warren tried to get Parsons to study Greek at Oxford, the latter, like Berenson, preferred to travel and look at paintings.
He was a friend with Oscar Browning with whom corresponded from 1910 to 1913. Their letter are now at Cambridge University, King's College Archive Centre.
During World War I, Parsons was a Captain with the American Red Cross. Pope Benedict XV received Rev. Charles Heath, former secretary of the Papal delegation at Washington, and Parsons and granted them the use of the headquarters of the Benedictine Order on the Aventine Hill for a convalescent hospital for Italian.
In 1929 Parsons donated the sculpture "Noli Me Tangere" by Alceo Dossena to the Fogg Art Museum, Harvard. It was purchased by Parsons from the artist in 1928.
When Parsons approached the Cleveland Art Museum, offering his services, the director consulted Edward Robinson in New York and Arthur Fairbanks in Boston, and they doubted whether he had "sufficient experience and judgment". The director then wrote to Warren to ask him to buy classical antiquities for them. When Warren replied, he made a distinction between collector and connoisseur: "A collector is a connoisseur, not an archaeologist. He needs an archaeologist at times... he needs sometimes an expert in coins... but in the majority of cases he can decide for himself. His province is genuineness, beauty, and market value. His qualifications are alertness and dexterity in the handling of men and a quick eye." He himself would never have become a collector if he had been submitted to "all Museum tests" when he began. Warren clearly felt he was training young men like Parsons for such "active work". Parsons became an art adviser and buyer for Nelson-Atkins Museum of Art, the Cleveland Art Museum, the Omaha Museum and other institutions as well.
Paul Gardner, first director of the Nelson-Atkins Museum of Art, Kansas City, from 1933 to 1953, made most of his acquisitions through Parsons. Parsons was hired by J. C. Nichols on recommendation by Edward Forbes and Paul Sacks, of the Fogg Art Museum at Harvard.
Soon after 1930 (soon after Warren's death), to judge by his correspondence with Berenson, Parsons began to devote most of his energy to the detection of forgeries. He felt that the great collecting days were over. In 1949 he wrote Berenson that classical antiquities ended with his old masters, Warren and Marshall: "There are no more to be had". This role is remarked in ''Unmasking the forger'' by David Sox and in ''King of the Confessors'' by Thomas Hoving.
Few years before his death, John Marshall bought three terra cotta Etruscan warriors for the Metropolitan Museum of Art and the museum opened a new gallery of Etruscan art, "the first time in an American museum that an entire gallery had been devoted exclusively to Etruscan and Italian antiquities." The gallery opened in 1933, 5 years after Marshall died, and in 1961 it was found that the three warriors were a forgery and they were removed from display. Parsons discusses the case in an ArtNews article entitled ''The Art of False Etruscan Art''. He says that no one should ever have been deceived, because the bodies are far too massive for the legs they stand on. The figures could never have been designed to stand. Parsons was the one who found the men who did the fake warriors and brought them in contact with the Met. He did so also to bring justice to the name of Marshall, who probably died from the stress of being questioned as the one who wronged the Met.
In November 1952 Parsons took responsibility for selling the Warren Cup and approached the New York collector Walter Baker, however Baker was hesitant to proceed.
Parsons lived his retirement years in Rome and died in Boston in May 1967.
---
My published books:


---
The Mount Vernon Street Warrens: a Boston story, 1860-1910 Martin Burgess Green Charles Scribner's Sons, 1989
"Mass Vital Records 1841-1910." Index with images. Available online at http://www.americanancestors.org, record for Harold Parsons; citing Lynn, Massachusetts Birth Record Vol 331 P. 277, NEHGS.
Social Security Administration, "US Social Security Death Index." Database. Available online http://www.ancestry.com: accessed March 2015, entry for Harold Parsons, Social Security Number 080-28-9889.
https://backbayhouses.org/345-marlborough/
The American Leonardo: A Tale of Obsession, Art and Money John Brewer Oxford University Press, Oct 5, 2009
http://lucascranach.org/UK_CIA_P-1947-LF-77
http://discovery.nationalarchives.gov.uk/details/r/a9cbfd1e-3e50-4942-924c-7bae0385c3de
https://newspapers.bc.edu/?a=d&d=BOSTONSH19160701-01.2.4
https://www.harvardartmuseums.org/art/231548
The Collected Letters of Robinson Jeffers, with Selected Letters of Una Jeffers: Volume Two, 1931–1939 James Karman Stanford University Press, Oct 12, 2011
https://dictionaryofarthistorians.org/gardnerjp.htm
Etruscan Art in the Metropolitan Museum of Art Richard Daniel De Puma, Metropolitan Museum of Art (New York, N.Y.) Metropolitan Museum of Art, 2013
Scientists and Scoundrels: A Book of Hoaxes Robert Silverberg U of Nebraska Press, 2007
http://libmma.contentdm.oclc.org/cdm/ref/collection/p16028coll12/id/1072