Queer Places:
UCL Slade School of Fine Art, The Slade, University College London, Gower St, Kings Cross, London WC1E 6BT
50 Cadogan Pl, Belgravia, London SW1X 9RT, UK
47 Markham Square, Chelsea, London SW3 4XA, UK
Gladys Edith Mabel Calthrop (née Treeby; 29 March 1894 – 7 March 1980) was an artist and leading British stage designer. She is best known as the set and costume designer for many of Noël Coward's plays and musicals.[1] Coward had a number of lesbian and bisexual female friends and appeared in countless double portraits with them, including Gertrude Lawrence and Gladys Calthrop displaying himself as part of a "creative duo".
Calthrop was born in Ashton, Devon, the daughter of Frederick Theophilus Treeby and his wife Mabel. She was educated at Grassendale School, Southbourne, West Sussex. Her parents sent her to a finishing school in Paris, and she returned married to Army captain Everard E. Calthrop, from Norfolk. The couple had a son, Hugo, whose care Calthrop entrusted mostly to her mother. He was later killed in Burma Campaign. She was soon separated from her husband (she had lesbian relationships thereafter) and studied art at Slade School of Fine Art.[1]
Calthrop was introduced to Noël Coward by Mrs. Astley Cooper while on holiday in Italy in 1921.[2][3] She soon became a close friend of Coward's, and she commenced her theatre career in November 1924 with her design for his The Vortex, staged at the Everyman Theatre in Hampstead.[4] As she later recalled: "It was the first play I had ever designed so I was terribly excited, though there was nowhere to paint the sets except outside the theatre in Hampstead High Street, and the costumes all had to be made in a kind of basement there."[5]
In 1925 Eva la Galliene and Mercedes de Acosta went in Paris to stage Jehanne D'Arc. On the ship back to America, Eva la Galliene fell in love with Gladys Calthrop. Calthrop stayed in New York after travelling there for the Broadway production of The Vortex, becoming Artistic Director for Eva la Galliene's Civic Repertory Theatre,[6] for whom she directed John Gabriel Borkman on Broadway in 1926. Her designs for Broadway included The Cradle Song (1927), This Year of Grace (1928), Bitter Sweet (1929), Autumn Crocus (1932), Private Lives (1931), Design for Living (1933), Conversation Piece (1934), Point Valaine (1935), Tonight at 8.30 (1936), Excursion (1937), Dear Octopus (1939) and Set to Music (1939).

by Bassano Ltd whole-plate glass negative, 4 May 1917 Given by John Culme, 1996 Photographs Collection NPG x101401

by Sir William Rothenstein, 1922

Gladys Calthrop by Howard Coster 10 x 8 inch film negative, 1931 Transferred from Central Office of Information, 1974 Photographs Collection NPG x10494

in 1933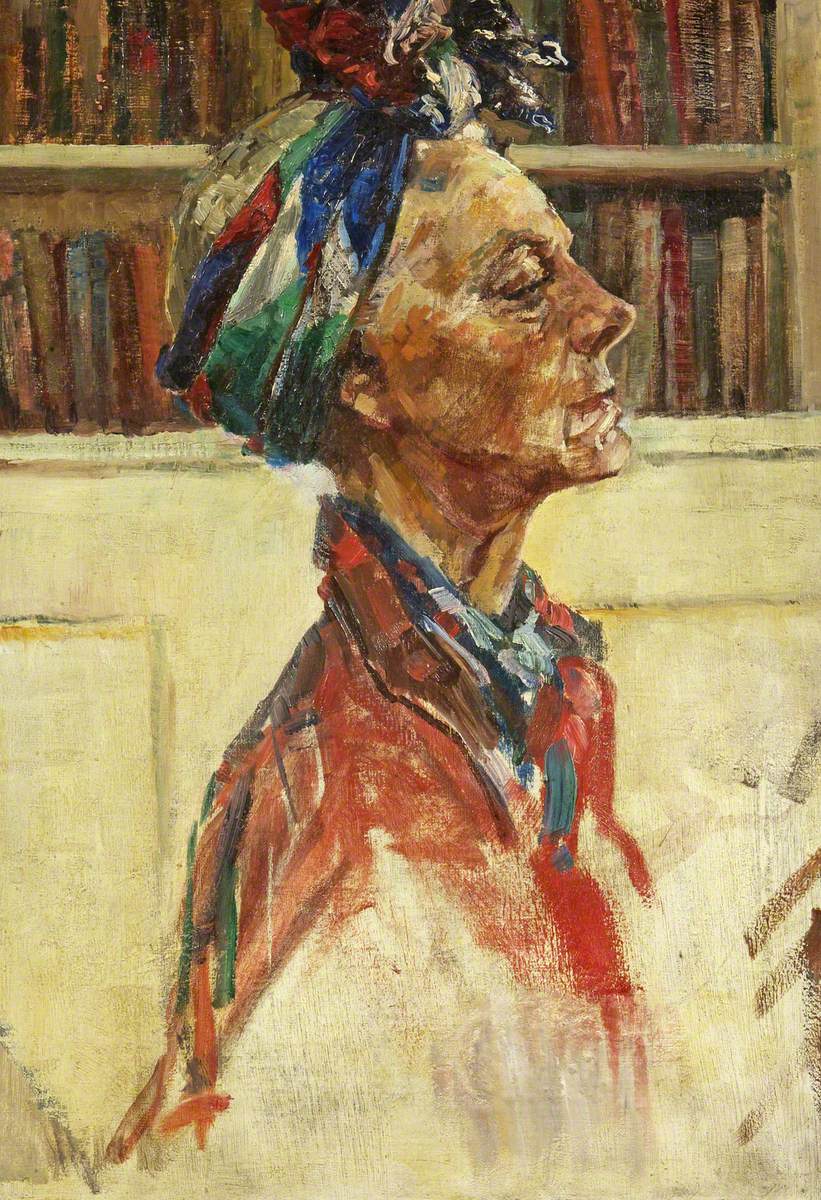 by Clemence Dane (1888–1965) University of Bristol Theatre Collection

Double portrait of Noel Coward and Gladys Calthrop, by Maurice Beck and MacGregor, 1924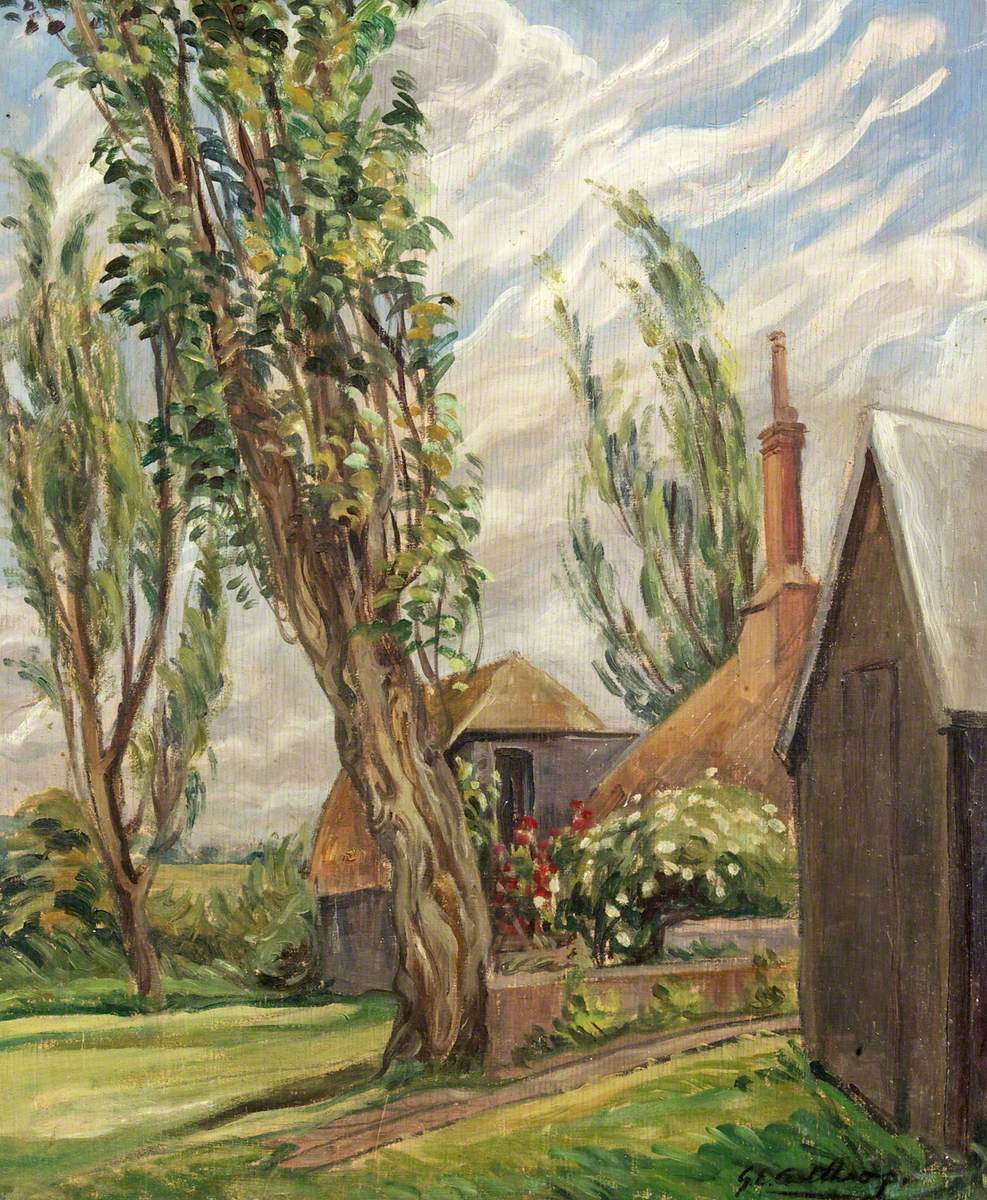 The Barn at Ellen Terry's House, Smallhythe Gladys E. Calthrop (1894–1980) University of Bristol Theatre Collection
Calthrop continued to work as a designer in Britain until 1964.[7] She also designed some films, including four Coward adaptations, in the 1940s.[6] In 1940 she published her first and only novel, Paper Pattern. During World War II, she served in the Mechanical Transport Corps.[3] She also illustrated the Noël Coward Song Book (1953). She died at the age of 85.[3]
---
My published books:

---
https://en.wikipedia.org/wiki/Gladys_Calthrop
Bachelors of a Different Sort, Queer Aesthetics, Material Culture and the Modern Interior in Britain, by John Potvin