Queer Places:
Bryn Mawr College (Seven Sisters), 101 N Merion Ave, Bryn Mawr, PA 19010
Rive Gauche, Lawrence Ln, Palisades, NY 10964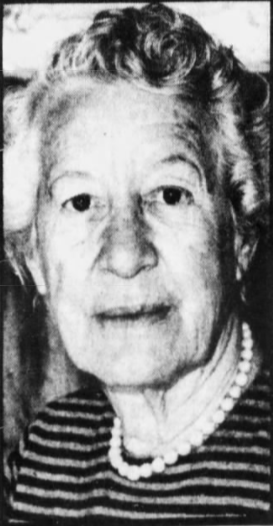 Gertrude Macy (October 9, 1904 - October 18, 1983) was a Broadway theatrical producer who once headed the American National Theater and Academy's international cultural exchange service. In addition to her work for Katharine Cornell, Gertrude Macy was the first woman to receive a man's wages as a Broadway stage manager.
Gertrude Macy was born in Pasadena, CA, and graduated from Bryn Mawr College with a major in Physics. In letters to her sisters, who had attended Bryn Mawr before her, Alice Palache was frequently effusive about how "attractive" she found her fellow students. One, in particular, was Gertrude Macy, then a junior. "She sits right in front of me," Palache wrote to her sister Mary. "Gert's hair does fascinate me."
Among the shows co-produced by Macy were three major revues: ''One for the Money'' (1939) with Alfred Drake and Gene Kelly; ''Two for the Show'' (1940), with Eve Arden, Mr. Drake, Betty Hutton and Keenan Wynn and ''Three to Make Ready'' (1946), which starred Ray Bolger and a supporting cast that included Gordon MacRae, Arthur Godfrey and Harold Lang.
She also produced ''The Happiest Years,'' a 1949 comedy with Peggy Wood and co-produced ''I Am a Camera,'' John van Druten's 1952 hit play based on Christopher Isherwood's ''Berlin Stories.'' Julie Harris played Sally Bowles.
Macy also served as general manager for Katharine Cornell. I. "May goodness and "Macy" follow me all the days of my life", said Cornell in 1928 about her recently acquired social secretary. In the 1930s, Macy introduced Cornell to Nancy Hamilton, who was to become Cornell's lifetime companion and lover. Macy was co-author with Tad Mosel of ''Leading Lady: The World and Theatre of Katharine Cornell,'' published in 1978.
Macy died of cancer on October 18, 1983, at the Columbia Presbyterian Medical Center. She was 79 years old and lived at Sneden's Landing. Her house, River Gauce, was built in 1949 by architect Eric Gugler and featured French doors and windows from the 5th Avenue town house of Thomas Fortune Ryan.
Her death brought shock to some of the acting greats with whom she worked. "Oh, dear Gert! The world just gets dimmer all the time," said Helen Hayes when she heard of her death. Hayes was among those whose tours were managed by Macy during a career that spanned a half-century.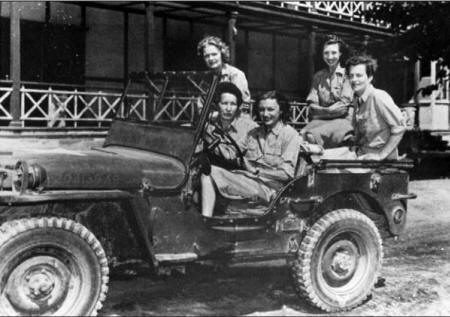 Italy, 1944. In front from left Margalo Gilmore, Gert Macy, Kit Cornell. In back Brenda Forbes and Nancy Hamilton, all on tour entertaining the troops with the "Barretts of Wimpole Street."
---
My published books:


---