Queer Places:
Harvard University, Cambridge, MA 02138
Highland Cemetery Dover, Norfolk County, Massachusetts, USA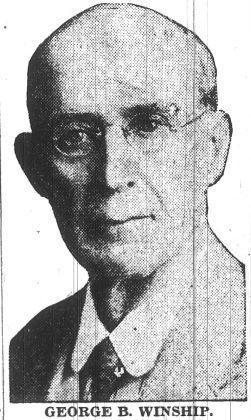 George Parker Winship, A. M. (29 July 1871 – 22 June 1952) was an American librarian and author. He was a member of the Horace Walpole Society, secretary from 1912 to 1915, elected in 1911.

Group Portrait of Adam Clark Vroman, Manuel Chaves, Dr Elliott Coues, Amado Chaves, Frederick Webb Hodge and George Parker Winship 1899
George Parker Winship was born in Bridgewater, Massachusetts. His father was the American educator Albert Edward Winship. He graduated from Harvard in 1893. He was librarian of the John Carter Brown Library at Providence, R.I. from 1895 to 1915. Subsequently, he took charge of the collection of rare books made by Harry Elkins Widener and housed in the new Widener Memorial Library at Harvard. Winship was elected a member of the American Antiquarian Society in 1899.[1] Winship was a scholar as well as a librarian. He edited a number of historical works and published: The Coronado Expedition (1896); John Cabot (1898); Geoffrey Chaucer, (1900); Cabot Bibliography (1900); William Caxton (1909); Printing in South America (1912); and The John Carter Brown Library (1914).
---
My published books:

---
The Brattleboro Reformer Brattleboro, Vermont 24 Jun 1952, Tue • Page 2