Partner Edward Carpenter, buried together
Queer Places:
Millthorpe, Mountside, Guildford GU2 4JD, Regno Unito
Cordwell Ln, Dronfield S18, Regno Unito
Mountside Cemetery, Guildford GU2 4JB, Regno Unito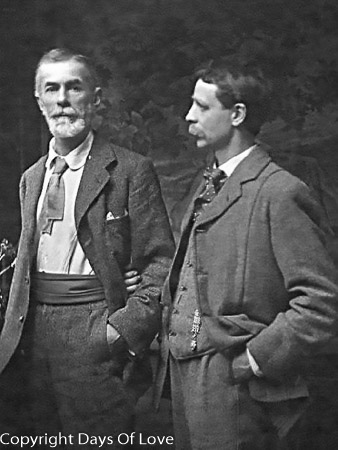 George Merrill (1866 – 10 January 1928) was the lifelong partner of English poet and LGBT activist Edward Carpenter.
Merrill, a working-class young man who had been raised in the slums of Sheffield,[1] had no formal education. He met Edward Carpenter on a train in 1891, and moved into Carpenter's home at Millthorpe outside Sheffield in 1898. His arrival was commemorated by Carpenter in the poem Hafiz to the Cupbearer.
George Merrill to Edward Carpenter, 8 November 1896: Dear Ted [. . .] I shall be glad to see thy dear face again as I have such longings to kiss those sweet lips of thine. I will wait till I hear from you, first. So I must close dear heart as I am feeling a little low and lonesome. I'm always with thee every night in spirit, fondest love from your dear Boy G XXX.
The two lived openly as a couple for thirty years, until Merrill died. Carpenter died the following year and was buried beside Merrill.
The relationship between Carpenter and Merrill formed the motivation for E. M. Forster's novel Maurice,[2] and the character of the gamekeeper Alec Scudder was in part modeled after George Merrill.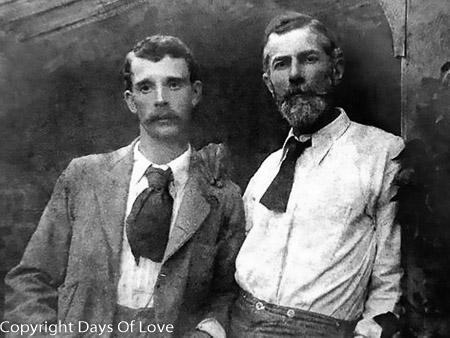 ---
My published books:


---
https://en.wikipedia.org/wiki/George_Merrill_(gay_activist)
Robb, Graham. Strangers: Homosexual Love in the Nineteenth Century . Pan Macmillan. Edizione del Kindle.
Rossini, Gill. Same Sex Love 1700-1957: A History and Research Guide . Pen and Sword. Edizione del Kindle.
Homosexuals in History, A Study of Ambivalence in Society, Literature and the Arts, by A.L. Rowse, 1977