Queer Places:
Parroquia de Nuestra Señora de Guadalupe Emperatriz de América, Mercaderes 99, San José Insurgentes, Benito Juárez, 03900 Ciudad de México, CDMX, Mexico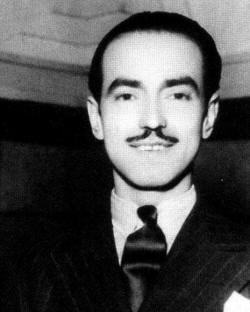 Gabriel Ruiz (March 18, 1908 – January 31, 1999) was a Mexican songwriter.[2][3] He became well-known in his native country over radio and touring.
He was son of Rosalío Ruiz and Aurelia Galindo.[4] He attended the Conservatorio de Musica de Mexico graduating in 1934. By the early 1940s, every famous vocalist in Mexico wanted to record a Ruiz song. In 1938 Ruiz started writing music for Mexican films. His biggest US hit song, "Amor," was introduced in Broadway Rhythm.
The structure and design of homes answered gay households' needs, such as a 'modern residence for a family consisting of two persons' advertised in 1937. Projected for an urban lot of 225 square metres, it featured a small front garden and carport, a dining room, a living room, a kitchen with butler's pantry, a breakfast nook on the ground floor and a guest powder room. The main stairwell led to the bathroom, a small hall or den, two bedrooms, a library and a sewing room. A metal spiral staircase in the kitchen led to separate servants' quarters on the second floor, but their rooms did not connect at all to those of the homeowners on the same floor, on the other side of the bathroom wall. Such designs guaranteed gay couples privacy – and a spare bedroom for visitors. The isolation of the master bedroom from the rest of the house, with an en-suite bathroom, facilitated pre- and post-coital hygiene. The library and sewing room offered couples separate home workspaces, or perhaps a studio for artists. Native and foreign designers decorated these modern residences. Sophisticated, natural, organic design elements incorporated elements of Frank Lloyd Wright's prairiestyle architecture – particularly in the homes society architect Jorge Rubio built – but also went well with Luis Barragán's minimalist landscape projects. The furnishings of designers like Cuban-born Clara Porset and American expatriates Michael Van Beuren and Emmett Morley Webb allowed apartment owners to incorporate a modern aesthetic into their domestic spaces that rejected the ornate historicist aesthetics of Porfirian furnishings or the rough-hewn, quaint furniture of rural folk. Modern style thus represented the values and stability to which the middle class aspired, and offered clean lines and high-quality natural finishes. Gay interior designers such as Arturo Pani (with Jay de Laval) and Webb were also in great demand among the gay elite. Posh gays competed to outdo each other in their homes' expressions of originality, taste and elegance. Composer Gabriel Ruiz and physician Elías Nandino constantly re-upholstered and reappointed their homes, fighting over the best tradesmen and decorators; Nandino's one-upmanship went so far as to use fishbowls – with live fish – as lampshades.
Gabriel Ruiz Galindo passed away on January 31, 1998 in Mexico, Federal District. He was cremated on February 1 and his ashes were deposited in an urn in the Church of Nuestra Señora la Emperatriz de América.
---
My published books:


---
Gender, Imperialism and Global Exchanges, Stephan F. Miescher, Michele Mitchell, Naoko Shibusawa, John Wiley & Sons, Mar 9, 2015
Hit Songs, 1900-1955 American Popular Music of the Pre-Rock Era By Don Tyler · 2007
Cien años de boleros su historia, sus compositores, sus mejores intérpretes y 600 boleros inolvidables By Jaime Rico Salazar · 1993