Husband Charles Laughton
Elsa Sullivan Lanchester (28 October 1902 – 26 December 1986) was an English actress with a long career in theatre, film and television.[1] After making Journey's End, James Whale continued directing films in Hollywood for just over a decade. He enjoyed Hollywood, and a long-term contract with Universal that paid him well. In her autobiography the character actress Elsa Lanchester, who worked with Whale, recalled that her husband, the actor Charles Laughton, who was a closeted and self-loathing homosexual, shared her opinion of Whale's talents as a film director, but thought him vulgar and a snob. Laughton referred to him as The Would-Be Gentleman, taken from the title of a play Whale had once acted in. Said Lanchester: 'Jimmy Whale said, "You will love it here in Hollywood, Charles. I'm pouring the gold through my hair and enjoying every minute of it!" Charles was horrified by that. But Jimmy did love money. He came from a poverty-stricken family.'
Lanchester studied dance as a child and after the First World War began performing in theatre and cabaret, where she established her career over the following decade. She met the actor Charles Laughton in 1927, and they were married two years later. She began playing small roles in British films, including the role of Anne of Cleves with Laughton in The Private Life of Henry VIII (1933). Her success in American films resulted in the couple moving to Hollywood, where Lanchester played small film roles. Her role as the title character in Bride of Frankenstein (1935) brought her recognition. She played supporting roles through the 1940s and 1950s. She was nominated for the Academy Award for Best Supporting Actress for Come to the Stable (1949) and Witness for the Prosecution (1957), the last of twelve films in which she appeared with Laughton. Following Laughton's death in 1962, Lanchester resumed her career with appearances in such Disney films as Mary Poppins (1964), That Darn Cat! (1965) and Blackbeard's Ghost (1968). The horror film Willard (1971) was highly successful, and one of her last roles was in Murder by Death (1976).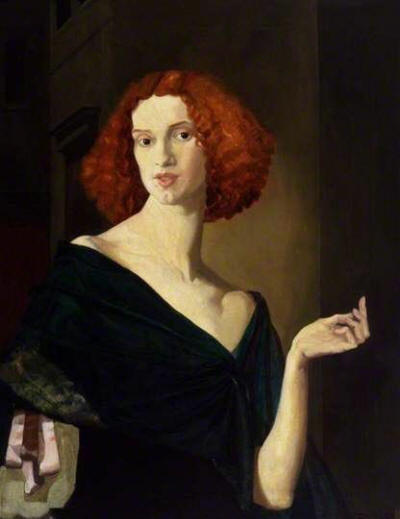 Elsa Lanchester, 1925, by Doris Zinkeisen
Lanchester married Charles Laughton in 1929.[11] Lanchester published a book about her relationship with Laughton, Charles Laughton and I. In March 1983, Lanchester released an autobiography, titled Elsa Lanchester Herself. In the book, she alleges that she and Laughton never had children because he was homosexual.[12] However, Laughton's friend and co-star, Maureen O'Hara, denied this was the reason for the couple's childlessness. She claimed Laughton had told her that the reason he and his wife never had children was because of a botched abortion Lanchester had early in her career when performing burlesque. Lanchester admitted in her autobiography that she had two abortions in her youth (one being Laughton's), but it is not clear if the second left her incapable of becoming pregnant again.[13] According to her biographer, Charles Higham, the reason she did not have children was that she did not want any.[14] Lanchester was an atheist.[15] Lanchester was a Democrat and she and Laughton were supportive of Adlai Stevenson's campaign during the 1952 presidential election.[16]
Shortly after the release of her autobiography, Lanchester's health took a turn for the worse. Within 30 months, she suffered two strokes, becoming totally incapacitated. She required constant care and was confined to bedrest. In March 1986, the Motion Picture and Television Fund filed to become conservator of Lanchester and her estate which was valued at $900,000.[17]
Elsa Lanchester died in Woodland Hills, California on December 26, 1986, aged 84, at the Motion Picture Hospital from pneumonia. Her body was cremated on January 5, 1987, at the Chapel of the Pines in Los Angeles and her ashes scattered over the Pacific Ocean.[18]
---
My published books:


---
Bourne, Stephen. Fighting Proud . Bloomsbury Publishing. Edizione del Kindle.