Husband Bruce Schackman
Queer Places:
Columbia University, 116th St & Broadway, New York, NY 10027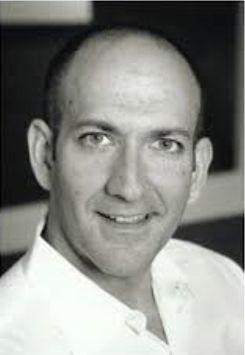 Ed Sikov (born January 11, 1957, Pennsylvania) is an openly gay American film scholar and author. His books include Mr. Strangelove: A Biography of Peter Sellers (published in 2002), On Sunset Boulevard: The Life and Times of Billy Wilder (published in 1998), and Laughing Hysterically: American Screen Comedies of the 1950s (published in 1994). On September 17, 2011, Bruce Robert Schackman, a son of Justice Walter M. Schackman and Dulcie Linzer Schackman of New York, married Ed Sikov. Justice Schackman, who retired from the New York State Supreme Court, officiated at Gramercy Tavern, a New York restaurant. The couple met in Boston in 1998 through a mutual friend after they had crashed a party given by The Harvard Gay and Lesbian Review.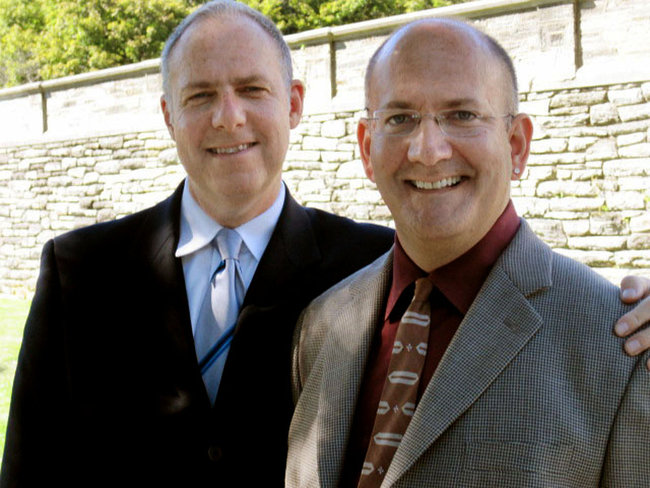 Sikov said that, after their friend wandered off, the two of them stood "smack dab in the middle of the party" talking for the next 45 minutes or so about themselves. Schackman had returned to graduate school, and Sikov was writing the biography of Mr. Wilder.
"I kept thinking to myself, Why did he have to live in Boston," Sikov said, and when Schackman suggested that the party could be a networking opportunity for Sikov, Sikov said he blurted out: "No, you don't understand. I hate people. I'd rather talk to you."
Schackman (born 1959) is an associate professor of public health and chief of the division of health policy at Weill Cornell Medical College. He graduated magna cum laude from Harvard, from which he also received an M.B.A. with distinction and a Ph.D. in health policy.
Sikov was born in Natrona Heights, Pennsylvania, majored in English at Haverford College, and has a PhD from Columbia University; Sikov has since written eloquently of the difficulties he experienced as a gay student in the 1970s.
Sikov's most recent book is a textbook – Film Studies: An Introduction; before that was Dark Victory: The Life of Bette Davis (Henry Holt, 2007). He recorded a commentary track for the Special Collector's Edition DVD of Billy Wilder's Sunset Boulevard, and is often called upon as a film expert for articles and documentaries, such as the 10-part American Cinema series produced by the New York Center for Visual History in association with the BBC and PBS. He has also written for the British and US editions of Premiere magazine as well as for Out, The Advocate, Connoisseur, Spy, Village Voice and Film Quarterly.
Critical reception to Sikov's books has been appreciative: film historian Jeanine Basinger finds him "a caring biographer" who is exhaustive in his research; his writing has been noted for its unsentimental tone and detailed scholarship. While taking issue with his style, film critic Rex Reed has acknowledged Sikov's accuracy and refusal to "whitewash" facts.
Sikov has taught film studies at several colleges and universities, including Colorado College and his alma maters Columbia University and Haverford College. A course he taught at Haverford between 1995 and 2005, Sex and Gender on Film, earned notice as "one of the most popular courses" at that institution.
Sikov's contributions as an author and teacher have been curtailed by the onset of Parkinson's disease. He continues to write the Media Circus column in the New York-based Gay City News.
---
My published books:

---